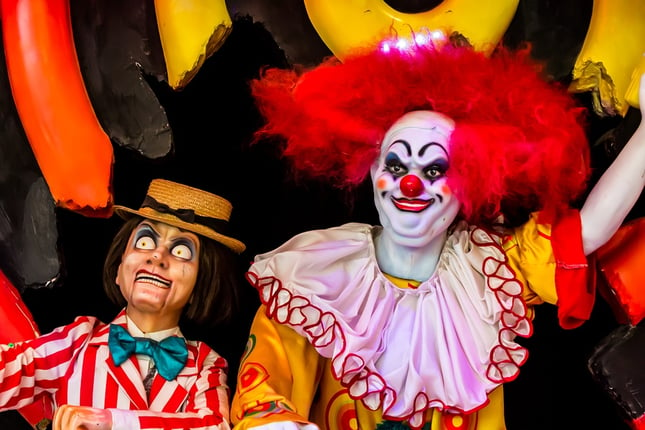 Your Industrial Janitorial Services Cannot Be A Bunch Of Clowns
Don't mess around with clowns, from the front office to the line, to the warehouse and everywhere in between, you deserve industrial cleaning that delivers results. Maybe your industrial cleaning service started strong but slipped before long, or maybe they were never quite on track to begin with. If you manage an industrial facility of any kind, you know that the quality and effectiveness of your industrial cleaning and janitorial services has a significant impact on your overall operations. The right industrial facility services will have you running like clockwork providing you with a clean, well maintained facility with minimal interruptions to your operations. The best industrial maintenance services understand that with regulatory scrutiny, demanding production schedules and relentless competition, it is more critical than ever that your Detroit industrial cleaning is efficient and effective. You chose to outsource industrial cleaning in order to save time and money, but if you are working with an industrial cleaning company that is basically a joke, you have likely lost control of quality, consistency and cost. Industrial cleaning is significantly more complex than basic commercial or office cleaning. The space is different, the work is different, the compliance is different. If your Michigan industrial cleaning company doesn't understand the specifics needed to deliver consistent, effective service in your industrial facility, your facility maintenance is likely to become a circus.
Find an Industrial Cleaning Company That Won't Make a Circus Out of Your Facility
No matter what kind of industrial facility you run: industrial, manufacturing, fulfillment and distribution, machinery, automotive, high tech, food and beverage and more, you need industrial janitorial services that deliver. As a Facility Manager in an industrial facility, you have a great deal on your plate. You are worried about speed, productivity, productions schedules, compliance and of course, safety. You need to maximize your building services budget, increase operating efficiencies and of course, curb escalating operating costs. And you need an industrial cleaning and janitorial company that can help you juggle all of this. Industrial cleaning has goals, compliance issues and regulatory requirements that go well beyond what is required in most other facilities. You don't need to settle for one size fits all commercial cleaning "solutions". If you want to reach your goals, increase productivity, reduce costs and meet all compliance and safety goals, you need to work with a building services company that makes your business their business. You need a janitorial company that is intent on getting to know your pain points and specific needs in order to deliver effective, efficient, individualized industrial janitorial service and provide the integrated facility solutions you need.
When It Comes to the Requirements of Industrial Cleaning, You Can't Clown Around
Sure, everyone has to start somewhere, but you DO NOT want to be the training ground for a janitorial services company just breaking into the industrial cleaning market. When you are looking for new industrial cleaning services, you will likely find a great many cleaning companies that WANT your business but only a few that can really handle it. Industrial cleaning requires heightened awareness of safety issues, a solid understanding of compliance requirements, a knowledge of pertinent regulatory constraints and more. Do your prospective industrial cleaning companies fully grasp the critical nature of safety and compliance issues? Are they familiar with ISO 9001 or the Global Harmonized System of Classification and Labeling of Chemicals (GHS)? Are they well versed on Occupational Safety and Health Administration (OSHA) requirements and how they pertain to your business and their own? The most effective industrial cleaning companies not only understand their compliance requirements, they have, at the very least, a basic understanding of yours. It is in your best interest to consider commercial cleaning companies that utilize industry best practices and even go beyond with professional certifications like the ISSA's CIMS. You need industrial cleaning services that offer consistent, professional teams equipped with the training, tools and technology to assure consistent, effective, efficient service delivery.
CIMS Certification Helps the Pros From the Jokers
One of the most critical pieces of finding the right janitorial services company for your industrial cleaning is to whittle down your list of prospective companies to those ready and able to deliver results in your industrial facility. But the process of doing this can be costly and time consuming. Sure you can ask the hard questions but is that the best use of your time if there is a better way to prequalify janitorial companies? If you are anything like many of the Facility managers we work with everyday, you already have more than enough on your plate. If there was a way to prequalify industrial janitorial companies and it was FREE, wouldn't it be worth trying to make the process of finding your next industrial janitorial company just a little bit easier? There is a way to get the information that can make all of the difference when it comes to finding the right industrial cleaning company, whether that's here in Southeast Michigan or around the world. ISSA CIMS certification offers you a no cost shortcut to sift through the crowded janitorial marketplace to create a shortlist of only those janitorial companies already set up to deliver on their promises of quality, effective, responsive service. CIMS certification is a voluntary certification process that requires a building services company to demonstrate their competencies in a variety of areas critical to the delivery of high levels of cleaning and maintenance. CIMS or the Cleaning Industry Management Standard demonstrates a industrial cleaning company's commitment to industry best practices. These best practices are the yardsticks that predict and measure success. They are the systems and methods proven to correlate with quality, effective service and consistently satisfied customers. CIMS certification can help you narrow your focus to those janitorial companies most likely to succeed in your facility. Then you can use that short list combines with on site walk thrus, RFPs (Requests For Proposal) and meetings to decide who on your short list offers the best value and fit for your facility.
People Are the Single Most Important Component of Effective Commercial Industrial Cleaning
People are the single most important component of effective, efficient and responsive industrial cleaning services. After all, no matter how good the tools and technology are, if the TRAINING isn't there, the work, and your facility, will suffer. People are the frontline service deliverers and who they are, how they are trained and managed matters. Does your prospective industrial cleaning company prioritize attracting, screening, hiring, training and managing great people who are a great fit for the requirements of industrial cleaning? Are your would be industrial cleaning services companies doing what they need to in order to assure the people in and out of your facility are prepared and equipped to do their best? How are they training their teams? Do they use onsite training, web based training, visual inspections and documentation to get people up to speed or do they wing it? How do they handle errors and issues when they come up? Do they ever take shortcuts with their people or people processes? Do they ever illegally hire or subcontract? Industrial cleaning companies that take shortcuts anywhere likely take shortcuts everywhere.
Do Your Industrial Janitorial Services Build In Quality From the Start?
Quality industrial cleaning services don't happen by accident, they happen by design. Those companies poised to deliver are likely to have:
A documented standard for employee safety training
Complete compliance with required AND recommended specific training
CIMS Certified procedure manuals or other relevant industry certification
A grasp of your individual security needs and carefully vetted employees
A proven track record of adherence with industry best practices
The processes and systems in place to guarantee responsive service
The capability to customize maintenance scheduling to fit your requirements and keep operations moving
The capacity to offer both contract and on-demand cleaning services and a host of other maintenance services
Green cleaning & sustainability initiatives that help you stay ahead of environmental regulations
The ability to add or remove staff as your peak times and needs change
A wealth of systems, procedure and tools to keep service delivery on track. These might be things like regular client communications through apps and reporting, financial documentation, service request tracking and a 10-minute response guarantee to get you the information you need quickly.
ISSA CIMS certification offers confirmation of these systems and processes saving you the time you would have spent asking the questions and verifying claims. CIMS confirms meaningful hiring processes, effective and complete training, consistent, valuable management practices and the systems in place to all but guarantee results. While there is no guarantee of great service from ANY company, CIMS and systems, processes and safeguards all make it more likely that you will find the professional, consistent, effective Detroit industrial cleaning services you need while steering clear of the clowns that are out there.