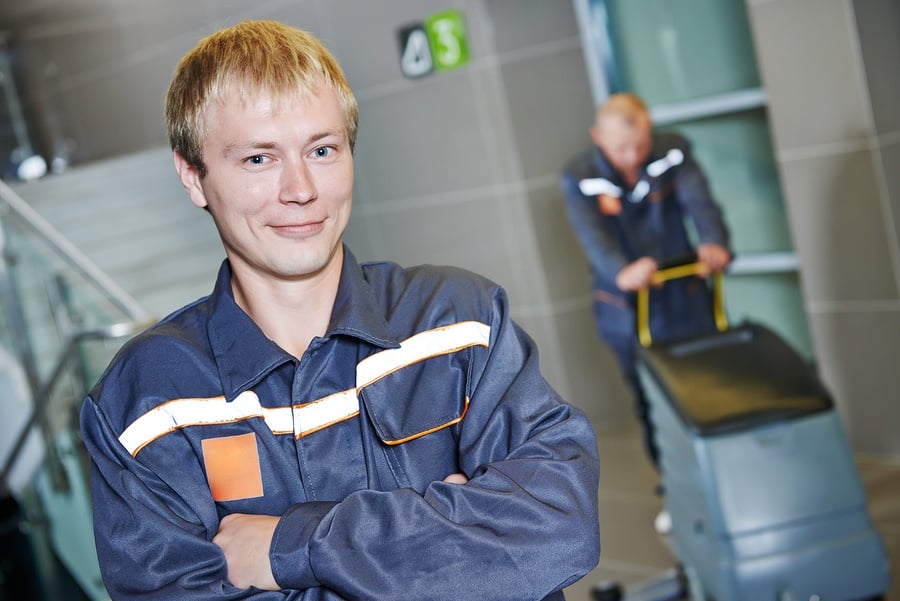 When you run a medical facility, ambulatory center, health care clinic, medical offices or other health care facility, the stakes are far greater then they are with general office janitorial services. There are a host of regulatory agencies you must answer to and more compliance issues than nearly any other industry.
As a Facility Manager at a health care center, you need to partner with a professional janitorial service that understands all that hangs in the balance: your reputation, patient and staff health, compliance issues and more. While finding the right commercial cleaning company in Michigan to handle your special set of needs can be daunting and time consuming, partnering with the best medical cleaning company will pay off down the road.
Medical Cleaning Services Require A Different Breed Of Commercial Cleaning Services
Is your medical office cleaning company familiar with the regulations surrounding HIPPA, OSHA and blood-borne pathogens? If you question your potential hospital cleaning service about HIPPA and blood-borne pathogens, do you get an empty stare or a bunch of inept fumbling around the issues? An office cleaning service or restroom cleaning service that isn't familiar with the compliance issues affecting medical office cleaning isn't going to be the right local Michigan janitorial company for the job period. Any janitorial company that wants your business must make it their business to understand how they fit into the compliance puzzle. At a minimum, your janitorial services contractor should have a solid handle on how pertinent healthcare legislation or compliance requirements affect your business and theirs. Your custodial services should at the very least have an understanding of HIPPA, offer documented training in blood borne pathogens and be able to demonstrate the specialized training they provide their people to deliver an acceptable level of service in your healthcare facility.
Why Can't I Just Pick A Janitorial Contractor or Two and See Where the Quotes Come In?
It would be nice if you could just look up a few companies and get a bid for the services you require. If the stakes were not so high with medical cleaning services, you might be able to do that. But the reality is that with hospital cleaning and similar facilities, you need a healthcare cleaning services company that will do the job right the first time and understands smart cleaning. You simply cannot afford to make a mistake here. Even when it's seemingly straightforward jobs like restroom cleaning, finding the right cleaning services in Michigan is challenging for a number of reasons. First, there are so many sizes and types of commercial cleaning contractors operating out there that uncovering the best medical cleaning services that are truly proficient at handling the requirements and needs of your healthcare facility is intimidating. Second, while a facilities services company might tell you they understand what is needed in your medical facility, it can be hard to separate the imposters from those janitorial companies that offer real experience, a solid grasp of HIPPA, OSHA and Blood-Borne Pathogens and a reputation built on the highest level of service and trust.
How Do I Choose the Best Building Maintenance Company For My Health Care Cleaning?
A first essential element of hiring the right janitorial company is to take everything you are told with a grain of salt. The reality is that a building services contractor can say anything they want. Want to navigate around the fakers and imposters? Ask to see evidence of any claims your commercial cleaning company makes. While a great pitch can be tempting, any medical office cleaning company deserving of your business will be able to backup their claims with observable systems and processes, solid references and documented training. What is really most critical when it comes to medical facility cleaning services? The most important elements of the best janitorial service are people, systems, transparent pricing and responsiveness.
Of course people are your frontline connection with your health care cleaning company and as such, need to be the biggest selling point from any prospective healthcare cleaning service. Then, no matter how great their people are, people make mistakes, so documented processes and systems can help keep everyone accountable and on track. Next, transparent pricing is a must because if you don't understand precisely what you are buying with your hospital cleaning budget or what your cleaning bid really includes, how do you know when you have gotten it? Transparent pricing allows you to compare bids, apples to apples so that you can make informed choices. Last, responsiveness is key. The reality is no matter how experienced your medical cleaning company is in healthcare cleaning, you still have needs and requirements that are unique to your facility. The best commercial cleaning companies will know how to incorporate your needs into their plan in order to deliver the highest level of medical janitorial services to you.
What Is CIMS Certification & Why Does It Matter When It Comes To Janitorial & Cleaning Services?
Medical professionals have board certifications to demonstrate they have advanced training and mastery of specific areas of medicine. In the cleaning industry, we have CIMS to do much the same. CIMS or the Cleaning Industry Management Standard is an industry certification that designates a hospital cleaning service or health care cleaning company as especially professional and adept at what they do. CIMS certification is a rigorous process that requires that medical office cleaning companies demonstrate proficiency and compliance in a number of areas critical to quality service delivery. The CIMS standard measures:
Quality Systems: A framework to ensure effective operations & continuous improvement
Service Delivery: Processes & systems in place to deliver consistent, quality service
Human Resources: Best practices for managing any service industry's greatest asset—their people
Health, Safety, & Environmental Stewardship: Ensuring regulatory compliance, workplace safety, and health and environmental management
Management Commitment: Establishing our Mission, Vision, and Values and ensuring that the organization's continuity is secured.
How Does CIMS Apply to Medical Cleaning & Hospital Cleaning?
CIMS certification supplies a free shortcut and beneficial source of important information for you, the Facility Manager, in search of a medical cleaning contractor ready to care for your ambulatory center, surgical center, outpatient care center, clinic or medical offices. CIMS certification is an incredibly demanding process that compels medical cleaning companies to demonstrate best practices and competencies in several critical areas that affect you as a client. CIMS certification demonstrates that you are working with a committed janitorial company dedicated to their industry and their reputation.
Finding a Medical Cleaning Company Up to the Job With CIMS
Much like not all doctors or medical facilities are the same, not all commercial cleaning companies are the same. Most janitorial contractors will happily take your business but really, only a small percentage of the best commercial cleaning companies will actually deliver what they promise. The good news is that the best medical cleaning won't necessarily cost more for your facility maintenance. In fact, sometime the best Michigan medical cleaning companies are able to deliver lower cost services to you because they understand how to price their services and work with the budget you have to deliver value to your healthcare facility. When looking for a healthcare cleaning company, CIMS can be just the shortcut you need to find great services with the least amount of effort, that's real value. CIMS doesn't guarantee you will get top-level medical cleaning services but it's a great start. You can use this valuable, free tool to help you develop your short list of medical cleaning companies and find the right partner to keep your medical facilities running smoothly for years to come.