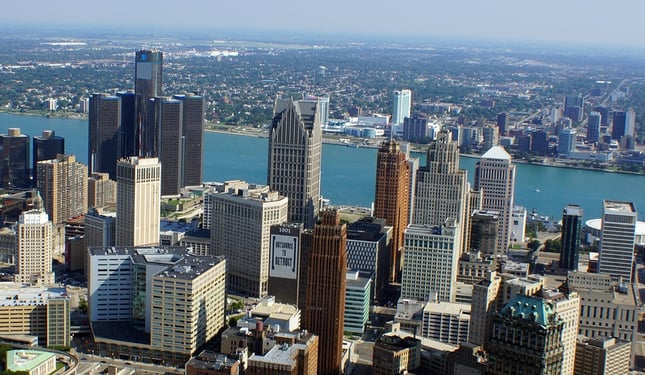 In Business, Local Matters
With a monolithic national janitorial company you and your facility are always going to be a small fish in a huge pond. Regardless of their intention, national janitorial companies are simply not set up for the responsive, personalized, agile services that a local Michigan commercial cleaning company can deliver. Buying local and keeping needed revenue in our state has a considerable impact on every individual who calls Michigan home. By choosing to work with local and independent businesses, not only do you enjoy a more individualized experience, you help build community, strengthen the local Michigan economy, shape the nature off our communities, go greener with a greater likelihood of more local connections with suppliers and employment, keep revenue, jobs and tax dollars right here in the great state of Michigan and help secure consumer choices by supporting a variety of independent businesses. And local doesn't just mean your neighborhood Italian restaurant or your neighbor's auto detailing shop. Shopping local pertains to our industries and service businesses too. Right here in Michigan, investing your dollars in local businesses like Michigan cleaning services can make all of the difference in protecting the health and strength of our local and state economies.
Local Janitorial Services Are Good For Business

When you as a Facility Manager choose local cleaning services Michigan for your facility services, you help keep jobs and dollars here in the local Michigan community. From local tax revenue to janitorial jobs to economic growth and more, partnering with local Michigan businesses benefits Michigan and its residents in meaningful ways. Sure you'd like to keep your dollars local but how does buying local benefit your business? Is it possible to do the right thing AND meet the needs of your business? You might think that your organization requires a national janitorial company to get a high level of responsive, economical janitorial services but bigger isn't always better, especially in a service intensive business. Scalability and size can help a business to a point and then size can become its own challenge making it harder to deliver the responsive professional janitorial service large facilities require. National cleaning companies can certainly offer you the ability to coordinate services in multiple states and regions through a single company but if that isn't something you and your facility need, a national janitorial company isn't likely to be your best option. In order to secure optimal pricing, a solid value and attentive, individualized service from janitorial services Michigan, a local Detroit janitorial company may be your best bet.
Not All Local Janitorial Companies Can Deliver
Janitorial services companies and commercial cleaning companies come in all types and sizes. With a local cleaning company you can get a Mom & Pop operation, the one man and a van, the owner operator with an ever changing crew of cleaners, the small biz startup and the established large professional Detroit area commercial cleaning company. The trick is finding the right Detroit commercial cleaning company that can meet your needs. Many of the janitorial services companies in Michigan are far too small to offer the needed level of service for your large facility or numerous facilities. If your operations go beyond a small office or business, the likelihood is that a large, local Michigan building services contractor will offer the right fit for your facility. Maybe you need medical cleaning for your medical offices or perhaps you are in search of industrial cleaning services for you plant or factory. Maybe you need school cleaning services, office cleaning services and more and want to be more than just another number, you need more than a national janitorial company can offer, you want to be a valued customer building a partnership with another local company that can offer you those special touches only cleaning services in Michigan can.
Why A National Cleaning Company Can't Compete With the Benefits of Made in Michigan
There's big, big enough and there's too big. Sometimes big national janitorial companies also come with bigger problems, but too small doesn't work either. If you manage a large complex or multiple facilities, small cleaning companies in Michigan are likely to be too small. But you don't want to disappear in the sea of customers with a national janitorial company. What is likely to be the best fit? Well, you need janitorial services in Michigan that offer responsive service and superior cleaning all with janitorial prices that offer real value. You need a janitorial services company Michigan that is both established and experienced, as they are more likely to understand how to price and execute their services. You need a Detroit janitorial services company big enough to offer all of the services you need and price breaks that only large companies can qualify for, yet small enough and local that you can get what you need without having to wade through a complex structure of off shore call centers and pass the buck management where finding out who's really in charge can be next to impossible. This is where a large local janitorial services company can really shine. When you contract with commercial cleaning services that are both large and local, you reap the many benefits of BOTH national janitorial companies AND local Michigan area janitorial companies. What can a large local cleaning company do for you and your facility? The most effective janitorial services companies in Michigan are those that have the experience where they have already worked through service issues and business problems that tend to plague newer startups or cleaning companies going through growth and the growing pains that can come with it. These larger, established Detroit commercial cleaning companies still reap the benefits of purchasing power like the large national janitorial companies but they pair it with the individualized services and accountability of the local companies.
Getting the Janitorial Services You Can Depend On
Okay so you want to use a local Michigan janitorial company but you want the right one that will deliver on their promises to you, so where do you start? First, you should scrutinize your prospective commercial cleaning company's philosophy, practices and systems with regard to their people. All service businesses, including Detroit janitorial companies are reliant upon their front line employees to actually serve their customers. The President isn't checking and rechecking that your floors are clean. The Business Manager isn't emptying your restroom trashcans. It is the frontline cleaners who are responsible for the day to day cleaning and maintenance of your facility. What a janitorial company CAN control is how they find their people, how they vet and screen potential hires, how they attract and retain the best performers, how they train and equip their teams for success and how they manage and create a culture that rewards performance. Best practices in these areas reduce janitorial turnover which is historically high and that translates into more consistent, responsive and cost effective service for you the customer. Likewise, it is prudent to partner with an office cleaning company or medical cleaning company that is responsive. Cleaning isn't as straight forward as one might think. Effective service takes communication, time, fine-tuning and systems to assure your cleaning and maintenance truly fit your needs. Those companies with designed and refined procedures and systems in place to create reliability through accountability are in the best position to really deliver on their promises. Additionally, choose a janitorial company with transparent pricing allows you to compare janitorial quotes in a meaningful way to secure the best value.
Using Industry Certifications to Make Finding a Detroit Commercial Cleaning Company Easier
Industry certifications like the ISSA's CIMS can offer an easy way to pull together your short list of high performing janitorial service companies. CIMS, or the Cleaning Services Management Standard is a certification offered to building services contractors, also called BSCs, that requires contractors to demonstrate their mastery of a number of areas of business that directly correlate to effective service and operations. The ISSA's CIMS certification measures a company's adherence to and achievement of industry best practices through benchmarks and standards. CIMS is among the most demanding and difficult certifications, it isn't an empty award or a purchased platitude, it is a respected certification with real meat to it. Those janitorial companies that achieve CIMS certification demonstrate a solid commitment to their industry as well as lofty goals of leading their industries into the future with continual striving to do more for less in the best ways that serve their customers and the planet. When you develop your shortlist of janitorial companies from those commercial cleaners that have achieved the CIMS certification, to put yourself and your facility in the best position to partner with an affordable local Michigan cleaning company that will deliver value for you and your facility.