LEED Certified Office Cleaning & Janitorial Services
If you are looking for ways to clean greener or you are working on LEED-EBOM points, you are in expert hands with Stathakis.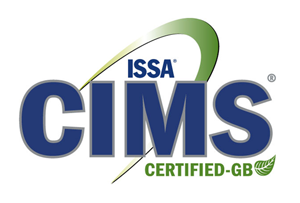 In 2011, Stathakis earned CIMS-GB Certification* with Honors through the ISSA**. CIMS assures our customers that our processes are among the industries best. The "Green Building" (GB)*** part of the certification symbolizes our capability to assist our customers in achieving a greener clean, in addition to earning LEED-EBOM points.
The CIMS standards include:
Quality Systems: A framework to ensure effective operations and continuous improvement
Service Delivery: Processes to effectively deliver service
Human Resources: Best practices of managing people
Health, Safety, & Environmental Stewardship: Ensuring regulatory compliance, workplace safety, and health and environmental management
Management Commitment: Establishing our Mission, Vision, and Values and ensuring that the organization's continuity is secured.
HOW CIMS-GB BENEFITS OUR CUSTOMERS
The Cleaning Industry Management Standard (CIMS) certification program is a rigorous program that sets a new "standard" of excellence for building service contractors. Implementation of the standard's signature framework, which is built around five universally accepted quality principles, establishes Stathakis as a high-performance, customer-focused cleaning organization.
Read the entire article on our blog.
*Cleaning Industry Management Standard & Certification
**International Sanitary Supply Association
***Green Building