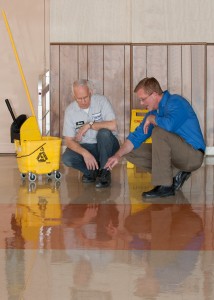 Let's face it. When you are evaluating a new supplier, numbers play a big part in the decision. That's why national companies may be part of the mix of janitorial services you're evaluating. Just make sure that you are evaluating all of the facts, not just the financial ones. National janitorial service companies will try to sell you on their efficiencies, but what they won't tell you is that you may sacrifice efficiencies in delays in service. That ultimately hurts your bottom line, because time is money.
If you run into a big problem with a national company, the immediate supervisors may not have the authority to resolve your problem. So you may have to wait until someone in power can jump in a plane and travel to your work site.
Local companies can respond much faster because they don't have miles of red tape, people, and a legal department to overcome. "When I was working for one of the largest international companies in the soft services field the legal department would hold-up everything from signing contracts to implementing new ideas," said Don Simon. "We had long-time customers getting real angry and threatening to cancel. Then it would take weeks to get someone in authority to get legal to move on something."
"That's why I think our 10-Minute Response Guarantee is terrific," said Don Simon, Sales Executive. "There is nothing worse than to be paralyzed while you are waiting for someone in charge to call you back."
There are also many advantages to being independently owned. Privately-held companies don't have to please shareholders, so they can reinvest more in the company, the employees, and the appearance of the customer's facilities. They can also adapt to changes in the industry in real-time, providing new procedures, technology and/or products that benefit your business in a timely manner.