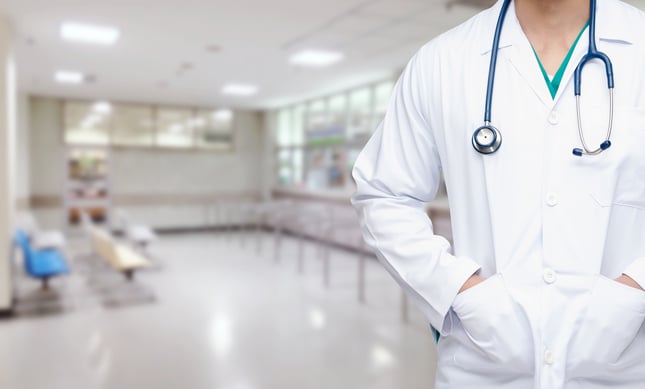 Is Your Facility Up To The Scrutiny Of Patients & Their Families?
Medical office cleaning requires a great deal more from a commercial cleaning company than general business office cleaning. When a consumer goes into a retail establishment, they want to buy something. When a consumer visits a restaurant, they want to eat something. When a consumer visits an office building, they typically want to do something. But when a consumer visits a medical office or other healthcare setting, they are putting their health and safety in your hands. The expectation of cleanliness and care is entirely different. And the trust inherent in the relationship between a patient and your staff and facility is easily broken if your medical office isn't clean and welcoming. When patients and their families walk through the doors of your medical facility, they want to see and be reassured by a clean, professional setting. Without even being aware that they are doing it, they will judge the quality and safety of the services they receive, in part, by the appearance of your facility. They will look over your offices, waiting areas and examination rooms. They will notice mystery stains, wear, trash and worse as they wait to be seen. Is your medical facility up to the scrutiny? Is your medical cleaning company doing all they need to be in order to protect patient health, attract and retain quality medical staff and safeguard the reputation of your facility? Quality medical office cleaning services in Detroit should clean and maintain your medical facility at a level that will assure patient comfort and reduce the spread of disease-causing germs. If you are looking to outsource medical cleaning or replace an existing medical cleaning service that has flat lined, what do you need to know to make the most sound decision for your facility?
What You Need From Medical Cleaning Services
As you go through the process of identifying and vetting healthcare cleaning services, it can be helpful to consider the endpoint of what you want from them. While individual medical janitorial services may take slightly different approaches in your facility, there are some service basics you should always be getting without fail. What do patients and their families scrutinize when they visit your facility? What specific areas do you and your healthcare cleaning team need to be acutely aware of?
First - Your healthcare facility must have a clean, welcoming entrance. This space creates a first impression and nothing can destroy that faster than greasy germ laden fingerprints on glass doors, dark, unknown stains on carpeting, dog eared, ripped magazines and worse. Your medical cleaning services should help you send the right message and make a positive first impression with a clean and inviting entrance that sets the tone for professional, trusted medical care.
Second - Grubby, grimy carpets and dusty, dirty hard flooring are easy to notice. Dirty carpets look and smell bad and hard flooring that isn't regularly maintained can lend to an overall sense of insufficient maintenance in your medical facility. Floors in your healthcare facility should always be clean and safe even if that means more regular cleaning than you might have to do in for general office cleaning. Regular dry carpet cleaning and hot water extraction carpet cleaning can not only keep carpeting looking its best, it can even extend the lifespan of this expensive building asset. Likewise, regular, professional hard floor cleaning keeps flooring looking good and keeps slipping hazards to a minimum. In addition to carpet cleaning and hard floor cleaning, your medical office cleaning services should also help you with a matting program. More and more companies are enhancing their medical janitorial programs with floor and entrance mats. A recent study from the International Sanitary Supply Association (ISSA), demonstrated that up to 90% of the dirt that enters a facility comes in on people's shoes. A quality matting program, regular hard flooring maintenance and periodic carpet cleaning can keep the floor in your medical facility looking good and sending the right message to patients, staff and visitors.
Third – Clean, sanitized restrooms are a critical part of the overall impression of cleanliness in your facility. While medical visit and procedures do not happen in the restroom, the state of your restrooms can make or break the perception of overall care and professionalism of the actual health services offered. Think about how you feel when you visit a restaurant and see the restrooms dirty and in disarray. You immediately become suspicious about the state of the kitchen. The same is true in healthcare facilities. A dirty restroom lends an unfavorable impression that everything might be dirty. Furthermore, restrooms are a chief source of disease causing environmental pathogens that pose health risk to patients, staff and visitors. Prospective medical cleaning companies must understand the science of cleaning in order to deliver the level of you deserve.
Fourth – The condition of your furnishings is a noticeable element when patients and their families are sizing up your facility. The reality is that the heavy traffic in a busy healthcare facility can quickly take a toll on furniture like waiting rooms chairs, sofas, table and treatment room chairs. Periodic cleaning on the part of your medical cleaning service is key as well as replacement of office furniture that has reached the end of its lifespan.
Fifth – Treatment rooms must be clean and inviting. Think about it, most patients are checked in and spend several minutes waiting in a treatment room. With little more to do than look around waiting for their physician or health care provider, patients are quick to notice dirt, grime and worse, especially in a medical setting where stains and gunk take on an entirely different level of threat. No one wants to see a dark smear across a cabinet door or splattered vinyl baseboards. Prospective medical janitorial services must be prepared to detail clean these patient rooms in order to provide a clean, healthy, inviting space.
Sixth – No one likes to see filled or overflowing trash in any building but it is infinitely more suspect in a medical office or healthcare facility. This is because the waste generated in a healthcare setting is in many people's opinions, just grosser. Any medical office cleaning worth their salt will keep trashes empties, clean and even be diligent about refilling important hand washing supplies like soap and hand towels to assure your facility is clean and welcoming.
Seventh –Cleaning for health is a critical component of all commercial cleaning but nowhere is it more important than in a healthcare facility. Disease causing germ spread like rapid fire in a healthcare facility that sees more sick people than other general offices. Nowhere are germs more likely to congregate and spread than touch points and hot spots. Touch points and hot spots are those areas frequently touched by many hands, think door knobs, switches, faucet handles and even shared computer and office equipment like phones and computer mouses. If your medical cleaning isn't up to speed on the principles behind cleaning for health, they are not capable of delivering the healthy, safe clean you need to create a welcoming patient environment and a healthy workplace.
How to Find Medical Cleaning Companies That Have the Right Prescription
Whether you manage an urgent care center, medical clinic or specialist offices, keeping your facility clean and welcoming is a big task. If this list of must haves and must dos sounds tough to find in a commercial cleaning company, it is. There is a great deal that goes into offering professional, effective medical office cleaning. While many janitorial companies would love to have your business, only a small few are really up to the level required for healthcare cleaning. SO how do you discern the pros from the quacks? First, partner with a Detroit commercial cleaning company that specializes in cleaning medical facilities. This should include verifiable experience working with other medical facilities. Similarly, a prospective medical cleaning company should be able to provide you with documented training in areas specific to medical facilities. Furthermore, the most professional and experienced medical cleaning companies should be able to provide you with references from other area medical facility managers. Finally, the best commercial cleaning companies will also offer other building maintenance services that can help you with one time projects or special needs that may arise in your facility.
Certified Industry Management Standard or CIMS, is the Medicine You Need
Finding the right medical cleaning company to cure what ails your facility can be overwhelming. The amount of information you must verify and checklists to check off can simply take more time than you have. Professional certifications like the ISSA's CIMS, Cleaning Industry Management Standard, offer you as a Facility Manager a free and useful tool in finding your next medical office cleaning services. Like board certification can distinguish added training and specialization with physicians, CIMS offers additional training and benchmarks for commercial cleaning professionals committed to best practices and excellence within their industry. The process is demanding and the requirements are steep. And unlike a sales pitch in which a janitorial company can SAY anything they want about the professionalism of their services, with CIMS certification, all of the information is independently verified. This means CIMS isn't just a participation trophy handed out to whomever paid for it. It is a hard won, rigorous management standard that measures business areas that directly impact you as the Facility Manager of a healthcare facility. CIMS offers a great way to put together a preliminary list of medical cleaning companies from which you can then use walk throughs, meetings and request for proposals (RFP) to make your final decision picking a medical cleaning partner that will help you and your facility operate at the highest level.