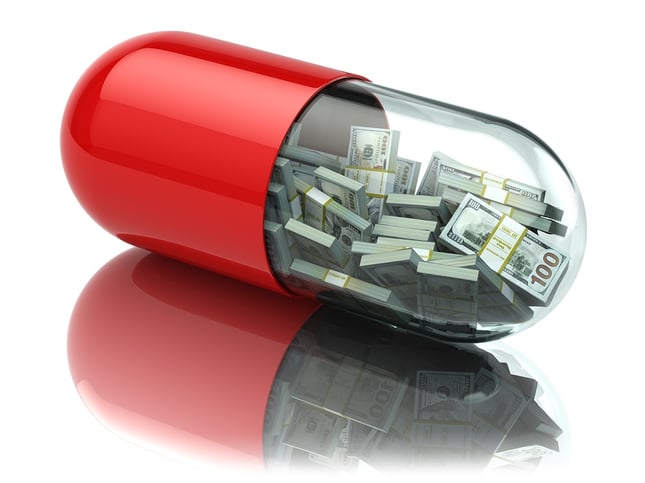 Medical Cleaning Matters More
Do you have the right prescription from your medical cleaning services? Healthcare cleaning requires more from your janitorial services, are you getting it? Medical cleaning is vastly different from general commercial cleaning and janitorial services. It requires more attention to the science of cleaning as well as the particular compliance issues that face healthcare facilities. If your commercial cleaning services company is not already familiar with the tough challenges facing Facility Managers of medical facilities, move on to a more experienced company. The reality is that there is simply too much at stake to spend your time training your cleaning company's people. Patients and their families are cautious in choosing medical providers and facilities. If your clinic, hospital, ambulatory surgical center or medical offices are not well maintained, it sends entirely the wrong message and casts doubt on the overall quality of your care.
Are Your Medical Cleaning Services Delivering Price Or Value
Price and value are two very different things. Price is what you pay, while value is what you get. Of course, price will always be a factor, after all, you have your own budgets and bottom line to manage. But low priced medical cleaning services that don't give you what you need aren't right at ANY price, right? Cost is a factor, but it can't be the only factor. Value, or what you get for your medical cleaning dollar is more important. That doesn't mean that you have to pay a steep premium for effective and consistent medical office cleaning services. Price doesn't determine effective service and compliance whether it is on the high end or the low end. Rather, your janitorial company's commitment to best practices and you their customer will determine how well they maintain your facility. Ideally, when considering a new medical cleaning company, you must have good and accurate information about pricing and exactly what you are getting. If you cannot compare medical janitorial quotes in an 'apples to apples' way, it will be harder to determine the value of what you are getting. In fact, clear pricing is a great initial way of qualifying those health care cleaning services that either don't understand how to price their services accurately or want you to purposefully make quotes difficult to compare side by side. Ultimately, you want to work with a medical cleaning service that can accurately price their service and WANTS you to have the information you need to make good decisions for your facility.
Cheap Medical Janitorial Services Are A Red Flag
As tempting as a low bid can be, unusually low bids are a red flag that something is off. Unusually low janitorial bids can point to problems. For instance, maybe the prospective janitorial company uses illegal hiring practices to get costs lower than their competitors. Or it could be that an inexperienced healthcare cleaning company wants your medical facility to be their training ground. Likewise, questionably low pricing can be an indication that a cleaning service is cutting corners on critical elements like employee drug and criminal background screening and training. Finally, super low pricing is often a sign that a medical cleaning company is prone to overpromising while under delivering. There are hard numbers required for a cleaning company to make a healthy profit from their services, if a health care cleaning company is coming in with a bid that is significantly below the norm, chances are they will do less or ask for more money at some point.
Why Value From Your Medical Cleaning Service Is Critical
Value is a critical component of securing effective, affordable cleaning for your healthcare facility. Why? Because quality, effective, professional medical office cleaning services are not likely to come from the lowest bid. Still, high price is also no indicator of quality or competence. So when looking at a desk full of cleaning quotes, how DO you choose? Brian Mamo, Director of Business Development at Stathakis, offers some thoughts on the process.
"Janitorial pricing can be all over the place-- well below cost, way above market and everything in between. Sometimes it's an inexperienced start-up that doesn't understand what it really costs to clean a building or a clear sign that you'll be asked for more money in short order. When medical cleaning prices seem exceedingly low, you have to ask yourself why. Markedly low prices can be an indication that a company will play games with your pricing down the road or that they are able to get to that lower than market price with illegal hiring."
How do you establish value and get the best possible pricing for your facility? First, make sure you understand how medical office cleaning prices are formulated. Get at least a basic idea of how janitorial pricing works. If you have a relationship with vendors or other building managers, consider asking for referrals. Second, don't just ask any janitorial company to bid on your healthcare cleaning. The health, safety and reputation of your facility is simply too important. Medical cleaning is highly specialized and requires a cleaning company that is already familiar with the added requirements and objectives. Third, ask for references and then take the time to contact them. Fourth, give prospective companies a standard service specification so you can compare quotes side by side. If you do a little hard work upfront, you can save yourself time and money down the line.
Best Practices From Medical Cleaning Companies Creates Value
We understand that low prices don't always translate into the value you need from a commercial cleaning company. If cost isn't the deciding factor, what is? Ideally, you are looking for the services needed to sufficiently maintain your building and a company that has a history of best practices and solid work. Then you compare price to find the best value for the services you require. A history of best practices from a prospective cleaning company is the best indicator of future success. Best practices include things like guaranteed responsiveness, thorough screening of employees that will be in your facility, solid training that matches the needs of your facility, a green cleaning program and more. You want to select a partner in your facility maintenance that has the systems and practices in place to all but guarantee success.
Medical Cleaning Services Require Industry Knowledge & Compliance
When it comes to medical office cleaning, your facility must not simply LOOK clean, it has to BE clean. Healthcare cleaning requires a level of clean that goes well beyond what you can see to what you CAN'T see. For this reason, it really matters that the company you partner with understands the science of clean, infection control and any compliance issues you deal with. When you are looking for new medical cleaning services, you should look for those companies that already serve medical facilities of your size in order to avoid commercial cleaning companies that simply do not have the experience to do the work at the level required. You do not want to spend time managing your janitorial company's people and fielding a slew of rookie mistakes. When it comes to cleaning healthcare facilities, experience matters. So inquire about what medical and health care accounts a prospective cleaning company currently contracts with. How do they train employees specifically for a healthcare setting? What do they do to attract, screen and manage great people that are likely to be a good fit in your facility? Do they have at least a basic understanding of medical compliance issues? Again, ask questions now and save yourself headaches later.
Finding The Right Medical Office Cleaning Service For Your Facility
As a busy Facility Manager, you should be able to rely on your commercial cleaning company to deliver effective cleaning and facility maintenance. A reliable, professional, experienced commercial cleaning company is in the best position to offer you the effective, consistent and responsive service you need while meeting your budget requirements. You don't want to deal with inexperienced cleaning companies or have to manage their people. You want a true partner that you can hand off the cleaning to confident it will be taken care of. Yes, it can be understandably challenging to find the commercial cleaning company that is prepared to deliver the needed level of expertise in your facility. But partner with a reputable and experienced Michigan health care cleaning company and every facet of your medical facility maintenance becomes better, easier and more manageable.