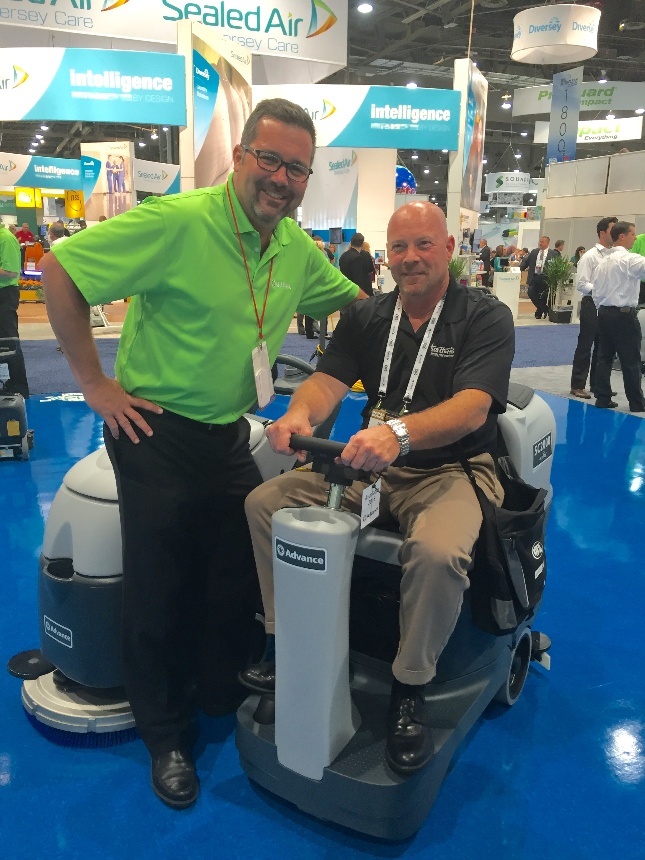 Dale Saylor of Stathakis on a Boost Advance Riding Floor Cleaning Machine
Boost Technology Cleans Better AND Greener
If you are looking for high levels of commercial floor cleaning without harsh chemicals, Boost® technology could be the answer. Sustainability and safety are 'boosted' with these green floor cleaning machines. Boost technology offers a state of the art floor scrubbing machine line provided through Clarke, a manufacturer of floor cleaning equipment since 1916. Clarke's innovations have centered on advanced equipment designs that focus on performance, reliability and user ergonomics. With this innovative floor cleaning systems, you get fewer chemicals, ergonomic design, less waste, more efficient cleaning all adding up to big gains in your green cleaning program without sacrificing shining, clean floors.
The Best Janitorial Companies Use Boost Hard Floor Cleaning
Why do the most effective commercial cleaning companies use the Boost floor cleaning equipment in their hard floor care programs? Largely in part because these systems are the best available technology. Likewise, Boost technology cuts time in the floor finish removal process and reduces the use of harsh chemicals and the odors that are often associated with them. This means big 'boosts' for facility sustainability and green cleaning goals. With Boost technology, you can remove floor finish without the use of chemicals. Using only water, you can strip old floor finish with no chemical odor, slippery floors and the added savings on chemical products.
How Boost Hard Floor Cleaning Machines Work
Here at Stathakis, we kind of think of Boost technology as magic because it allows us to do a better job on our customer's floors faster with both fewer chemicals and fewer interruptions. But Boost floor cleaning machines aren't magic, they are the culmination of research, experience and innovation. Boost technology employs orbital scrubbing technology with a rectangular floor pad, allowing the person operating the machine to clean more uniformly and more consistently than old disc scrubbers. With a rectangular floor cleaning pad, Boost offers consistent contact across the entirety of the flooring surface. Unlike conventional disc scrubbers, Boost floor cleaning machines run at 2,250 RPMs, nearly 100 times that of the older floor cleaning scrubbers. That means more power with less pressure attacking dirt wherever it lingers to get a deep, complete clean. This also means floor pads can last up to forty percent longer reducing costs to your janitorial company who in turn may pass the cost savings along to you. And the rectangular shaped floor pad helps reach straight angled areas like baseboards and corners without overspray, which in turn reduces a significant extra step in hard floor cleaning. And Boost machines use floor cleaning solutions far more efficiently netting a water and chemical savings of between fifty and seventy percent.
Chemical-Free Floor Finish Removal Maximizes Productivity
Because of how Boost floor cleaning works, there is a reduced need to shut down corridors in order to get floors cleaned. In fact, this technology reduces the time and labor associated with traditional floor finish removal meaning floors get cleaned better, quicker and cheaper. In the past, floor finish removal was a labor-intensive process that required multiple steps that took time and often used fairly harsh chemicals to get the job done. Likewise, with the older floor cleaning methods, there were harsh chemical odors, more man hours and the areas being cleaned were out of commission longer. One case study showed that Boost technology provided a 77% reduction in chemical usage and an 84% reduction in associated labor. For the facility in the study, a hospital, Clarke's Boost technology meant floors could be cleaned during the day rather than third shift because of the reduction in disruption to facility occupants.
Getting Started
If you are looking to implement a floor cleaning program that reduces contaminants, minimizes environmental impact and helps you meet your green cleaning goals, consider partnering with a janitorial company that utilizes this state of the art floor cleaning technology. This eco-friendly process employed with the unique BOOST technology, can help you make your facilities cleaner, healthier, safer while achieving sustainability goals. To learn more about Boost floor scrubbers and how they would work in your facility, contact Matt Brown, Special Projects Manager at Stathakis at #800-278-1884.
Stathakis, helping you with Ann Arbor carpet cleaning, Detroit commercial carpet cleaning, Livonia office carpet cleaning, Auburn Hills professional carpet cleaning, Farmington Hills commercial carpet care, Troy carpet cleaning and other areas of South Eastern Michigan.