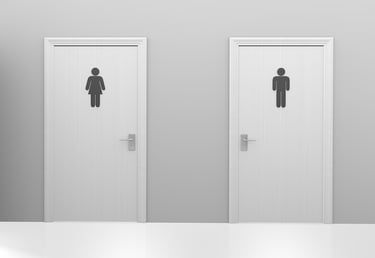 When it comes to your facility maintenance, restroom cleaning matters. If your Michigan restroom cleaning company keeps your facility's facilities well stocked, clean and smelling fresh, you're tenants, employees and customers have a favorable impression of your overall business. If on the other hand, your restroom cleaning service has slipped, your dirty restrooms could have a significant impact on the reputation of your business and your bottom line. Now of course even the most well maintained restrooms will occasionally have an empty and tell dispenser or full trashcan, if these types of things are overlooked on a regular basis it might be time to dump your restroom cleaning service. Here are 10 signs that your current restroom cleaning service isn't doing all they need to in order to protect the health of everyone entering your building, your reputation and your bottom line.
1. While it can happen from time to time in even the most well maintained facilities, when supplies are frequently empty like toilet paper, soap dispensers or paper hand towels, it's a sure sign that your Michigan commercial cleaning company is not on top of the needs of your facility. If you have so much traffic in your restrooms that nightly cleaning and restocking isn't cutting it, you might consider enlisting the help of a day porter service to keep up with the demands of a high traffic facility.
2. Calls, issues or complaints are not addressed within a day or you are experiencing the same issues over and over again. Here's the reality: the commercial cleaning industry is competitive and there are a lot of choices out there. If you are not getting responsive service, your Detroit commercial cleaning company either doesn't know how to service your business or doesn't care, neither of which are good for you and your bottom line. In any service business, a lack of responsiveness and flat line service is a symptom of a much larger problem. Don't let your restroom cleaning service's lack of professionalism bleed into your own business.
3. Wastebaskets are filled with trash and trash is accumulating around them. Yes, trashcans are for trash but if your trashcans are always full or overfilled, your restrooms are not getting the attention they need. This can happen for a few reasons. First, your janitorial services in Michigan are not giving your restrooms the level of care they require. Second, you might require daytime cleaning services to keep up with your building's traffic.
4. Sinks look dirty with visible soil, mineral deposits and soap scum. Counter fixtures are dirty and restroom counters are dirty and wet. Mirrors are visibly dirty with any combination of moisture, smears, streaks or worse. Unless you own the first gas station off a busy highway, your restrooms should never look like they are truly dirty. Regular restroom maintenance typically addresses the gross factor. At worst, your restrooms might look used or require restocking between cleanings, but not truly dirty because to get to the real dirty state usually requires time which means your Michigan commercial cleaning company isn't on top of your restroom cleaning.
5. There is a steady stream of new cleaners in and out of your facility. Outsourcing cleaning to a commercial cleaning service means you rely on them to manage the people servicing your facility. And being a service intensive business, the people really matter. If you are seeing too may new faces from your Detroit commercial cleaning company, it's likely time to move on. A revolving door of new people means your janitorial company's high turnover is costing you in service gaps and security issues. The best restroom cleaning services and commercial cleaning companies know how to attract, qualify, train and retain very good people. Their people are the number one predictor of quality, professional, responsive and consistent service.
6. When your stall doors or restroom entry door handles are dirty or grimy or you cringe looking at the visible dirt, grime, fingerprints or graffiti on restroom partitions and stalls, it's time to rethink your restroom cleaning. Likewise, sanitary disposal containers with old trash in them or in disrepair are a sure sign that your restroom cleaning company has become apathetic.
7. You are not sure who to contact with issues or who's in charge. Commercial cleaning can range from a 'man and a van operations' too large professionally run commercial janitorial contractors. The larger companies are likely to have the staffing power and know how to get the job done but they shouldn't be so big that getting in contact when you need help or have an issue is a challenge. Your Michigan janitorial contractor should be in touch with you regularly even if you don't need it. This checking in is just good business and helps insure you the customer are satisfied and the service is responsive to your individual needs.
8. Your restroom cleaning really stinks! When the cleaning still leaves noticeable and foul odors, you are getting little more than a cursory, surface clean. These bad smells and unpleasant odors are often from toilets and urinals that are noticeably dirty often with muck and grime around them. The best cleaning companies will do regular deep restroom cleaning to keep your restrooms inviting and smelling fresh and clean.
9. Wet, dirty floors are not only gross, they are hazardous. Floors that are wet, dirty or only cursory cleaned with grout and corners left dirty and unfinished speak volumes about your business and they aren't saying good things. Don't allow your restroom cleaning company to put you at risk.
10. You feel like you have to constantly manage your contractor's people. Didn't you consider outsourcing commercial cleaning to off load some of your responsibilities? So feeling like you have to micromanage your commercial cleaning team is unacceptable. Outsourcing cleaning should lighten your load and reduce costs. One without the other just doesn't cut it.
If your restroom maintenance is gong overlooked, it is likely time to reconsider you janitorial service. Perhaps you have put off making a change because you think Detroit area commercial cleaning companies are all the same but that is not the case. There are many reputable, professional cleaning companies who would welcome the opportunity to earn your business and deliver the consistent, responsive professional service you and your facility deserve. Find a commercial cleaning company Michigan ready to build a partnership with you today and tomorrow.