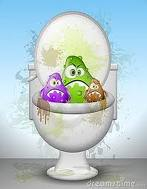 According to Dr. Charles Gerba, a microbiologist from the University of Arizona who researched office germs, "For bacteria, a desk is really the lap of luxury". The eating habits of the present era and the workplace snacking habits have been very helpful for the present rise in the bacterial population on unexpected platforms of the workplace.
According to the studies done at the University of Arizona, a simple desk used by an employee has a capability to support the lives of around 10 million bacteria. That is almost around 400 times larger than the amount of germs an average lavatory seat of a toilet has! When a typical germ control-freak employee makes all the efforts to keep himself safe from the germs found on the office toilets, he forgets that he is carrying them with himself all of the time. This, in turn, provides a very favorable environment to support the ecosystem for a colony of bacteria.
The places that a janitorial company can take care of, that work as a highway to transfer most of the germs in an office apart from a person's hands, are the following:
Telephones

Desktops

Mouse

Keyboards

Photocopy machine

Fax machine

Microwave

Coffee Machine

Doorknobs

Elevator buttons, etc.
The above list shows the places that contain most of the germs in an office. The toilet seats, however, come in last in the hierarchy of the filthiest places in an office. Telephones in an office have been helping in the transfer of more than just a few messages. They have been considered the worst affected, with almost 25,127 micro-organisms in a square inch of the receiver. Reason being, is that so many people constantly breathe on the receiver. The second position in the list of most germ contaminated areas, goes to the desktops.
The main reasons for these contaminations could be any one or all of the following:-
Lack of personal hygiene, like not washing your hands after coming from the restroom.

People sharing things like a mouse, keyboard, pen, etc.

Sick employees spreading their germs by coming to office when they should be taking a rest.

Eating habits, like people taking a snack on their own desks.

Greasy fingers used to touch the surfaces of desktops, keyboards, switches, phone receivers, etc.

Lack of clean restrooms.
The efforts that could help the companies save frequent sick leaves are as follows:-
Proper janitorial and office cleaning services should be taken from some reputable and experienced cleaning companies.

Clean restrooms create healthy work environments.

Apart from restroom cleanliness, housekeeping services for proper office cleaning and use of sanitizers should also be utilized.

Stathakis, an ISSA CIMS-GB certified janitorial company, is one such building service contractor that has been there. We have provided janitorial services for 35 years and would therefore have all of the experiences that may be needed to partner with you.