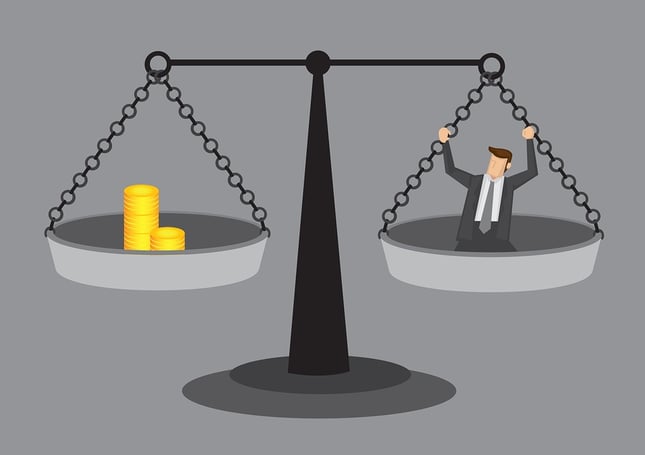 "Price is what you pay, value is what you get."
Medical Cleaning Services Require a Very Special Set of Skills
If you have ever seen the movie Taken, you might remember Liam Neeson going on and on about his "very special set of skills." Skills that made him acutely qualified for the tasks at hand. Medical cleaning also requires a very special set of skills. A medical cleaning service is different than general office cleaning or basic janitorial services. Medical facilities hold health and wellness in the balance and as such, the standards are much, much higher. Beyond standards, medical cleaning also requires an adherence to complex compliance issues you are unlikely to encounter in most other janitorial business segments. As a Facility Manager in a medical facility such as a hospital, medical offices, ambulatory care centers, surgical centers, outpatient facilities and more, y are tasked with finding a medical cleaning service that is experienced, professional, meets your budget constraints and consistently delivers real, measurable value in your facility. Can any one medical cleaning company deliver on all of these?
Cleaning Hospitals Should Never Be Left To Just Anyone
Healthcare cleaning is about more than things simply looking clean, quality healthcare cleaning done right can be a solid defense against Health care Acquired Infections (HAIs) and other communicable diseases. Additionally, quality medical office cleaning services changes the perception your patients and their families have about your facilities—for the better. This in turn may promote higher HCHPS scores.
While your healthcare cleaning services may represent a mere fraction of your medical facility's complete budget, it influences nearly all aspects of your operations. From your standing with physicians, staff, patients and families to your employee productivity and turnover, to infection control, patient health and surgical outcomes-- a hygienic and clean medical facility has a far-reaching impact. So the decision to outsource your hospital cleaning or medical office cleaning to a healthcare cleaning service is a very significant one requiring the time it takes to choose correctly. Conceivably you have thought about outsourcing your hospital housekeeping services but are understandably apprehensive about finding the right commercial cleaning company and staying on budget.
Or it could be that you are reticent to outsource your medical cleaning thinking perhaps the cost and quality might be superior if you manage your own hospital housekeeping services in-house. This hesitancy in handing off your healthcare cleaning to stand alone medical cleaning companies often keeps medical cleaning in-house until pressure builds to find financially sound solutions that often include reducing costs by outsourcing medical cleaning.
Healthcare Cleaning Services Require a Company That Understands YOUR Business
Cleaning hospitals and even medical office cleaning require a level of know how not many medical office cleaning services are truly up to. Are your medical janitorial services up to speed with the requirements of HIPPA, OSHA, blood-borne pathogens and other regulatory issues? Ask any potential medical cleaning services about HIPPA and blood-borne pathogens? If you get a vacant stare or ham-fisted fumbling around the issues, your healthcare cleaning service is likely unprepared to tackle medical cleaning without putting you, your staff, patients and reputation at risk. A health care cleaning services company that isn't familiar with the compliance issues affecting Michigan medical cleaning isn't going to be a good fit for your facility. If medical cleaning companies truly want your business, they must first make it their business to understand your compliance requirements and their part in keeping you n track.
If your medical janitorial services isn't aware of pertinent healthcare legislation or compliance requirements that impact your business and their own, you need to keep looking. At minimum, any commercial cleaning company worthy of your business should understand HIPAA; provide training in blood borne pathogens with documentation. Likewise, the best janitorial services companies can touch upon the specialized training they can provide their people to address needs SPECIFIC to your individual facility.
Does Sound Michigan Medical Cleaning Require a National Janitorial Company?
Healthcare cleaning is significantly more complex than general office cleaning and as such, selecting the right hospital cleaning service or medical office cleaning company can be challenging. Maybe you have multiple healthcare facilities or a sizable medical complex and are considering national medical cleaning company. It could be you think you need more than a Michigan medical cleaning company can offer you. Certainly, there can be specific situations in which a national janitorial service might be a good option—like you have locations in a multitude of states and require a single, central provider. But know this—bigger doesn't translate to better.Large local medical cleaning companies and giant corporate janitorial companies both come with their own advantages and disadvantages. The paramount question is, how do they line up with the needs of your facility or facilities?
If you are considering a national janitorial company for your medical cleaning because you believe the complexity of healthcare cleaning requires it, know that compliance and training are not limited to national janitorial companies. In fact, often the national janitorial companies are so large and so reliant on subcontracting, that they can bring with them a cadre of potential issues and challenges you haven't even thought about. Still, you know that your medical facility is far too large and complex for a small business. There is a middle ground and that is the large local Michigan medical cleaning company.
Great Medical Cleaning Services Don't Happen Without A Plan
"If you fail to plan, you plan to fail." While pat, this quote is true. Effective medical cleaning doesn't happen without a solid plan and if you fail to plan, you plan to fail. Which side is your current medical cleaning company on? A healthcare cleaning company need not be national to deliver effective service and being large in and of itself is no guarantee of quality, so how DO you choose a health care cleaning company? Just like the healthcare industry, the janitorial industry relies on systems and procedures to assure quality control and deliver effective, responsive services. The best XX have a plan and the plan looks something like this:
Clear janitorial pricing helps customers understand and compare janitorial quotes.
An ability to customize service around individual customer needs.
An understanding of compliance issues that impact any industry they wish to work within.
Effective quality assurance measures to assure reliability through accountability.
Effective communication with a clear, easy to reach point person.
A willingness to educate their organization on business segments BEFORE they seek customers in the industry.
CIMS Certification to crate and vet systems to deliver high level janitorial services to a myriad of industries.
Create A Beneficial Partnership With the Right Medical Cleaning Company For Your Facility
As a Facility Manager, managing the maintenance of your health care facility is demanding. Today's host of regulations and compliance requirements don't make it any less complicated. It can be tough enough to keep abreast of what's needed much less hold your cleaning company's hand and get them up to speed. That being the case, you need an XX that makes knowing your business their priority. You and your facility deserve to reap all of the rewards of outsourcing your medical cleaning services and that can't happen with a company that isn't in it to win it. With the best information, planning, and partner, not only is getting reliable, effective, responsive and compliant healthcare cleaning possible, it can be affordable.
Stathakis operates right here in South Eastern Michigan delivering effective, professional medical cleaning services. You might say our "treatment plan" on medical cleaning vastly outperforms that of our competition. If you want the most effective health care cleaning services for your facility delivered with value and responsiveness, please contact us and we can work with you to put together a clear, straightforward, workable plan for your individual facility.