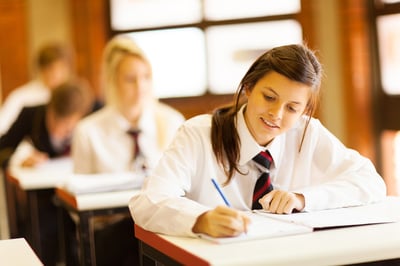 School Cleaning Is a Critical Component of Student Success
The right learning environment is fundamental to any child's education. A school that is clean and properly maintained paired with committed educators offers the best chance for our children and our communities. The vital component of keeping your schools in ready to learn condition is solid school cleaning and janitorial service.
Why is school cleaning such a critical component of student success? Certainly, cleaning in schools has a significant impact on everyday operations, but adequate cleaning in schools might even make your kids smarter. Educational cleaning isn't just about clean floors and emptied trash cans, school janitorial is about creating an environment in which our kids can succeed.
School cleaning is a critical component of learning, health and safety for all involved. For instance, cleaning, health and absenteeism are directly connected. Likewise, there is a solid connection between clean schools and the overall perceptions of parents, educators, staff, students and even the greater community. Clean schools convey the message that we operate in an orderly environment, have high expectations for students, parents and staff and support them with a solid foundation. Clean and maintained schools convey to our communities our commitment to their young people.
Rethinking Your School Cleaning Service As Summer Approaches
With summer just around the corner, it might be time to rethink your school janitorial contractor. Is your school cleaning service delivering on their promises to you? Are you happy with the level of service your educational facility is receiving? Do you like and trust the individual or individuals that care for your school? Do they adequately communicate with you and respond to your needs? Are they delivering the services you need with the budget you have?
If you are satisfied with your school janitorial company, this time of year can be the right time to rethink the changing needs of your school or educational facility so that you may communicate them to your school janitorial service. Are any changes going to impact your school cleaning needs? Are you likely to have any significant changes in enrollment? Have you had an additions or renovations that might change maintenance requirements? Has your building maintenance budget changed up or down? The best, most experienced school cleaning companies can help you get the most from the budget you have. If you are not satisfied with your janitorial service, now is the right time to look for a school cleaning service that will better meet the needs of your facility.
What It Really Takes to Make the Grade in School Cleaning
School cleaning is very different from general office cleaning and as such, requires a commercial cleaning company that understands and trains for the specific needs of schools. The school cleaning checklist can be used as a tool to help you determine which janitorial services are in the position to really meet the needs of your school or campus facility. So what should you be looking for when considering contracting for janitorial services? And what kinds of companies are best positioned to successfully partner with you and your school?
A prospective cleaning company should have extensive experience specifically in school cleaning. Simply because a cleaning company wants your business does not mean they understand how to deliver top-notch services to a school.
You need a school janitorial company that is deeply committed to thorough employee screening with a strong record of compliance in this area. Employee screening must include criminal background checks and drug testing but optimally should also include education verification, employment history verification, reference verification and more.
If they want to truly partner with a school, your commercial cleaning company must understand how important finding the right fit is where school custodians are concerned. The best commercial cleaning companies will work hard to find an ideal match for your facility.
The best and most experienced school janitorial services know how to work with your school cleaning budget and can set up a cleaning program individualized to your facility. They should offer transparent pricing and easy to understand contracts so that you know what you get and you get what you are promised.
Going local is typically better than a national school cleaning company when selecting a Michigan janitorial company. Large local cleaning companies are both poised to offer you the benefits of a large, established business and a real commitment to the local community. Local businesses keep their dollars and jobs right here in Michigan and are deeply invested in Michigan's long-term growth and prosperity.
A school cleaning company must offer individualized solutions for your school maintenance and a level of responsiveness addresses your facilities changing needs. Are there systems in place to solve real problems in your school cleaning as they arise? Do they have an ability to staff up or down throughout the year? And your Michigan school janitorial services must have systems and processes in place to communicate with ease and address issues immediately as they arise.
A school maintenance company should offer a green cleaning program as well as energy reduction plans in order to help you meet your green building goals. These programs should be substantiated through verifiable means like documented training programs.
The most professional and dedicated school cleaning companies have sought professional certifications like the CIMS-GB Certification. These challenging professional certifications are a sure indication of a company's commitment to quality service and a real partnership with their customers.
Finding the Right Michigan School Cleaning Company
Separating the best from the rest when it comes to Michigan school cleaning companies can be really challenging. There are just so many companies of all sizes and types vying for your business. This can make it hard to really know how to separate what a company says from what a company does. Professional certification can be a really effective tool in finding your new Michigan school cleaning company. Certifications like the CIMS (Certified Industry Management Standard) can offer a shortcut to creating your shortlist of prospective janitorial contractors. To learn more about CIMS certification and how it can impact your facility, click here.
Most of us involved with schools and educational facilities understand how critical it is to have adequate school maintenance that is easy to manage. We are committed to our kids and communities and certainly want to give them the best. While finding the right janitorial company to partner with can be challenging, it is a worthy endeavor that can save you time and money down the road and help you create the most favorable learning environment.