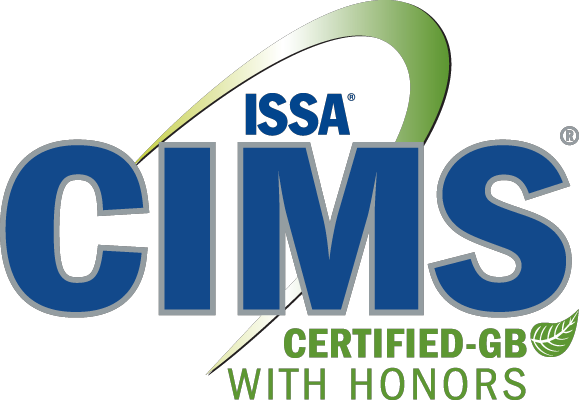 When it comes to employing a janitorial service for your company, you have a lot of options. There are thousands of cleaning services out there, and each one claims to be the best. How can you decide which one to hire? And how can you be sure that the service you choose will really deliver what it says it will? Well, the best way to narrow down the list is to choose from companies that meet the Cleaning Industry Management Standard (CIMS). Can you really tell from a simple acronym what kind of a company you're hiring? Does CIMS make a difference to the quality of service being given? You can, and it does. A CIMS company gives you a quality of service above and beyond what you would expect from an ordinary cleaning company.

CIMS is a rigorous, consensus-based standard put forward by ISSA, the World Cleaning Industry Association, that's applied to a company's management, operations, processes and general performance. ISSA CIMS certification sets out a series of meticulous qualifications for a janitorial company to follow. It measures their compliance in areas such as management, quality of service, human resources, and health and safety, and ensures that they are committed to excellence in every level of their business. It sets a janitorial service apart as a quality organization that you can depend on to meet your cleaning needs. Choosing an ISSA CIMS certified company provides you with a select pool of cleaning professionals to choose from. It also ensures that everyone in that pool is on the same level of consummate professionalism. So when you select a company with ISSA CIMS certification, you know you're getting the best.

In addition, ISSA has another, optional standard specifically designed to measure a janitorial company's commitment to environmentally friendly practices: ISSA CIMS GB (Green Building). CIMS-GB is an extra facet to ISSA CIMS certification, that is given to cleaning services which, as well as meeting the other rigorous CIMS qualifications, also adhere to a strict environmental standard in their cleaning procedures. What does this mean for you? Well, when you hire a CIMS GB company to handle your building's cleaning service, their dedication to environmental excellence will carry over to your business. A CIMS-GB company can help you minimize your own environmental impact and help your building to achieve a higher rating from the U.S. Green Building Council under the LEED (Leadership in Energy and Environmental Design) for Existing Buildings rating system for operations and maintenance. As well as benefiting the environment, this can also lead to added tax credits and other benefits for your business.

So, is ISSA CIMS certification worthless? Just the opposite. An ISSA CIMS certified company is one that has proven itself to be dedicated to a high standard of service, and that strives for customer satisfaction in every aspect of its operations, from the initial bidding to the carrying out of service to the invoicing. ISSA CIMS certification means a company is run effectively and efficiently, with a solid management system and a competent staffing plan, allowing it to keep its own costs down, which translates into savings it can pass along to you, without sacrificing quality. A company that meets the additional ISSA CIMS GB standard can also be relied on to help your business to become more green-minded and reduce its overall environmental impact. There's no longer any need for worry or guesswork when it comes to hiring a cleaning service. When you select from companies with ISSA Cleaning Industry Management Standard certification, you know exactly what you're getting, and you know you'll be happy with the results.
Stathakis, an ISSA CIMS-GB certified janitorial company, has been providing business cleaning services for over 35 years. CIMS assures our customers that our processes are among the industries best. The "Green Building" (GB)*** part of the certification symbolizes our capability to assist our customers in achieving a greener clean, in addition to earning LEED-EBOM points.
If you are shopping for Cleaning Services see Stathakis' newest Ebook, "The 360 Buyer's Guide to Better Cleaning Services", cleaning industry experts provide key insight into how to navigate through the maze of Cleaning Companies to find the best value for your facility. Get this Janitorial Buying Guide today!