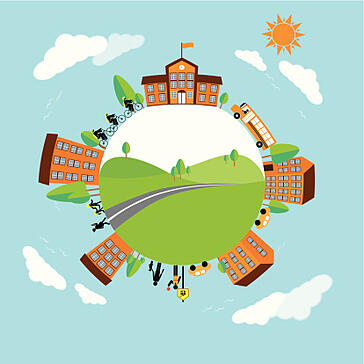 If you are charged with the care and maintenance of a school or educational facility, you know how critical safety and trust is to everyone involved. Kids, parents, educators and staff all want reassurance that the place they come to teach and learn each day is protected and secure. On top of immediate safety and security issues, a school also needs to be clean, well maintained and cared for in such a way as to promote health. The right education begins in the right learning environment and as a Facilities Manager for a school, you are tasked with a big job.
Certain critical elements come into play when it comes to finding janitorial services for your school, center or campus. When it comes to school cleaning, you want results and you want to stay under budget, but you also want the right people in your building, people you can trust. So is your cleaning company doing enough to make sure you can count on the people caring for your school? Are your school cleaning services kid safe or could your janitorial company be cutting corners, putting your kids and staff and even your reputation at risk? And if you are looking for a new janitorial service, how can you insure a prospective school cleaning company is doing their part to attract, hire, screen, train and manage the best people for the job?
The Right School Janitorial Service Begins With a Commitment to Best Practices
Professionalism and quality are important in nearly any service business, but in school cleaning it simply matters more. Because trust is critical, you as a Facility Manager deserve to feel confident that you can count on your school janitorial company to get the agreed upon work done timely, safely and without your constant vigilance. Finding the right janitorial company to partner with shouldn't be a hit or miss proposition. Along those same lines, the very best professional educatinal cleaning companies are not always the highest priced ones. In fact, quite often the most qualified cleaning companies can offer some of the best pricing because they know how to accurately price their services. They are also well versed in maximizing your cleaning budget to get you the best results.
Best Practices in School Cleaning Go Hand in Hand With CIMS Certification
When shopping commercial educational cleaning companies, consider professional certifications to help weed out subpar cleaning companies or startups from the professional, reputable companies really up to the task of maintaining your facilities. Industry certifications like CIMS (Cleaning Industry Management Standard), a challenging certification requiring a company to demonstrate they have the systems and practices in place to deliver consistent, quality services, not only insure your cleaning company is equipped to deliver on their promise of service, they show you firsthand a janitorial company's commitment to doing their best work. CIMS demonstrates a commitment to quality systems to assure success. And while it doesn't mean your janitorial company will never make a mistake or never require some fine-tuning from you to get the best from them, it does start you in a much better place. CIMS demonstrates that a school cleaning company has all of the framework in place to give you their best and that they care enough about the work they do to continually challenge themselves to do better.
Trust in Your Janitorial Company Comes Down to People
Nowhere do best practices mean more to the maintenance of an educational facility than in the recruiting, screening, hiring and management of the people who will work in their schools. Commercial cleaning companies that commit to industry best practices can be expected to:
Attract good candidates through positive employee referrals and a reputation as a good place to work through fair, competitive pay and benefits and a respectful, encouraging work place where everyone is equipped to do their best.
Use advanced testing to help find a good fit and utilize employment verification and reference testing to weed out suboptimal hires before they ever get to your facility.
Utilize solid training to make sure each employee arrives at your facility armed with the know-how to do very good work.
Utilize strong, supportive management to keep good employee on track and on task delivering consistent, quality service to you and creating a happy workforce thereby reducing turnover and service interruption at your facility.
Illegal Hiring & Corner Cutting Puts Schools at Risk
Ill-conceived short cuts like illegal hiring, a lack of proper insurance and cloudy, confusing pricing not only cast doubt on the overall integrity of a janitorial services company, they make it more difficult for you as a Facilities Manager to do your job well. Shortcuts are rarely as price saving as they might at first appear and nowhere is this more evident than school cleaning. If a janitorial company employs undocumented workers or illegally classifies employees as independent contractors in order to avoid payroll, taxes and benefits issues, is there anywhere they won't cut corners? The cheaper labor costs may or may not be passed along to you, but you had better believe your reputation and the trust between you and employees and parents will pay the price when illegal hiring is uncovered.
Likewise, companies that offer impossibly low prices or just agree on a price with little or no specifics, whether it is from inexperience or salesmanship, aren't likely to deliver the quality of work you need. The best janitorial companies don't take shortcuts because they know there just aren't any. Good work costs money and the right insurance and above board hiring has a hard cost but they both also result in a better job, long-term facility maintenance and a level of peace of mind that money cannot buy. While price is an important factor, it can't be the only factor. Far more significant when hiring a janitorial company is the idea of value. Are you getting the agreed upon work done well at the agreed upon price.
Find the Right School Cleaning Company & Go to the Head of the Class
Secure the right school janitorial service and so much else in your workday goes smoothly. With the very good cleaning companies you can focus on other things and let them do what they do well. With subpar school cleaning companies, it can almost create MORE work for you than having no one. Put your time in upfront to find a school cleaning company worthy of your facilities, ask questions and use tools like CIMS certification and you set you and your school facilities up for success.