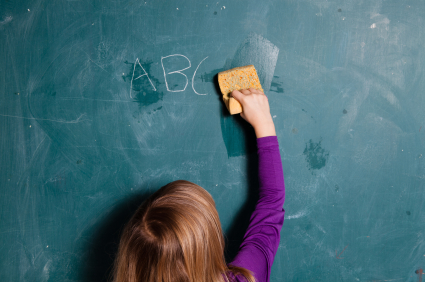 Absenteeism, Background Checks & Cleaning For Health
Where school cleaning is concerned, it's all about the ABCs. Just like the ABCs are the fundamentals of education, they are also the starting point for finding the right school cleaning and janitorial services. What do the ABCs refer to when it comes to getting your educational facilities in shiny, clean and ready-to-learn condition? Well, the ABCs could refer to things like Absenteeism, Background checks and Cleaning for health, and these are certainly important, but what we are really referring to are the fundamentals. Fundamentals are the practical basics, the essential things needed to guarantee a specific benchmark. In this instance, the benchmark is a sufficiently cleaned school.
Like the ABCs are the fundamentals we need to read, from which nearly all learning after comes from, the fundamentals of school cleaning give us the basics necessary to get good school cleaning. Once we have good school cleaning, we can work toward great school cleaning. Without these basics in play, you cannot get to the higher level you might want for your facilities. If your school cleaning company doesn't hit the ABCs, it's unlikely that they have the fundamentals locked down in a way that will translate to satisfactory or even beyond satisfactory school cleaning. So what basics or fundamentals do you need to look for in a perspective school cleaning company? What are the points that are so important, that not hitting them is a deal breaker?
Safety
Safety encompasses everything from proper screening, background checks and drug tests of cleaning staff to safe, low-impact cleaning products and methods that make student and staff health a priority. A school cleaning company that doesn't understand why safety is the top priority just is not the right company to safeguard your educational facilities. Ask the perspective school cleaning company about how they go about qualifying employees who will be in and out of your school facilities. Any employee that will be working in your school should have at minimum:
Education Verification
Employment History Verification
Professional References Verification
E-Verify
Criminal History Verification
Drug Testing
Health
If safety offers short-term protection from harm, then health is the long-term protection from harm. Everyone knows that schools can be breeding grounds for disease causing germs, but a school cleaning company that truly understands why is going to be far more effective at cleaning where it counts. Sure you want gleaming floors and sparkling windows, but the right school cleaning company understands that diseases and germs are spread by touch points: hand railings, door handles, computer mice, faucets and the like. Keeping these areas truly clean means fewer sick kids and less absenteeism with students and facility alike. Likewise, a school cleaning system should be designed with both environmental impact and effectiveness in mind.
Flexibility
School cleaning can present some pretty unpredictable situations. Put kids, staff, parents, after-school activities and the like together and you can never quite predict what any one day is going to look like. An experienced school cleaning company is ready for anything. Look for a Michigan school cleaning company that offers the knowledge and experience to get the job done right. Along those same lines, a quality school cleaning company can adapt to the individual needs of your institution with more help when you need it and less when you don't. With today's increasingly shrinking school budgets, it is important to be able to scale up or scale down as needed.
Why the Fundamentals are Key
In today's day and age, there just isn't a parent that doesn't worry at least a little about their children's safety at school. Ineffective screening of school cleaning employees can put kids and staff at risk. Barring major problems, it could be a nightmare for administrators dealing with parents who feel let down that the people spending time around their kids were not properly vetted.
Likewise, effectual school cleaning isn't just about surface clean. While we all like things to look clean and orderly, optimal school cleaning needs to be centered around student/facility health and disease prevention. We understand that "hand to eye, nose, and mouth" is how most diseases are spread, so school cleaning companies that really get this put their focus in the right places.
Not only does cleaning for disease prevention keep kids from getting sick, it reduces absenteeism, which in turn can have a major impact on test scores. Cleaning for health means putting into practice green cleaning techniques that minimize the use of harsh chemicals that are known to have a negative impact on the health of student and staff. Green cleaning is about much more that just using environmentally friendly cleaning products and equipment. It must center around employee training that makes sure the right products and equipment are being used for the right scenarios and used in the right ways. Not every school cleaning company that boasts about its green cleaning program has an effective one so ask questions and make perspective companies substantiate their claims.
How Do You Find An A+ School Cleaning Company?
Well, just like with your students, you have to do your homework on this one. To find a quality school cleaning company that makes the grade, you can look for:
Full school compliance & CIMS-GB Certification
Green Cleaning to get effective, consistent results in a safe & environmentally conscious manner
A systemized approach to help make managing school maintenance hassle-free
A system in place to solve real problems in your school cleaning as they come up
Documented training programs that substantiate a committment to green building services
Testimonials Do you know any other school principals or facility managers that might offer a recommendation? You can also ask other companies your work with like your HVAC contractor or food vendors.