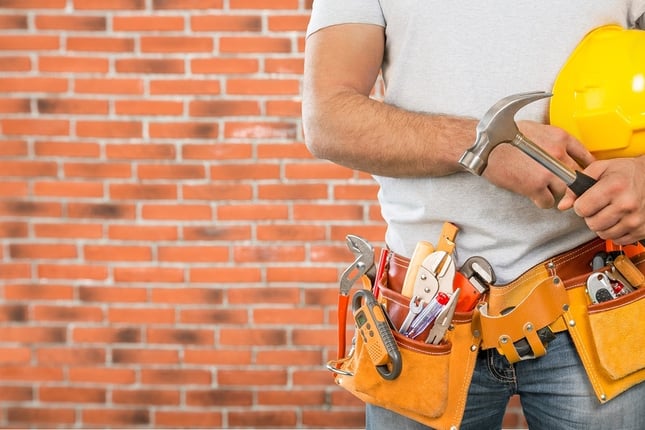 Commercial Handyman Services Can Help You Keep Your Facility Operating Smoothly
If your life is anything like most of the Facility Managers we talk with every day, your 'to do' list is a mile long and you spend more time than you wish you did putting out fires. And while you try to get ahead of the seemingly revolving door of maintenance issues, scheduling work, reviewing possible contractors, setting up site visits, estimates and hoping a small issue doesn't grow into a nightmare, often leave you overwhelmed and crossing your fingers that you get a small reprieve until the next fire blazes. Yes, it is in part the nature of the job. While you can't entirely remove maintenance surprises or anticipate every issue, you can make sure your facility runs more smoothly and even make your job, and your life easier. The best Facility Managers, the ones that make it look so easy, so seamless aren't likely to be any more capable or competent than the rest of us. Rather, they likely have an effective and professional building maintenance company at the ready. Maybe they have a team of go to guys when maintenance issues threaten to overwhelm the smooth and uneventful operation of their facilities. Perhaps you don't know where to find these mythical helpful creatures, the adept commercial handyman. Or maybe you think having a team of pros in your back pocket is outside of the limits of your budget. We can help you learn where these pros can be found and how to work them into your building maintenance budget in a way that works for you and your facility.
Your Janitorial Services Company Might Be An Untapped Source of Help In Your Facility
Do you already have a janitorial services company or commercial cleaning service? Have you checked in to see what additional services they offer? Many of the large building services companies, including Stathakis, offer customers a myriad of special services that go beyond cleaning and janitorial. This added menu of building maintenance services might include specialized cleaning tasks like window cleaning and carpet cleaning or general building maintenance issues like electrical, HVAC, plumbing and other repairs. Often commercial cleaning might be your main ongoing professional partnership with these building maintenance companies, but they can supply you with occasional tasks like carpet cleaning or relamping or even special projects like a construction cleanup or ongoing basic as-needed maintenance. Commercial building maintenance isn't something you should wait until you are in the weeds to plan. As a Facility Manager you know you will eventually have a need, issue or emergency, so why not plan now?
The Right Player On the Bench Just Waiting to Be Put In the Game
Having a commercial handyman service in your back pocket is like having an all star player or even team, suited up and on the bench just waiting for you to need them. Think about what you go through when you must start from scratch to find a building services contractor. There are unreturned calls, canceled appointments, no shows, price gouging, reference checking and more. Even if a Commercial handyman service is great, they probably have a long line of customers ahead of you. Imagine if you already had your go to company, a group of technicians and professionals just waiting for you to dispatch them. Imagine if you could go into every unplanned maintenance situation with at least a basic plan, rate and contractor in place that you trust and makes you a priority. What if instead of starting from scratch, you could just call your go to guy at your current janitorial services company and let them manage it for you? When you have an existing, ongoing relationship with your building maintenance company, you have a far greater likelihood of getting faster response times, better work and a more reasonable price.
Get the Highest Levels of Service With Your Existing Building Services Contractor
You can get the highest levels of service by establishing a relationship with capable and professional Commercial handyman services and even dive further into what your existing facilities maintenance company can offer you. When you use your current janitorial contractor for other building maintenance services, you reap advantages like elevated service, faster response times, better follow through because you are already their customer. In fact, the more business you do with your existing building services contractor, the more important you become to them. When everyone is having AC or heating issues at once, who do you think a commercial handyman service will attend to first, a new customer who might eat up their time getting quotes never to lock and load on the job or a regular customer who they work with all the time? Don't be content to get in line. Don't sit anxiously awaiting a fix on a problem just hoping the guy you talked to shows up. Don't write a check hoping a contractor you didn't have time to vet actually does the work right. Instead, capitalize on the benefits of partnership, the valued professional relationship you and your existing Building Service contractor already have.
Plan Ahead With Preventive Building Maintenance & Stop Expensive, Reactive Maintenance
Needs change, issues come and you can't predict today what you will need tomorrow. In fact, staffing and predicting labor can be a frustrating exercise in what ifs. This is one of the reasons handling your building maintenance in house can be labor intensive and expensive. Sometimes, you just don't have what you need and other times, you are paying for something even when you aren't really using it. The needs of your facility can be every changing and predicting what you will need today, tomorrow and a month from now isn't always possible. When you team up with the right partner for your facility maintenance, you can get a myriad of building maintenance solutions that you can actually adjust in real time to meet shifting needs in your facility. Rather than put out fire after fire, repairs, check-ups, installations and other similar items can be planned, forecast, budgeted for and scheduled whenever possible. And when this preventative maintenance isn't possible and a fire blazes, you have a partner at the ready to help you put it out quick and get right back to business.
Commercial Handyman Pros At the Ready When You Need Them
What Facility Manager wouldn't want their own team of pros just waiting to step in and lend a hand? Having a trusted contractor not only saves you money by avoiding costly mistakes and the hassle of managing individual contractors, it creates fewer headaches for you by doing the work ahead of the need to find a trusted, economical, effective partner ready to help. But maybe you wonder, do I have enough work for my own commercial handyman service? Most commercial handyman services have a number of different options to fit what you need now and what you might need later. It can work as an incremental need where you 'share' a team of experts with other facilities but still get concierge level service when a need arise but also benefit from spreading the cost of these experts around. Maybe all you need is an occasional plumbing or electric fix. Maybe you have a series of known repairs or rehabs that you must budget and address over the course of the year. Maybe you don't even know what you need yet, but you know you are going to need something eventually. What general matters do many janitorial companies also handle?
Comprehensive building inspections

Painting & touch-ups

HVAC maintenance/repairs

Water Clean Up

Plumbing Repairs

Roof Inspections

Group Relamping

Remodels/Alterations

Ceiling Tile Repair/Replacements

Carpentry Repairs

Carpet/Tile Repairs, Restoration & Replacement

Light bulb changes/Light fixture installations

Wall repairs

Trip Hazard Repairs

Electrical repairs

Flooring restoration

Painting/Wallpapering

24/7 Emergency Repairs

Caulking & Glazing

Exterior power washing

Office Furniture Moving & Assembly

Lock and Door Repairs

Ballast Replacement

Door/Hinge/Hardware Repair

Construction
Clean up
Get Your Own 'Easy Button' With Commercial Handyman Services
Skip ahead of the line, press the easy button, simplify your complicated set of responsibilities with your own 'Special Ops' team ready to tackle your problems or do the preventive maintenance work to avoid the problems altogether. Avoid the time suck of rescheduled appointments, no shows, site visits, estimates and follow-up. Avoid reinventing the wheel every time, avoid spending money you don't have to, avoid not knowing if you should trust the information you are given. Make life easier and maintenance cheaper with your own, at the ready commercial handyman service.