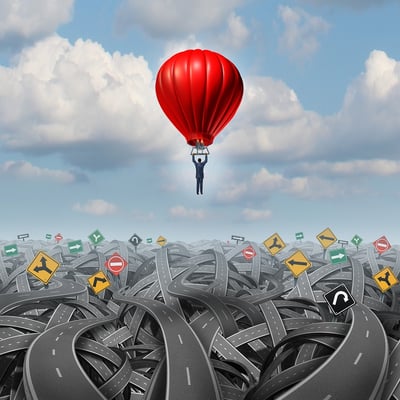 Are you a Facility Manager looking for commercial janitorial services? Or perhaps you already have a janitorial service in Michigan but you really need more from them than you are currently getting. Or maybe, you are on the cusp of renewing your janitorial contract and you want to get the most from your commercial cleaning services. Whatever the case, arming yourself with the most and best information regarding your cleaning and facility maintenance will give you the best chance of finding consistent, responsive, affordable janitorial services.
1. Janitorial Pricing & Your Janitorial Quote
We are not just talking about the right price, we are talking about clarity and transparency in your quote and janitorial pricing. When your current janitorial company or a prospective commercial janitorial services doesn't offer clear pricing and a detailed quote, they are robbing you of the opportunity to compare competing janitorial quotes and cleaning bids in a meaningful way to let you find the best value. On a different note, when your janitorial services offers a detailed cleaning quote and transparent pricing, you can hold them accountable to the work they promised. This assures a level of reliability and accountability that is good for everyone.
2.Low Turnover Translates to Improved Value & Safety From Your Professional Janitorial Service
Think your cleaning service's high janitorial turnover is their problem? Think again. High janitorial turnover costs you money and can even put safety at risk as a sea of new faces continually access your facility. Excessive turnover chips reduces the value of what you are getting from your commercial cleaning company. Employees being trained and newly hired team members typically get less done during their assigned shifts and are much more likely to miss responsibilities, damage equipment and waste supplies as they train and become accustomed to their duties. And let's not forget that high employee turnover cost your janitorial company money, and where do YOU think that cost gets recouped?
3.Enlist Your Commercial Janitorial Services Help to Cut Costs or Improve Efficiencies
If you are in the difficult position of needing to cut your janitorial budget or improve efficiencies, your commercial cleaning contractor can be a valuable partner. The most experienced commercial janitorial services have the knowledge to reduce services in a way that reaches your budget goals without reducing maintenance services to an unacceptable level. The best Michigan janitorial companies can customize a plan that finds that sweet spot where what you need meets what you can afford. The best janitorial companies should be able to set a good baseline, but also adjust up or down to meet your changing or even seasonal needs. Likewise, the most effective Michigan commercial janitorial companies know how to do more with less. This 'Smart Cleaning' means they focus their time where it is most needed and utilize state-of-the-art equipment, cutting edge cleaning methods and innovative techniques to create significant cost-cutting efficiencies.
4.Your Janitorial Services Provider Must Value People Across the Board
From the sales team to the office manager to the front line cleaner, every employee makes a difference in the level of quality and service you get from your commercial cleaning company. Good people require that your commercial janitorial contractor build in quality from the beginning that means attracting good people by being known as a good place to work in Michigan. It means properly screening employees with thorough background checks and processes that go beyond the minimums to find people well suited to the work of caring for your facility. That means great training to give great people the tools to deliver effective service. That means an inclusive culture that respects each team member's role in serving the customer. That means compensating employees fairly and offering the benefits and effective management to keep good people. These practices affect your facility maintenance company's employee's willingness to help and problem solve, it affects janitorial turnover, which in turn affects the value of what you are getting. In any service business, people are the foundation. If your commercial cleaning company has a shaky foundation, service and value will suffer.
5.Janitorial Industry Certifications Take the Guess Work Out Of Finding An Effective
An ISSA CIMS certified company is one that has proven itself to be dedicated to a elevated standard of service and that continually strives for customer satisfaction in every facet of its operations, from the initial bidding to the day to day service to invoicing and special projects. ISSA CIMS certification means a company is run effectively and efficiently, with a solid management system and a competent staffing plan, allowing it to keep its own costs down, which translates into savings and value for you, all without sacrificing quality, effective facility management. When you select from companies with ISSA Cleaning Industry Management Standard certification, you know exactly what you're getting.
6.A Large Menu of Services Saves Time & Adds Value
While it might not be a deal breaker, if your commercial maintenance company offers a large menu of service beyond janitorial, it can save you time, hassle and money. Maybe its window washing, preventive maintenance or commercial handyman services. Perhaps it is and HVAC repair or light construction. If you already have a good relationship with your janitorial services contractor, why not work with them to coordinate other needs within your building? Skip phone calls and follow up to multiple service contractors and pass along business to a company you already have a relationship with that you trust.
7.Your Commercial Cleaning Company Must Have Systems to Assure Reliability Through Accountability
While most building maintenance companies want to deliver effective service, only a few make that a reality through systems and processes that help your cleaning company keep track of all of the moving parts required to deliver consistent, responsive, exceptional janitorial services. So ask your current commercial janitorial services about how they assure quality service. Do they conduct regular janitorial inspections? Do they offer employees ongoing or specialized training? Do they have software or apps that help get information or feedback from you to teams in the field fast?
8. The Best Building Maintenance Company Embrace Technology to Drive Continuous Improvement
You don't get better or more efficient by doing things the same. The best building maintenance companies embrace technology in a way that helps them deliver quality and value to their customers. Does your janitorial services provider have an app? Do they use software to help streamline services and respond to your requests? Ask them how they make technology work for you the customer.
9.Size Matters
Too big and you'll get lost in the shuffle. Too small and you may not get the agility or professionalism you require for your facility. Most large facilities require a janitorial service company that is big enough to deliver professional, affordable services to scale and yet small enough that every customer matters. Big national janitorial companies can replace business so easy that you will likely always be a small fish in a big pond.
10. Your Cleaning Contractor Must Be Committed to Health, Safety & Environmental Stewardship
Not all janitorial services providers can be counted and far too many take shortcuts on health and safety. Maybe they neglect to properly screen employees or they turn a blind eye to illegal hiring. Maybe they take shortcuts with adequate safety training or fail to keep up with OSHA and other regulatory and compliance issues. The harsh reality is that commercial janitorial services that take shortcuts take them everywhere. The best commercial janitorial services are committed to best practices and never take short cuts with health and safety because they know an ounce of prevention is worth a pound of cure. Effective commercial maintenance companies understand both the science of cleaning to be safe and effective in cleaning for health. Likewise, the best Michigan janitorial companies consider themselves environmental stewards with a duty to continually evolve their processes and products to protect the planet.
Conclusion
So when you are searching for effective, affordable janitorial services you need clear janitorial pricing and cleaning quotes, you need a company with below average janitorial turnover and great people who have the training and support to deliver very good service. You also need an experienced commercial cleaning company that understands how to help you deliver efficiencies and meet your budget without throwing your facility maintenance out the window. Ideally, your janitorial service company will be ISSA CIMS certified to take the guesswork out of contracting with a new commercial cleaning company and if they offer a large menu of facility maintenance services, well even better.
There are so many choices out there when it comes to choosing commercial janitorial and yet, so many choices can make the process of finding the best company even harder. If you put the 10 tips to use, you can take at least some of the guess work out of finding a quality cleaning provider and find the right commercial janitorial services company to partner with in the care and maintenance of your facility.