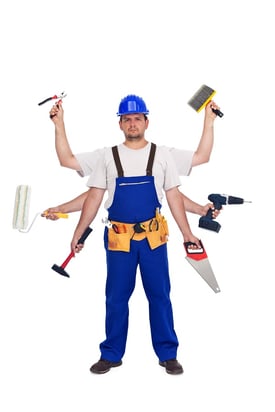 Do you suffer from too much to do with too little time? Has your 'to do' list migrated to a second page? Are you just crossing your fingers that current maintenance issues don't snowball into an expensive, emergency repair? Ongoing maintenance in even the best-run facilities can rapidly become overwhelming. Are you so overwhelmed with putting out fires that it's been awhile since you've done any preventive building maintenance?
Ongoing maintenance issues can become very time consuming with appointments, site visits, estimates and follow-up. Even seemingly small projects can eat up your time and budget very quickly. More often than not, tackling maintenance issues one by one as they come up is significantly more expensive than contracting with a commercial handyman service. If your facility is making you feel busier than a one-armed paperhanger, you would likely benefit from the help of a commercial handyman service.
A Commercial Handyman Service Means Having Your Own Team of Pros
Partner with n experienced, professional maintenance company and you get a team of highly qualified maintenance technicians. With years of experience in plumbing, HVAC, electrical and more, these professional maintenance technicians that can tackle nearly all of your facility's issues, in real time as they arise. Additionally, these commercial handymen offer an invaluable source of information that can be especially useful when you are planning bigger building maintenance projects. Sometimes, you will have one primary technician assigned to your facility but at the best building maintenance companies, all of the technicians assist and trouble shoot and work together to keep their roster of buildings well maintained.
We have all been there, waiting for a service call tied up from doing other things, while we wait to coordinate and approve the work. With the right commercial handyman service, you essentially go to the front of the line. When you partner with a commercial handyman service, you get a company committed to the needs of your facility where your 'to do' list is their.
Scheduled & Preventive Maintenance Protects Your Building Assets
If you are so busy putting fires out one by one, the chance that you get to scheduled and preventive maintenance is slim. If important maintenance is left unfinished, over time, it will diminish your building's valuable and costly assets. When you enlist the services of a commercial handyman, they use their expertise to help you develop an affordable maintenance schedule that makes sense for your facility. Additionally, with work scheduled over the course of the year, you can better forecast and budget staying on track with your building running smoothly.
Is a Commercial Handyman Service Right For My Facility?
Do you worry that you don't have enough work for a commercial maintenance company or maybe you have too much work with a large facility or even multiple facilities? The best commercial handyman services tailor their service to the specific needs of your facility. Additionally, the best of them can scale up or scale down services and costs to reflect the busier and slower cycles in your facility. Whether you need daily ongoing maintenance or a once a week visit to tackle a revolving to-do list, your commercial maintenance company can develop a schedule that meets your needs.
Is There a Secret to Finding A Qualified Building Maintenance Company?
Can you find a great building maintenance company? Well first, let's look at what makes a commercial handyman service great. The first thing that trumps all other factors is people. It is after all a commercial handyman service and being a service, what you are really buying is people. So if you want to know how well a maintenance company will serve your facility, look at their people.
Ask prospective maintenance companies about their people. What percentage of turnover do they see? What kind of background do their maintenance techs have? How do they conduct background checks and drug screening? How do they handle problems that come up? What systems are set up to manage issues? Is there an established process for getting in touch with customers who need help? Along these same lines, professional maintenance companies offer transparent pricing so that you know what exactly what you are paying for and can hold them accountable for the work they have promised. This upfront accountability helps a commercial maintenance company stay within the limits of your budget and make the most of the dollars you have.
Partner With a Solid Building Maintenance Company & Your Facility Shines
Finding a responsive, professional commercial maintenance company with great people can go a long way in tackling your seemingly insurmountable 'to do' list and keeping your building in great shape. Taking the time to find a commercial maintenance company that will meet your needs will pay big dividends in the years to come. With a team of maintenance technicians in your corner, even the busiest times of the year and even occasional emergencies are manageable.