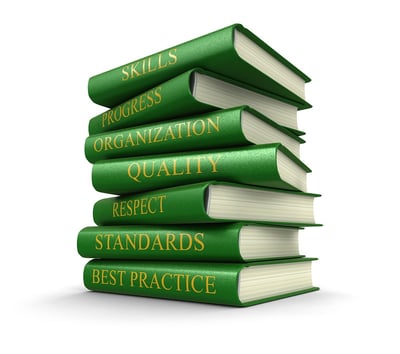 We talk a great deal about industry best practices here at Stathakis, but what does that really mean? Are they practices that are best for us, best for you and your facility or perhaps both? For you as the facility manager, whether you contract for office cleaning, industrial cleaning, school cleaning, healthcare cleaning or commercial cleaning, should our industry best practices even matter to you?
What do commercial cleaning in janitorial services Best practices even mean?
First, let's define what a best practice is generally. A best practice is defined as a method or technique that has consistently shown results superior to those achieved with other means. Because it is the better way to do something, it becomes a benchmark, or something that serves as a standard by which other things may be measured or judged. Likewise, a "best" practice is often a malleable, flexible process that is allowed to evolve as improvements are made or even better ways of dong something are uncovered. Also, best practices can define the process of developing and following a standard way of doing things that numerous organizations can use. Finally, best practices are used to assure a certain level of quality without mandatory legislated standards. Best practice is a feature of accredited management standards such as ISO 9000, ISO 14001, and CIMS.
How Janitorial Services Best Practices Impact Your Facility Maintenance
Janitorial services best practices include a number of methods and practices that range from things done in your facility to management practices that help guarantee responsive service. What elements of services have been identified as commercial cleaning best practices?
First, people and people processes are fundamental to any service business. This means every process with regard to people must be systemized, professional and consistent. From hiring to screening to training and managing, a janitorial services company must work hard to find and keep employees who are a good fit for the job and effective. This matters so much because we know that high janitorial turnover impacts your service and bottom line.
Second, transparent pricing is among the most important janitorial best practices. Transparent, clear pricing means you understand precisely what you are buying with your janitorial budget. Janitorial bids should be clear and precise allowing you to compare competing janitorial bids in a meaningful way and hold your commercial cleaning company to the promises they made you.
Third, any quality cleaning company must have commitment to consistent, responsive service. This means your janitorial services company should utilize things like janitorial inspections and formal communications to make sure that they know and do what is needed. And systemized communications mean that when something goes off track, as it can, it can be communicated quickly and resolved with little interruption in effective service.
Finally, the best janitorial companies are committed to health, safety & environmental stewardship. This can encompass many things from adequate employee training on both the methods of cleaning for health and Smart Clean and methods of cleaning that protect their health and safety and that of your building occupants. Likewise, it means a janitorial company understands both science and chemistry so that they use the right products in the right way to both eradicate disease-causing germs and use green cleaning products wherever possible. Additionally, a commitment to green cleaning and environmental stewardship can encompass a number of practices from emptying trashes without changing a plastic liner when unnecessary to stocking restrooms with recycled paper goods.
How CIMS And Janitorial Industry Best Practices Go Hand-In-Hand
CIMS, the Cleaning Industry Management Standard, is a consensus-based management framework for cleaning industry management, operations, performance systems, and processes. The Cleaning Industry Management Standard (CIMS) is designed to assist building service contractors develop quality, customer-centered organizations. The International Sanitary Supply Association (ISSA), who developed the standard, created a benchmark to meet and measure against for those janitorial services companies and commercial cleaning companies that wished to adopt, implement and drive industry best practices. The standard outlines five critical areas of management practices where a best practices standard has been developed. These are: Quality Systems, Service Delivery, Human Resources, Health, Safety & Environmental Stewardship, and Management Commitment.
CIMS Certification Can Cut Through the Cluttered, Crowded Janitorial Services Marketplace
CIMS can offer a valuable too for Facility Managers as CIMS certification identifies those janitorial services companies already committed to best practices within their industry, In fact, because companies voluntarily seek out this rigorous, verified certification, it speaks to the overall professionalism and leadership of any company that pursues it. As an evaluation tool, CIMS can be used by you as a Facility Manager to cut through the clutter of the crowded janitorial services marketplace and limit yourself to those companies already operating at the highest level. This can both raise the bar and reduce your workload by limiting RFPs, Request For Proposal, to company's that have already passed the first set of hurdles.