Detroit Office Cleaning Services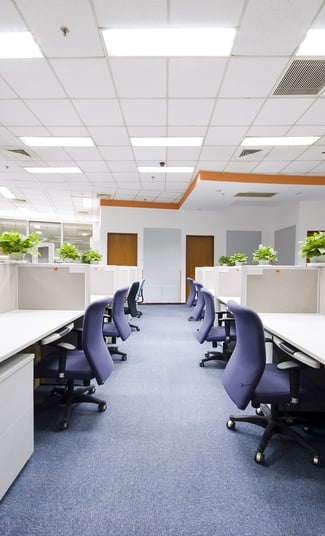 Office cleaning
is an important aspect of the business world that is often taken for granted. After all, no one wants to work in a dirty environment, but it's not the job of an office employee to clean it either. That is why outsourcing your office cleaning may be just the ticket your looking for.
Furthermore, clean restrooms, sparkling floors, and immaculate lunch and conference rooms are all crucial when you're doing business with customers and guests from the outside. For the health of your employees and the success of your business, a healthy and clean work enironment pays off.
Hiring the right Office Cleaning Service will impact:
Employee health. A clean environment hinders the spread of disease and increase health while reducing absenteeism.
First impressions. Visitors will have a positive impression and opinion of your office.
Infection Control through environmental janitorial services like surface cleaning, sanitation, and disinfecting strategies.
Increases your bottom line due to increased employee moral and output.
Maximized value in your Office Budget.
By outsourcing your cleaning services you can be confident that your working environment is in good hands. This leaves you free to focus solely on running your office and managing your business.

Our office cleaners are professional trained through our ISSA CIMS GB Certified program.
What you can expect from a Stathakis Managed Solution:
Open book pricing

and honest service
Accountability and leadership.
Friendly,

approachable staff

that is screened by drug testing, police background checks, and v

erifiied of U.S. Work Authorization

through the Federal Government E-Verify Database.
The flexibility to meet your needs along with our

ten minute response

guarantee.
Why is important that Stathakis is

ISSA CIMS GB

(especially if you're interested in green cleaning for your office):
CIMS helps your distinguish between those companies that are truly professional and properly trained vs. those who are just talk.
CIMS-GB certification illustrates our commitment to the environment and to the overall health of our clients.
CIMS-GB enables us to assist schools in achieving points for the U.S. Green Building Council's LEED for Existing Buildings: Operations & Maintenance (LEED-EBOM) Green Building Rating System.

Stathakis, an ISSA CIMS-GB certified janitorial company, has been providing office cleaning services for over 35 years. CIMS assures our customers that our processes are among the industries best. The "Green Building" (GB)*** part of the certification symbolizes our capability to assist our customers in achieving a greener clean, in addition to earning LEED-EBOM points.