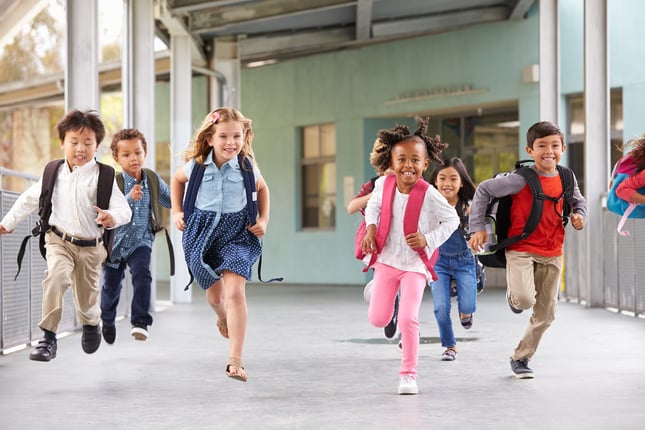 Get Caught Up & Make the Most of Summer School Cleaning
It's nearly that time again, teachers and administrators are frazzled, kids are unfocused and EVERYONE is counting the days until school is over and summer break begins. This well deserved break for teachers and students alike can be an especially busy time for your school custodian or school janitorial service. With halls empty and most staff gone until August or September, the summer months can provide an ideal time for your school janitorial company to get facility maintenance on track, attend to preventative maintenance and get your school in tip top condition. So how can you work with your janitorial company to make the most of these limited quieter months in order to get the most from your school cleaning, maintain your campus adequately and be ready to go on the first day of school?
1. Put It In Writing
School cleaning over the summer shouldn't run along the lines of, "oh, let's see what we can get to." Rather, you and your janitorial services company should have a clear, written plan. In order to make the most of summer's downtime, it is wise to formulate a plan, write it down and get agreement from your school janitorial services. Not only does a written plan keep everyone on the same page, it allows you to prioritize the workload and communicate your needs to you cleaning company better. It can even help you make note of areas you might not normally think of. And after your plan is written, it becomes far easier to divide and conquer by establishing who is doing what and when. Summer goes quick and without a good plan, this valuable time to assess and complete needed school maintenance is wasted.
2. Floor Cleaning Must Be a Priority Among School Cleaning Projects
Make floor projects a priority during the summer months. Don't let floor cleaning, detailing, stripping and refinishing get swept into the next school year where it is likely to disrupt the critical learning environment. Summer is hands down, the best time to tackle floor cleaning and maintenance. Without the heavy traffic in and out of your facility, school cleaning companies can clean floors cleaned quickly, effectively and efficiently. Michigan weather is pretty tough on our hard flooring. By the end of the school year, sand, dirt, salt, grit, grime and worse have all left their mark on your flooring. Ongoing floor maintenance like carpet cleaning, floor stripping, scrubbing and more can extend the life of your flooring and help it look its best. Make a note of where you need the most help and inquire with your school cleaning company about the best methods for effectively cleaning floors and carpets as commercial floor cleaning has made huge technological strides in the past few years. Newer, better floor and carpet cleaning methods can get a few more years out of aging floor and carpet and get your school looking cleaner than ever.


3. Get the Funk Out & Deep Clean Restrooms
After your school's floorings, your restrooms and locker rooms probably need a deep cleaning and serious defunking. As they see heavy use throughout the school year, restrooms and such get pretty beat up. During the school year it is often the case that the students get it dirtier faster than we can get it clean. So summer provides a good time to do the serious deep cleaning and needed repairs that can get your school restrooms back to the front of the line. This can mean asking your school cleaning company to detail grout and drains, completely clean stall doors and walls, clean vents and light fixtures and make any needed repairs to stall doors and other elements of your restrooms.

4. Would Your Janitorial Closet Get An A+?
Have you looked in your janitorial closet lately? If commercial school cleaning companies are operating at an A+ level, you should see a clean closet with properly labeled supplies and safety materials, clean mops, well maintained equipment and nothing out of place. The reality is that if your custodian is coming and going without keeping their work area, the janitorial closet clean, they are not giving you their best. Summer is a good time to check your janitorial closet and bring up any issues with your school janitorial services. Ask them to clean up their act, service or clean equipment, dispose of dated or improperly labeled products and create a plan to keep the area neat and ready to go during the school year.

5. Clean, Service, Repair & Replace School Cleaning Equipment
School cleaning companies are only as good as their equipment. If equipment is seriously dated, in bad shape, dirty or needing repair, summer is an ideal time to address it. Ask you cleaning company to evaluate their equipment, check that everything is operating properly, share a service/maintenance schedule with you and replace any outmoded or poorly functioning equipment. Additionally, if your school cleaning service isn't using a color coded rag system to minimize cross-contamination in your school, request that they do so. The health and wellness of your learning environment is at stake.

6. Put Your Attention On Preventative Maintenance
Are there issues you were putting off because attending to them was simply too disruptive during the school year? Summer is a great time to get caught up without disrupting the learning environment. Likewise, summer's slowdown offers an equally fitting time to conduct routine maintenance and preventive maintenance checks. What better time to do routine preventative maintenance to minimize the risk of failures when school is in session? So ask your facility maintenance services to help you to inspect your facility for issues that might need attention and assure items like HVAC, plumbing and electrical are all in good order. It is more opportune to maintain, replace or repair areas of your campus over summer then in the middle of the demanding school year.

7. Evaluate Your Current Green Cleaning Program & Update Initiatives
Most schools continue to add to their green cleaning programs year to year as newer and more cost effective green cleaning measures are developed. You are charged with the health and safety of students, staff and visitors so why not make your school cleaning products greener? Summer is a good time to reevaluate your current green cleaning program. Consult with your commercial cleaning company. What are they doing currently? Is there more that can be done to improve green cleaning directives and sustainability? Additionally, many green cleaning programs require some extra training on the part of the janitorial staff, so summer affords the downtime needed to do this without disrupting normal operations.

8. Evaluate Your Cleaning Procedures
What is working and what is not when it comes to your overall cleaning procedures? Is your school janitorial service doing all they can to create a healthy and clean learning environment or is there more they could do? Are they conducting regular janitorial inspections? This assures accountability and consistency from your school cleaning services. Is your janitorial company using work loading or team cleaning to help drive efficiencies and cost savings without sacrificing service? Are they using up to date equipment and other industry best practices that drive results? Is your campus getting cleaned often enough and are the right things being done? Are there areas that need more attention? If you have a good janitorial service, you can move them to great with just a few small adjustments to service. Most companies are happy to know how to serve you better.


9. Train & Perfect For the Coming School Year
Train now, work out kinks with any new people, new green cleaning plans or new practices. Summer offers a low risk and low stress time to make and correct mistakes before the fast paced school year begins. Whatever programs or staff you have added, you want everyone in place and ready to go on day one of the new school year.

10. Reevaluate Your Current Michigan School Cleaning Company
If you aren't entirely satisfied with your current Michigan school cleaning company, summer is a good time to reconsider your options. From your classrooms to your halls to your restrooms, your school cleaning services is responsible for keeping your facility clean and in good order. Are they meeting your needs? Are they doing the things that make your life and managing your school easier? Are they getting you good value for your school cleaning budget? If your professional janitorial services are failing to offer the professional, innovative and responsive commercial school cleaning you, students and staff deserve, it might be time to move on. A professional, trusted, reputable and effective Detroit school cleaning company isn't impossible to find and your peace of mind and the safety and health of your students and staff are worth it.
Finding A Janitorial Services Company That Makes the Grade
Just like you can't pass the test without coming to class and opening a book, you aren't likely to find the right school cleaning service without a little effort on your part. The good news is the effort is worth it as building a solid partnership with the right cleaning company makes everything easier. What should you look for if you are considering a new commercial cleaning service for your school?
Extensive experience with educational facilities
CIMS-GB Certification
A documented Green Cleaning program
Systems and processes in place to make managing school cleaning maintenance hassle-free
Responsive communication to solve issues without delay
Make the most of the quiet summer months by working with your current school cleaning company or find the right janitorial service to partner with for a new school year that gets high marks every time!