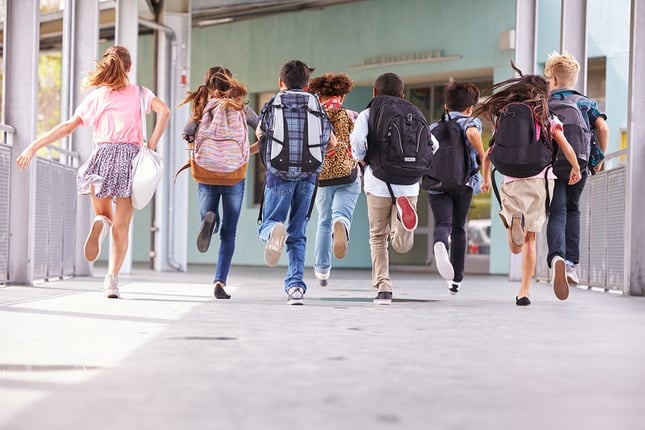 As summer winds to a close, the upcoming school year looms. For some of us, it has already started. As a Facility Manager of a school or campus, you likely have your school cleaning plan in place with summer maintenance complete or nearly complete and qualified school janitorial services ready to go. Maybe you have great school cleaning services or maybe you are in the process of evaluating school cleaning companies trying to get an idea of what is working, what is not working and what you really need to maintain your school or campus in a way that is conducive to learning and healthy for student, staff and visitors alike. So as a Facility Manager, you must ask yourself, is your Janitorial services company making the grade? Or is it time to go back to the drawing board to find the best janitorial services for your facility?
The Core Fundamentals Of Cleaning Schools
If you are reconsidering your current Michigan school cleaning company, there are some areas you should be firmly aware of. What should you focus on when considering prospective school cleaning companies? Your commercial cleaning company or janitorial services company should:
Provide specific experience & a proven track record in school cleaning
Have an established record of the highest level of safety & security
Have transparent pricing that makes it easy to compare janitorial bids
Offer green school cleaning options and Smart cleaning resources for your facility
Utilize the systems and processes to assure effective service
Have a solid understanding of how to extract the most value from your budget
Offers individualized school maintenance solutions, flexibility & responsiveness
Has achieved professional certifications like the CIMS-GB Certification
Why Experience & a Proven Track Record Matter
When you manage a school facility, campus or other learning environment, you know, experience matters, from educators to administrators and more, the same can be said for cleaning in schools. Broad experience means a janitorial company cut their teeth and learned from their mistakes years back, somewhere other than YOUR facility. Just because a janitorial company would like your business does not mean they are capable, skilled and competent enough to get the job done at the level you and your facility require. Educational facilities have different requirements and school cleaning doesn't look anything like general office cleaning. Save yourself unnecessary hassle, time, money and headaches and meet only with those janitorial services companies with a proven track record in school cleaning.
Your School Cleaning Company MUST Get an A+ In Security
When it comes to school cleaning, everything matters and yet, nothing matters more than the safety of your students and the security of your campus. Your prospective Detroit area school cleaning company must have observable and verifiable systems that assure adequate employee screening including criminal background checks and multi-panel drug screening. The best school cleaning companies go beyond the bare minimum screenings with reference and work history verification and more to assure your school cleaning team or custodian is a friendly and safe addition to your learning environment. The most effective Detroit school cleaning companies know how to not just find candidates that are safe but individuals that are a great fit for your school. When you bring on a custodian or janitorial team that really meshes with your students and staff, you create the kind of lasting partnership that benefits everyone involved.
Clear Janitorial Pricing Has Measurable Benefits
Every organization has a budget and a bottom line and a school is no different. As a Facility Manager, it is your duty to utilize your school's budget wisely and secure pricing that meets your maintenance AND budget needs. So you must have clear janitorial quotes from prospective school cleaning companies in order to compare in a meaningful way and find the best fit and value for your facility. Transparent janitorial pricing allows you to compare school cleaning quotes and set benchmarks for the work to be done allowing you and your school cleaning company to measure progress and success along the way.
The ABCs of Green School Cleaning Programs
Most commercial cleaning companies have some semblance of a green cleaning program. But are they real? Effective? Meaningful? And does your school cleaning company also have an energy reduction plan? All green cleaning claims should be backed up with adequate training and confirmed results. Green cleaning isn't just about green cleaning products, it's about practices and methods and as such, it requires concentrated training. Check if your prospective janitorial services has specific green cleaning employee training as this demonstrates a commitment to green building services, healthy schools and environmental accountability.
If a Janitorial Company Doesn't Have a Plan They Will Fail
"If you fail to plan, you plan to fail." We love this adage because it's really true. No matter how genuine your school cleaning company's motives are, without plans and systems they are not likely to succeed. Delivering the highest level of service requires solid plans and systems from hiring and screen employees, to training to janitorial inspections and more, all designed to deliver reliability through accountability.
The Difference Between Price & Value With School Cleaning
Price is what you pay, value is what you get when it comes to school janitorial services. Maintaining a school has hard costs that determine pricing, so while low cleaning bids can be enticing, over time, companies that go low just won't be capable of delivering the services they promise. Experienced and established Michigan commercial cleaning companies are in the best position to accurately price their services, offer you the price cuts that can come with larger companies and even make the most of less than optimal school cleaning budgets. How? They simply have the tools and the experience to do more with less.
Facility Needs Differ, Can Your Janitorial Company Keep Up?
The needs of your school change based upon capacity, time of year, and other issues that may come up. Is your Michigan school cleaning company poised to offer you the customized school cleaning solutions you and your facility require? And are they responsive? No matter how proficient your janitorial company is, mistakes will happen. So when issues arise, how do they respond? The best school cleaning companies can adjust to your needs and will respond to issues before they blow up into larger problems.
Making Industry Certifications Like CIMS-GB Work For You
There are a variety of important benchmarks of success when it comes to finding a qualified school cleaning company. So how can you weed out the fakers from those companies set up to deliver on their promises to you? Industry certifications like the CIMS-GB Certification, or Cleaning Industry Management Standard give Building Services contractors the opportunity to establish they are among the best their industry has to offer. These kinds of challenging professional certification processes offer an indication of a school cleaning company's commitment to industry best practices for school cleaning and their commitment to forging a successful, long term partnership with you.