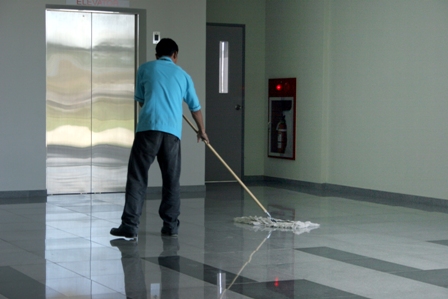 When it comes to
cleaning in schools
, it is always best to use cleaning supplies that aren't harmful both to cleaning employees as well as the students attending the school. Harsher chemicals found in cleaning supplies can cause dangerous eye and skin irritations, and even something a bit more dangerous like respiratory problems.
With all of these advances in how people can clean, however, those supplies with high amounts of ammonia, phosphates, and dangerous acids don't have to be used in school cleaning. Instead, green cleaning is the best alternative.
Stathakis wants to help people learn about
green cleaning
solutions and re-educate them on why it is better to use green cleaning. Not only is it safer, but, when using it in school cleaning, children can be educated on the pros of green cleaning supplies and understand that it works and doesn't have to be dangerous. School cleaning companies who are employed by the schools should also be using green products because:
The staying power of green cleaning supplies is better and, like said before, isn't going to be as harsh as chemically-strong supplies. Green cleaning can mean saving more money because people won't be irritated by the chemicals in alternative cleaning solutions.
Green is a hot topic with everyone, especially for schools who want to educate their students on sustainability and our environment. Introducing students to green technology and solutions doesn't have to be expensive and big--they can also learn in small ways, too.
Places in the school where contact is made a lot, say for example the bathrooms, needs to be an area of health and safety. Wouldn't it better to have a safe, active-working solution than harsher and potentially harmful cleaning supplies?
Start going with a green initiative today to set an example for fellow schools! It only takes one person to start something innovative and positive.
Green cleaning for schools doesn't have to be a hassle or expensive, especially with Stathakis cleaners. Be able to keep students safe and environmentally aware with green cleaning supplies!