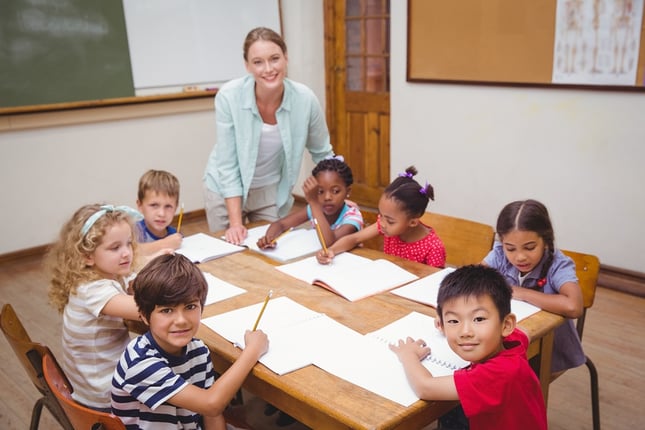 The Upcoming School Year Looms, Are YOU Ready?
As we head into the dog days of summer, it's hard to ignore that the upcoming school year is right around the corner. Maybe you already have your school cleaning plan in place or maybe you are still struggling to figure out a workable plan for the approaching school year. Having a clean and ready to learn campus is important to every school and sets the right tone for a productive, positive learning environment. If your school cleaning services is getting consistently low marks, it is as good a time as any to reevaluate what you need to effectively maintain your school. If you are grappling with an ineffective school cleaning service, know this, there is still time to switch gears and find school cleaning services that really make the grade.
What Makes For A+ School Cleaning Services?
If your school cleaning company isn't at the top of their class, you really owe it to yourself and your staff and students to look at all of your options and look at school cleaning companies willing to put the work into making your school great. Cleaning schools requires a great deal from a janitorial company, it isn't just about a mop and bucket. Are you are reevaluating your current school cleaning company? If you are in a position of either trying to get more from your current janitorial services or shop a newer, more capable commercial cleaning company, there are some areas you should focus on to get the best chance of finding a capable partner in your school cleaning. The best school cleaning companies:
Maintain a consistent record of high levels of safety & security
Offer transparent pricing making it simple to compare janitorial bids
Exhibit a strong grasp of how to get you real value from your school cleaning budget
Employ the systems and consistently deliver effective service
Have green school cleaning options and Smart cleaning resources for your facility
Provide customized school maintenance solutions,flexibility & responsiveness
Demonstrate specific experience & a proven track record in school cleaning
Complete professional certifications like the CIMS-GB Certification
Does Your School Cleaning Company Have A Graduate Degree Or Are They Still In Kindergarten?
When it comes to school cleaning, you cannot discount the importance of experience. Just like kids get smarter and more capable as they go into the next grade, janitorial companies become better, more efficient and more effective when they have solid experience with school cleaning. Sure, everyone has to learn somewhere but do you really want to be a training ground for a commercial cleaning company that doesn't yet really understand what you need from a school cleaning company? Schools, campuses, colleges and other learning facilities simply have different requirements than an average business or office. As such, they need a professional janitorial services company that is experienced and understands how to effectively maintain a school. Trying to work with a cleaning company that doesn't have this experience leads to headaches, frustration, confusion and ultimately impacts the overall functioning and reputation of your facility.
Why Security Must Be Paramount With Prospective School Cleaning Companies
Sure when it comes to school cleaning, everything is important, yet nothing matters so much in an environment with children and young people so much as safety. Any potential Detroit school cleaning company must go above and beyond when it comes to screening employees. That means reference and employment verification, multi panel drug screening, criminal background checks and more to assure that anyone entering and working on your campus is safe. Likewise, commercial cleaning companies that wish to work with schools should be cognizant of finding people who are not only safe, but a good fit in a school environment. Finding a janitor or custodian who fits in with your students and staff can make a huge difference and really help create a partnership that is beneficial everyone.
Don't Settle For Fuzzy Math From Your School Janitorial Services
Budgets matter and in a school, meeting targets and budgets is important. This means that securing a good price AND a good value from your school cleaning company is critical. So when janitorial services companies dabble in cloudy pricing and fuzzy math, it makes it nearly impossible to get a straight answer on price or compare school cleaning prices in order to get the best value. For these reasons, transparent pricing from a prospective school cleaning company is critical to a successful school cleaning program. Whether you are looking for private school cleaning, university cleaning or any other learning environment, you cannot work with a company that either doesn't know how to clearly price their services or just won't in order to extract as much money from you as possible. Transparent janitorial pricing not only affords you the opportunity to compare school cleaning quotes and set benchmarks for the work to be done, it gives you the chance to measure progress and define success. And while you want clear, understandable pricing, steer clear of quotes that seem priced well below what you are getting from other school janitorial services. Overly low pricing, while tempting, is often a sign of illegal hiring, illegal subcontracting and/or cutting corners and future add ons and up selling.
Go to The Head of The Class With Industry Certifications Like CIMS-GB
It can be challenging as a Facility Manager in a school setting to get the information you need to make sound decisions about your school cleaning. Not to mention, the time it takes to qualify and dig into multiple commercial cleaning companies can simply take more time than you have. For these reasons, professional certifications like the ISSA's CIMS certification can be a valuable tool and shortcut to make the process of finding just the right school cleaning company that much easier. Industry certifications like the CIMS-GB Certification, or Cleaning Industry Management Standard give commercial cleaning companies the chance to prove they are among the best their industry has to offer. These kinds of challenging professional certification processes offer a clear indication that a potential school cleaning service is committed to industry best practices and continual improvement. We always suggest that you start by looking at companies that are CIMS certified and then qualify from there to find your best value and best fit for your school facilities. And the good news is these high level school cleaning companies often cost no more than their less effective counterparts.
Your school cleaning services should keep your facility looking great, stay on track budget wise and be a true partner in managing your school's maintenance. Outsourcing school cleaning to a qualified janitorial services company can benefit your bottom line by providing professional, innovative and responsive commercial school maintenance. Anything less is shorting you, your students and your staff of the clean, positive and productive learning environment they deserve.