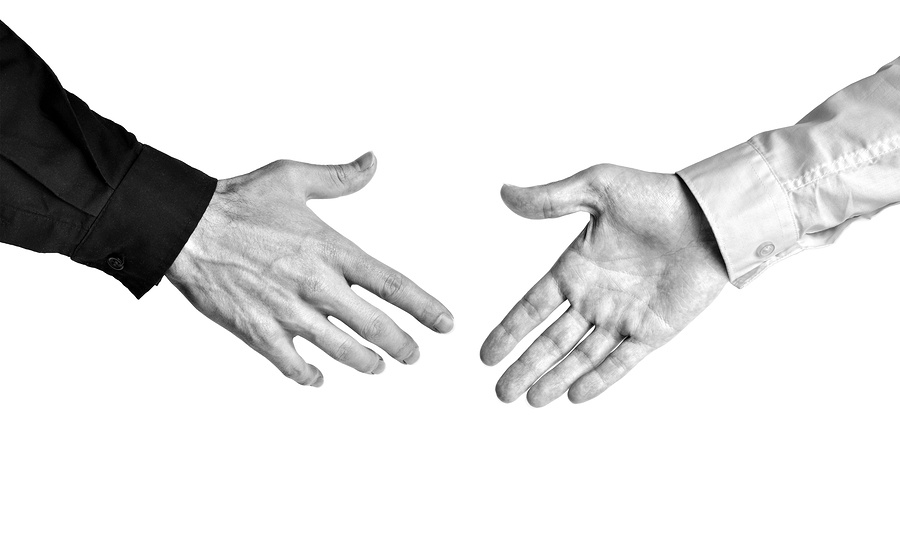 It seems like so long ago that people completed business deals with just a simple handshake and a promise to keep their word. That handshake deal meant your word and your word didn't come with hidden fees, strings attached or surprise add-ons.
In our current winner take all, rushed, close–the-deal mentality, it seems like many companies can and will say anything to get your business. Yet, delivering on those promises can be an entirely different story. So, are there still office cleaning companies that deliver on their promises and if there are, how can you as a Facility Manager wade through the fakers and pitch men to find the best office cleaning services?
No One Wants An Office Cleaning Service That Creates More Problems Than They Solve
A good deal no longer is one if you have to chase down your custodial services in order to get the job done. As a Facility Manager, you just want the work done, right, the first time. After all, isn't that why you outsourced your office cleaning in the first place? Incredibly enough in the building services industry, just doing what you say you're going to do goes a long way with customers. So it's so disappointing to find your cleaning teams continually failing to meet your expectations and deliver on their promises. You have enough on your plate without having to worry about managing your building services company. With economic woes, tight budgets most Facility Managers are shouldering more responsibility than in the past. The last thing you need is more to worry about. You need a company and office cleaners who delivers the service they were hired to provide.
Your Office Cleaning Services Should Do What's Expected & Then Some
With commercial office cleaning companies, the goal should always be to not just meet your customer's expectations, but also exceed them. Certainly, no one is in the business of giving away services or working for free. Still, it is incredible the small amount of 'extras' you can fit in in just a few minutes. It might just be two minutes, but that extra attention to detail adds up and gives office janitorial services customers a little more than what was promised. Still, in today's overcrowded cleaning marketplace, finding the medical office cleaning services or general office cleaning company committed to truly effective service can be daunting. So how can you as a Facility Manager find a Detroit area commercial cleaning company who is willing and able to deliver on their promise of great service?
A Local Office Cleaning Company Delivers Results & Responsiveness
Quite often we find that Facility Managers at larger facilities or multiple facilities feel like they have no other choice than to work with a large national cleaning company. The reality is that there are only a few scenarios where a national janitorial company might be the best option. By and large national cleaning companies aren't likely to have the personnel to be personal. National janitorial companies do things by the numbers and are simply too big to offer the customization and individual service large local companies can. Many of us tend to think about the 'one man and a van operations' and monolithic national cleaning companies as our only two options but the reality is, there are many choices in between. For a large facility or multiple facilities, large commercial office cleaning services in Michigan can offer nearly all of the benefits of a national janitorial company with all of the benefits of a local Michigan janitorial company. Your local Detroit commercial cleaning company has extensive connections within the community and is committed to keeping jobs and tax revenue right here in Michigan. Conversely, the larger cleaning services in Michigan still have tremendous buying power helping you save money on paper goods and more. Likewise, a large local Michigan commercial cleaning company is likely able to staff up or staff down to meet seasonal or changing needs in your facility. On that same note, your local janitorial company can't just turn around and get new business from nearly any market in the country like national cleaning companies, they are limited to their area and as such, work harder to keep their customers and maintain a solid reputation in their local communities. And last, with a local Michigan cleaning company, you won't have to jump through hoops get in touch with the people who can get things done.
Choose An Office Cleaning Service For Their People
Any facilities services company you choose must understand that their people matter most. Think about it, it is the front line office cleaners, custodians, day porters, medical office cleaners and such that come in and out of your facility each day. Your janitorial company's people must be trustworthy, a good fit, well trained and managed in a way that predicts success. So ask any prospective medical office cleaning services, what are your people processes? How do you find, screen, hire, train and manage good people. All of these systems lower janitorial turnover, which in turn increases the value of what you are buying. Any professional janitorial service that has taken the time to invest in their people will be thrilled to show you what makes their teams different from another janitorial company.
Find an Office Cleaning Company That Offers a Wide Variety of Services
In any facility, there are other cleaning and maintenance issues that will inevitably come up. Whether it is preventive maintenance, commercial handyman services, medical office cleaning services, window cleaning, repairs, special floor care, carpet cleaning, construction cleaning, preventative maintenance issues and more, having a great Facility Maintenance company in your back pocket will save you money and it will save you time. Why contract with a second company for these kinds of tasks if you don't have to? It is easier and more affordable to offload needed tasks to a company you already trust and have a relatinship with.
The Best Janitorial Services Offer Transparent, Easy To Follow Janitorial Pricing
When it comes to commercial cleaning prices, you want cleaning bids that are clear and easy to understand. First, transparent pricing and clear cleaning bids allow you to compare apples to apples when looking at various janitorial bids. Second, when your professional janitorial service gives you a clear idea of what you are getting for your janitorial budget, you know precisely what you are buying and you and your commercial cleaning company have a clear path to determine whether they are delivering on their promise to you. Cloudy, fuzzy janitorial pricing is often a harbinger of price increases, add-ons and extra charges in the near future.
Does Your Janitorial Services Get the Science of Smart Clean?
Great office cleaning isn't just about how thing look on the surface, it's about the science of cleaning and getting it right. The best commercial cleaning services understand issues like touch points, disease and infection reduction, cleaning for health, clean restrooms, Smart Clean technology, dwell times and green cleaning and even using the right green cleaning chemicals for the job. Do you have just a restroom cleaning service or a restroom cleaning service that knows how to stem the spread of disease-causing germs? Is your professional janitorial service using color-coded cloth technology? Does your professional janitorial service provide their employees with critical training in cleaning for health? Well-trained office cleaners will not only keep your building sparkling they will keep the inhabitants healthier.
Referrals & Industry Certification Like CIMS Can Help Create Your Short List
Of course, a referral from a trusted colleague or associate is great when you can get it. But if you can't, industry certifications like the Cleaning Industry Management Standard (CIMS) can be a great tool for developing your short list of prospective commercial cleaning company. CIMS is a challenging certification process that only the most professional building maintenance companies can attain. CIMS certification measures a number of areas that translate directly into better service for the customer. There are no true shortcuts to finding an office cleaning company tat will deliver on their promises to you but with a little due diligence, you can find a professional janitorial service that will successfully service your facility or facilities for years to come.