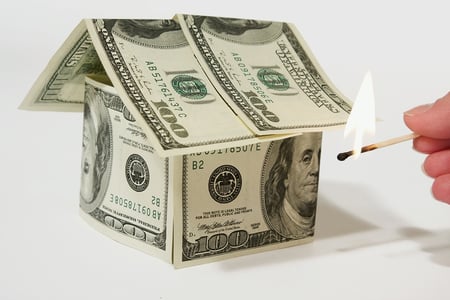 Everyone Wants A Good Deal on Their Facility Maintenance But What Does That Mean?
If you a Facility Manager trying to decide between enlisting the help of a building maintenance company for commercial handyman services or putting together your own in-house maintenance team, you are likely wondering what is going to be best for you and your facility. What factors come into play when choosing a building maintenance company for your facility? First, you want a good deal because everyone wants a good deal. But what is a good deal? Does it just come down to the cheapest building maintenance or is it something more? Is it the most effective building maintenance at any price? Or is it value, the balance of what you are getting for what you are paying? Is it ease, someone doing what they said they would without you having to stay 'on them'? Is a good deal about a facility maintenance team that has lowered turnover so the value of the services you get increases every year?
The Often Overlooked Area of Building Maintenance
As a Facility Managers, you are on the front lines in terms of the maintenance and operations of your facility. The old adage that sometimes anything that can go wrong will go wrong can be true and when it does, it's you that gets the call. Facility maintenance is often one of the most important but overlooked responsibilities in a facility. People only notice when something isn't being done. Seldom will you ever hear a compliment or kudos for working AC, toilets that flush properly or the lights being on, that is, until there is some kind of building emergency or issue, then you won't stop hearing about it. The reality of it is that whether it's noticed or not, your building maintenance is a critical element of your business operating effectively so it's a big decision to decide how to move forward on managing it. You have budgets and limited resources and you as a Facility Manager are tasked with utilizing what you do have efficiently to both keep your building running smoothly every day and protecting your facility's assets for the long-term with a preventative maintenance schedule.
Is An In-House Maintenance Team the Answer?
Sometimes it may seem like if you want something done right, you must do it yourself. But when it comes to building maintenance, finding and managing the right people can create an entirely separate position for you. Really, supervising a team of commercial handymen is a full-time job. In addition to not having time to hire, train, and manage their own in-house maintenance staff, more times than not, Facility Managers over hire and get full-time people when their interest could best be served by hiring part-time. Outsourcing your building's maintenance to the right commercial handyman company will save you time and money not to mention shield you from added liability and the headaches associated with managing additional employees whose duties are outside the scope of your typical business operations.
Cost is also a chief factor in the process of determining how to best meet your building maintenance requirements. You need to consider how the costs of in-house staffing and how these costs are controlled. Not only must you factor in wages, benefits, healthcare costs and overtime associated with employees, you must think about the cost associated with recruitment, screening, interviewing, training, drug testing and criminal background checks, onboarding and training. The reality is that when you choose an in-house building maintenance team, you are essentially running a business within your own business. Depending on the size and complexity of your building, these costs can be hard to predict.
The Benefits of Outsourcing Your Building Maintenance to a Commercial Handyman Service
As more and more facilities look to maximize their building services budgets and offload responsibilities that can be outside of their sphere of expertise, outsourcing building maintenance services can be a solid way to manage a towering work load, tight budgets and lack of specific expertise make. There is no doubt that the advantages to outsourcing your maintenance to a facilities services company are are considerable. This makes outsourcing more attractive since typically you have a fixed and level service contract. The advantages to outsourcing building maintenance to a commercial handyman service can include:
Eliminate the costs associated with finding, hiring, administrating and managing your own in-house facility maintenance staff
For budgeting purposes, outsourcing can help control and predict costs
Shift the management & liability to a knowledgeable contractor
Eliminate costs associated with procurement, maintenance, inventory, equipment, supplies & uniforms
get expert service in a variety of specialties
Get expert assistance when planning larger, more complex projects
Get service when you need it and not pay for what you don't need
Get immediate help and responsive service from people you already trust your next building emergency
Allow you to focus on your business & your bottom line
The advantages to outsourcing building maintenance to a professional handyman service is clear but how can you make outsourcing your building maintenance work for you and is a commercial handyman service the solution you are searching for?
Comparing The Costs & Challenges Of In-House Building Maintenance Versus Outsourcing Your Facility Maintenance
Facility Maintenance can be unpredictable and all too often emergencies and last minute issues can keep you from adequately addressing maintenance planning and preventive maintenance. For both planned and unplanned building maintenance, in order to determine what's best for your facility, you must think about what you need. What level of expertise that you require to accommodate your facility maintenance? Do you have the ability and resources to support the hiring, training and development of employees in various positions and specialties? It can be a struggle to bring on the right sized staff for a facility without overstaffing and still meet the skill level you need to maintain you facility. Professional Facility Maintenance contractors make facilities maintenance their focus, with quality staffing and a whole process that has been fine-tuned to this kind of complex hiring and mostly remote management. If they are professional and experienced, a facilities services company can attract and retain the most qualified employees in a variety of technical specialties. They are great at it because that is their business. In larger, more complex facilities, in-house maintenance is more common, yet, with ever-tightening maintenance budgets, outsourcing building maintenance has become the norm given that it is both effective and economical.
What Can a Commercial Handyman Service Do For You?
From plumbing to carpentry to cubicle assembly to electrical to relamping to HVAC preventative maintenance to painting, a commercial handyman can offer a complete solution to the majority of your building maintenance needs. Contracting with a commercial handyman service means you get all of the help you need without over hiring and paying someone when there's no work to be done. With a contracted Michigan building maintenance company, you also eliminate the need for individual specialists or sub par contractors who often lack the experience and professionalism of a building maintenance company's team or put you at the bottom of the priority list because they don not have an existing relationship with you. No more getting frustrated searching for and waiting on a reputable, professional contractor for minor repairs. With the right commercial handyman, you can minimize maintenance & building improvement problems, go directly to the head of the line, extend the life of property assets and predict, reduce and manage maintenance expenses. Get the benefit of first priority without the high costs of both time and money involved with hiring your own staff.
Does Your Commercial Handyman Company Understand Compliance & Regulatory Issues?
With a facilities maintenance company like Stathakis, you don't have to check and double check our work. We make it our job to stay informed on the latest state and federal regulations with regard to keeping your facility compliant and in top-notch condition. Unlike an individual employee you might hire for your building maintenance, our entire business reputation hinges on doing the job right, every single time. If you hire an in-house building maintenance person and they fail to follow compliance, safety or regulatory requirements, they could have their employment terminated but will likely find work elsewhere. As a building maintenance company, if we make a serious error, the impact on our reputation and bottom line could be catastrophic. We have invested tremendous resources into creating a professional, experienced, knowledgeable, responsive and friendly team of maintenance professionals that put us miles ahead of our competition. We also have Complete Customer Care, our system to make sure our customers are satisfied and problem solve when there are issues of any kind.
Let Stathakis Be Your Trusted & Qualified Commercial Handyman Service
Outsourcing your building maintenance needs to a trusted and qualified commercial handyman service like Stathakis also offers you flexibility and scalability. You can scale up or scale down depending upon your needs, issues, scheduled preventative maintenance or even large capital projects. When outsourcing your building maintenance, when you have an issue all you have to do is make a phone call. And as a well-resourced building maintenance company, our expert maintenance team is cross trained so individual absenteeism doesn't interrupt critical services your facility might require.
Outsourcing building maintenance services will likely reduce and stabilize your business costs significantly. Make outsourcing commercial handyman services work for you and your organization by choosing a local Michigan building services contractor with a solid reputation and over 35 years of experience. To get more information or to schedule a free consultation, call Stathakis at 1-(800) 278-1884.