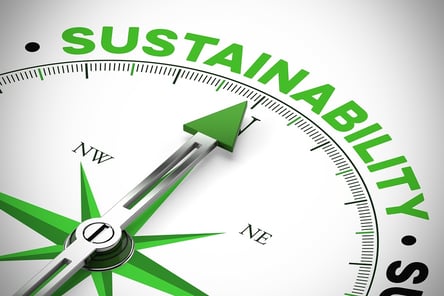 Evolving into a sustainable business isn't about implementing a single program. And yet, green cleaning offers an excellent place to begin. Green cleaning and partnering with a reputable and effective commercial cleaning company can offer a number of solid benefits from altruistic ones to those involving the bottom line.
Is Your Cleaning Company Greenwashing?
Green cleaning and sustainable facility maintenance have never been more topical than they are now. In fact, green products and processes, eco-friendly practices and sustainability are salient across industries. The good news is everyone is thinking about how to do better on these fronts. The bad new is there is a great deal of confusion about what all these buzzwords really mean and that can often translate to greenwashing or a false sense of healthfulness and environmental responsibility. What's greenwashing? Greenwashing, like whitewashing, is when claims of eco friendliness or sustainability are little more than marketing spin designed to make you feel good about them without really offering any environmental benefits.
Green, Green Cleaning & Sustainability, What Does It All Mean?
The terms "green" and "sustainable" are often used interchangeably, though they are very distinct concepts. Green cleaning refers to practices, products and even equipment that minimizing the negative impact of cleaning and janitorial services on both the environment and the humans who come in and out of a facility, be they employees, clients, customers, visitors or others. Sustainable refers to practices that meet the needs of the present without compromising future generations. Green cleaning is an important factor in sustainability, but they are not the same thing.
How Can A Facility Manager Balance Responsibility & Profitability?
How does all of this impact you as a Facility Manager and your choices with regard to janitorial services and commercial cleaning? You as a Facility Manager are tasked with balancing both green cleaning and sustainability. If you want to operate a sustainable facility, you must consider and balance the needs of both future generations and your current employees, the immediate environment and the profitability and health of your business. This can be a delicate balancing act because you cannot focus on a single factor to the exclusion of the others. It would be nice and commendable to make everything you do in your facility green, green cleaning, green construction, energy savings, recyclable this and sustainable that. But you cannot do it at the expense of your bottom line or your business will face extinction. And if you only focus on profits without an eye on the health and wellbeing of your people and the environment, your business and reputation will also suffer. So you get the Often-Herculean task of balancing the many interests to find a good middle ground.
How Your Janitorial Services Fit Into This Green & Sustainable Balancing Act
A green cleaning program can help you balance these critical elements: People, Planet & Profit. You need to consider all three of these pieces of the sustainability puzzle. The reality is that profit is not a dirty word and it is not anti-environmental or the opposite of green. In fact, profit is a critical element of the sustainability of your business. A green cleaning program can help your business sustain profitability in a way that doesn't threaten the other pieces of your sustainability puzzle, People and Planet. No only can a green cleaning program help you and your facility reach sustainability and green goals, the best green cleaning programs actually provide concrete financial benefits that can strengthen your bottom line. Yes, green cleaning can be good for business! These financial advantages include increased productivity of your teams through an improved work environment. Likewise, your facility may experience a reduction in costs associated with water and energy usage. And with the right green cleaning plan, you can actually reduce the costs of your facility maintenance.
Your Commercial Cleaning Company Has a Role In Protecting Your People Too
Your janitorial services must be aware of the impact their practices can have on both their people and your people. A facility maintenance service's role in a healthy work environment should not be underestimated. A building services company that doesn't put people into the equation is neither green nor sustainable, no matte what they tell you. Individuals with jobs within the janitorial industry can experience a real toll from the work they do if their employer is no mindful of the human costs of poor equipment, inadequate training, dangerous chemicals, lax safety and substandard working conditions. Likewise, if your cleaning company takes shortcuts with their people, you can bet they probably are with you're the people in your facility.
With a quality green clean program including green cleaning products and sustainability practices, your janitorial services can assure the safest parameters that can positively impact everything from allergens, irritants, air quality and more. And with sustainable cleaning practices greener, environmentally friendly products and safer equipment, your janitorial company has their eye on the health and well being of anyone entering your facility. Your commercial cleaning service can help you offer customers and workers a safe and healthy environment by improving air quality, reducing slip-and-fall risks and responsibly using resources.
Your Janitorial Services Contractor & Their Relationship With Their People
Sustainability with regard to your janitorial company has one other area many of us don't regularly consider and that is the individuals employed by your contractor. Janitorial companies that offer livable wages extensive training, an inclusive culture, solid benefits and security help create a stability and sustainability within our own communities that truly matters. If your commercial cleaning company adopts industry best practices like and effective green cleaning program, they are also making positive impact on the health and safety of their employees.
How Your Janitorial Services Contractor Can Save the Planet
With over a quarter of a million companies, the janitorial industry consumes large amounts of resources including fuel, water, electricity, chemicals, plastic and paper goods. When your cleaning company utilizes green practices like utilizing renewable resources, recycled content, reuse and recycling where possible and careful use of utilities and other resources, they do their part in protecting the planet in the here and now and for future generations. The best janitorial companies work hard to continually improve their sustainability processes and green practices in order to do their part in minimizing their footprint. Toward that end, your cleaning company should likewise partner wherever possible with suppliers that operate their businesses with sustainability as an objective.
Finding a Cleaning Company With Solid Green Cleaning & Sustainability Practices
Here in Michigan, one of our most precious and valuable resources is our Great Lakes and the beauty of our natural surroundings. Green cleaning can help protect these resources so they are available now and for generations to come. Green cleaning offers very real benefits for the heath of our employees, our customers and the environment. Green cleaning services go way beyond just using environmentally friendly cleaning chemicals. It is also about reducing waste and cleaning efficiently. Here at Stathakis, we have helped many of our customers transition to an affordable, effective green cleaning program. Whether you currently have a green cleaning program or you would like to know and price your green cleaning options, we can help you put together a plan that works for you.