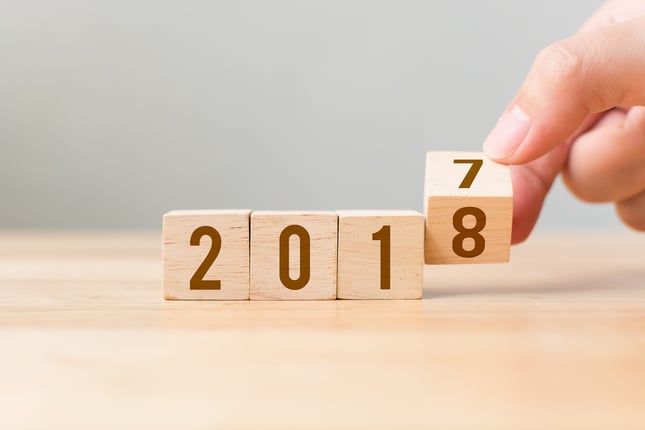 It's January, that time to tackle a to do list that has grown large and long. A time for fresh starts and getting to those chronic issues that keep your building maintenance at a less than optimal level. It can be a great time to clear what isn't working and make room for new solutions to old problems. If you have struggled to find effective office cleaning and are dealing with dirty restrooms, there is no better time to review your office cleaning plan, determine what is working for you and what is not and even resolve to kick the old, ineffective office cleaning company to the curb and finally find a commercial cleaning company who will deliver on their promises.
While a clean and welcoming office is important, office restrooms are often the first areas to break down and point to major issues with your office cleaning. Similarly, dirty restrooms can cause a number of other problems throughout your facility from waning productivity to higher absenteeism and more. Why are office restrooms so often a trouble spot in facilities? Chiefly, restrooms are busy places that see a lot of activity throughout the day. Even the best office cleaning companies must work hard to keep these high trafficked areas clean and welcoming. Busy restrooms must be cleaned regularly and thoroughly. If your office cleaning company is doing little more than a once over, before long, dirt, grim and odor build up to create a most unwelcoming environment. Office restrooms can be stinky places, with unidentified wetness, bacteria and more. Insufficient cleaning leads to restrooms that just get more and more dirty until it becomes an untenable problem and your inbox starts filling up with complaint after complaint.
Get Off to A Good Start With A Restroom Cleaning Checklist To Evaluate Your Current Office Cleaning Company
If service has languished and complaints have gone unremedied, it might be time to move on from your current commercial office cleaning services. But before you do, have you documented the problem and addressed it with your current office cleaning service? Not only might your office cleaning company get better given the chance, even if they don't, you will get a sense of what must be done, what matters most when it isn't done and the best direction to approach a new office cleaning company to assure your office restrooms are cleaned the right way, every time. First, take a good hard look at your restrooms, do you see any of the following:
Areas around door handles are dirty and grimy.
The floors in your office restroom are damp, soiled or appear to have been given little more than a quick mop.
Sanitary containers inside stalls have not been recently emptied.
Proper hand washing supplies are not being stocked frequently enough
Counter tops in your office restrooms are damp, wet or dirty.
The restroom mirrors are dirty.
The trash containers are near full or spilling over with trash.
The partitions of your restroom stalls are grimy, have graffiti and gross stains.
Restroom sanitary disposal containers storage old trash in them and/or are broken or in disrepair.
You notice a disagreeable, foul odor.
Floor drains are dusty, wet and filthy with debris buildup and dirty grout.
Sink fixtures are dusty, spotty, dirty and restroom counters are noticeably dirty or wet.
Toilets/urinals/sinks are noticeably dirty with both new dirt and the deposits and mucky buildup of old dirt.
While even the best office cleaning company is going to miss something now and then, if you see a pattern of half-hearted cleaning and repetitive missed tasks, it might be time to look for a new office cleaning service.
Effective Restroom Cleaning Combines Science & Best Practices
Old school restroom cleaning, of the mop and bucket variety, overlooks the science that tells us these outdated restroom "cleaning" methods just spread germs and dirt around. In the office cleaning industry, the old mop and bucket cleaning has given way to a professional, systemized approach that blends technology and a systems approach to deliver better, more reliable and efficient services. Issues like reduced budgets, cross-contamination as well as a better developed standard of cleaning for health and disease prevention have made janitorial services more professional than ever, that is IF you work with the right office cleaning services. Issues of cross-contamination and cleaning for health and disease prevention are important throughout your facility but especially in your restrooms where disease-causing germs can quickly become a serious issue. With drips, splashes, grime, standing water and worse, your office restrooms can quickly become an unhealthy breeding ground for germs and bacteria and the funky odors that come with them. Add to that the importance of using the right product in the right way. Janitorial best practices like cleaning first, then disinfecting with proper dwell times effectively reduces disease causing germs and bacteria. The use of microfiber floor cleaning and color coded rag systems can effectively prevent cross contamination and don't have to cost any more than the dated, ineffective, old school office restroom cleaning.
Dirty Office Restrooms Lead to Measurable Negative Business Outcomes
The impact of dirty office restroom is significantly more far reaching than bad smells and suspicious puddles. Consistently inconsistent restroom cleaning can lead to measurable, predictable negative business outcomes like:
Increased employee turnover.
Lowered employee satisfaction.
Reduced ability to attract and retain top talent.
Increased employee apathy.
Decreased employee engagement.
Lowered employee productivity.
Increased employee absenteeism.
Poor customer perception.
Lost sales.
Dirty, poorly cared for restrooms are quite often one sign of a much bigger problem. If your office cleaning company overlooks this critical area, other important areas of your business will no doubt suffer.
What SHOULD You See From Your Restroom Cleaning Service?
The signs and scents of less than clean restrooms are noticeable if you really look, but you can also see clear signs that your office cleaning company is getting restroom maintenance right. Want to know what good, solid, professional office restroom cleaning looks like?
It is apparent your office cleaning services are giving touch points like handles, dryers & knobs and the areas around these touch points proper attention.
Mirrors are clean, shiny and spot free.
Your office restrooms smell clean, fresh and odors are not simply masked with fragrance.
Mops and cloths are color coded to avoid cross contamination between your restrooms and other areas of your facility.
Floors are clean, tile shiny, grout and moldings clean and no dust, mop string or grime anywhere.
Restroom supplies like hand towels and soap are well-stocked.
Stall doors are in good working order and free of old grime, gum and graffiti.
All other areas of the restroom from sinks, to toilets, hand dryers or towel dispensers and urinals should all be clean and fully operational.
A Resolution: Work With Your Office Cleaning Company Or Look For A New One But Don't Settle For Less Than Clean Office Restrooms
Ultimately you want an office cleaning company that will help you stay on track with resolutions for your facility maintenance, not one you have to micromanage to get the job one right. Make a resolution this year to stop putting up with less than professional, effective office cleaning services that offer you quality service at a real value. Effective office cleaning, including office restrooms, sends the right message to employee, visitors, customers and tenants. Furthermore, well-cleaned restrooms safeguard the health of customers, employees and visitors to your building. They help you create and maintain a safe, healthy workplace and a positive, professional image.
Need help finding the right medical office cleaning company? Looking for a good fit with regard to janitorial services in MIchigan? Think you could benefit from a dayporter service? Find out why Stathakis offers a better value than national janitorial companies and how you can get effective service from your office cleaning services.