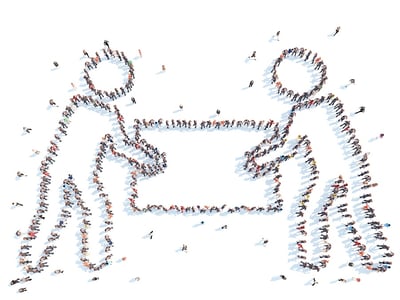 This Special Service Is Like Having Your Own A-Team
Having a day porter service can feel like having your own personal assistant, extra set of hands or special ops team delivering the highest level of facility maintenance in your building or buildings. Day porters quite often become your secret weapon to tackling a mounting 'to do' list and an indispensable part of your A-team. Day porters clean, but they do so much more. A great day porter will keep tabs on all of the little and not so little details that ensure your customers, employees and tenants are content. The precise duties of your Day Porter will vary depending upon your specific facility maintenance and your requirements as a Facility Manager.
Shift Your 'To Do' List to a Trusted Ally
Day porter services can help you in your capacity as Facility Manager by shifting some of your 'to do' list to theirs. In this way, you can focus on the other areas of your facility that require your attention. Your day porter services are much like your daytime commercial cleaning services but with more advantages. First, they are there when you are so communication and responsiveness is just naturally easier than with your janitorial company's nighttime cleaning crew. Second, because they often work among you and your employees, they often become a natural extension of your staff. Third, day porters are trained to be malleable. So when customers ask us what a day porter does, we ask them, what do you want them to do? This is a highly customizable service and while there is a general set of tasks, the extras and specifics are up to you.
What Vital Services Will Your Day Porter Provide?
Commonly, your Day Porter is armed with a daily/weekly scheduled list of maintenance tasks to complete. These tasks often revolve around keeping your building looking great, like:
Lobby maintenance
Cleaning common areas like kitchens, cafeterias and patios
Monitoring and servicing restrooms
Removing trash and debris
Restroom Restocking
Meeting setup/tear down
They are also available for last minute needs and even emergencies. Perhaps it is setting for a last minute meeting, assisting an employee in moving offices, or even running a package downstairs.
Could My Business Benefit From This Kind of Specialized Janitorial Services?
The short answer is yes, nearly any business can benefit from this individualized commercial cleaning. Whether you need office cleaning, industrial cleaning, medical cleaning, hospital cleaning or restroom cleaning, a daytime concierge cleaning person or team can deliver an unparalleled level of service. Getting the most value from your Day Porter service requires that you determine the kind of daytime help that is going to be most useful to you, your facility and tenants or employees. Many of our best Day Porters are those who deliver real value to their customers by going above and beyond. With margins still narrow and the directive to cut costs still looming, a Day Porter can be a cost-effective way to fill in gaps and lend an extra set of hands to properly maintain your facility.
The Right Person Makes All of the Difference
The day porter can become effectively an extension of your existing staff. Because of this, it is critical that they are a good fit. Additionally, because of the special job requirements, a helpful, positive, 'can do' attitude is a must. Your janitorial service must recognize and appreciate the importance of finding just the right candidate for your facility as well as critical fundamentals like attracting, interviewing, vetting, hiring and training great teams. What essential elements of hiring must your janitorial service be doing? They must perform thorough background checks including but not limited to criminal background checks and drug screening. Your Day Porter works among your staff and they must be trustworthy. The most professional commercial cleaning companies will do the basics and more looking for a great fit for you and your facility.
How Do I Get Started?
The best janitorial services will offer this concierge level service. If your building maintenance company does not have a day porter program, consider looking for a commercial cleaning company in Michigan that does. If your facilities services company does have this specialty service, sit down with them to discuss adjusting your janitorial plan to include a daytime element. Think about the benefits: clean restrooms throughout the day, cleaning services in Michigan tailored specifically to your facility, hospital cleaning services with an extra level of care and office cleaning services that don't fizzle by the end of the work day.
Get Smart Cleaning With a Truly Responsive Touch
Because your day porter works in your facility during the day, you will likely develop a rapport ad relationship where they learn what tasks you find most critical. This means you get a smart clean, a responsive cleaning focused on what matters most. Whether you contract for custodial services, medical office cleaning services, healthcare cleaning services, Michigan school cleaning service, restroom cleaning services or simply general office cleaning services, customized, responsive service is a puzzle piece likely missing from your Detroit commercial cleaning. Inquire with your local Michigan janitorial company and see if a day porter service might be right for your facility.