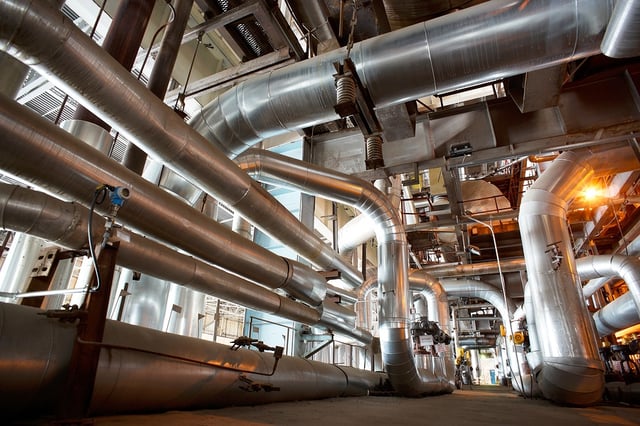 From your clean rooms to your restrooms, you rely on effective industrial cleaning to keep your facility clean, well maintained and operating smoothly. But industrial cleaning is a much different animal than general office cleaning. First, there are significantly more complex compliance issues. Second, your industrial facility may operate around the clock, meaning your industrial cleaning must be done along side normal operations. Third, the actual needs of your cleaning and maintenance are more complex. Therefore, these challenging situations require a commercial cleaning company with solid experience and a positive track record. Any industrial commercial cleaning company poised to undertake your industrial cleaning must come prepared with a the knowledge of what makes factories, plants and manufacturing hubs different and the readiness to spend time learning your specific processes and compliance issues in order to offer you the cleaning and maintenance services you and your facility require. So given the complexity and importance of industrial cleaning, how can you find a janitorial services company capable of delivering the level of service, responsiveness and compliance your facility requires?
Who You Are And What You Need Matters
What kind of industrial facility do you manage: a manufacturing plant, a distribution center, a pharmaceutical operation, a transportation terminal, an automotive plant, or a mail and packaging center? Are you in search of help for a special project? Does your building require preventative maintenance? Are you looking for on-demand cleaning? Or do you need a contract industrial cleaning company to provide you with industrial janitorial services? Many facility managers find that building services contractors that offer both comprehensive commercial industrial cleaning and an umbrella of related building maintenance services are especially helpful for tackling a variety of issues with one contractor. What kind of services might your building services contractor offer?
| | |
| --- | --- |
| ▪ Computer Room Cleaning | ▪ Recycling Services |
There Are No One Size Fits All Solutions When It Comes To Industrial Cleaning
You run a manufacturing plant and your buddy runs a distribution center. Do you have the same industrial cleaning needs? Do you have identical compliance issues? Absolutely not, so don't except a one size fits all solution from any prospective industrial cleaning company. You need industrial cleaning services that:
Understand the unique demands and requirements of maintaining an industrial facility.
Have solid experience cleaning and maintaining other industrial facilities.
Have a willingness to add to their core knowledge with details about YOUR individual facility.
Comply with all related safety requirements and regulations
Understand the value of people and processes in industrial cleaning.
Hire and retain good fit employees who are thoroughly screened.
Train those people effectively and continually.
Offer effective service and real value.
Price services clearly to help you establish what you are getting and at what price
Are responsive to your individual needs.
Have the structure and systems in place within their organization to effectively deliver.
Industrial Building Maintenance Services Contractor MUST HAVE Checklist
If you are looking at prospective industrial cleaning companies, you must use the MUST HAVE checklist to develop your short list. No matter what a prospective janitorial company may tell you, if they don't have the following, they simply cannot deliver the service you require even if they really want to. Of course, safety and good organization is critical within any industrial or manufacturing setting. Maintaining and cleaning large, complex facilities is not a job that should be left to amateurs. If you are considering a commercial cleaning company for your industrial or manufacturing facility, what qualities and qualifications are a MUST HAVE? The most effective, experienced and professional industrial cleaning services should have:
Documented employee safety training
Full compliance with any required or recommended specific training
Detailed CIMS Certified procedure manuals or other industry certification
An understanding of your security needs and carefully screened employees
A solid track record of adherence with industry best practices
The systems in place to guarantee responsive service
The ability to customize maintenance scheduling to fit your needs and keep operations moving
The ability to offer you both contract and on-demand cleaning services and a variety of other maintenance services
The ability to staff up and staff down as needed to meet changes in your needs
A comprehensive green cleaning program
A multitude of systems, procedure and tools to keep service delivery on track. These might be things like regular client communications through apps and reporting, financial documentation, service request tracking and a 10-minute response guarantee to get you the information you need quickly.
Effective industrial cleaning services don't happen by accident so you must look for those companies that set an intention for premium service delivery and then back it up with systems and processes that assure reliability through accountability.
Aren't Great Industrial Cleaning Services Going to Cost Me More?
While there is some truth to the saying 'you get what you pay for' sometimes better doesn't cost more. The most effective and experienced industrial cleaning companies understand how to work with even the tightest budgets to keep costs down while keeping your facility well-maintained. How can that possibly be you might wonder? Where industrial cleaning is concerned, quite often the most experienced, systemized and trained companies save you money while delivering more. It is done through resource allocation and effective, livable cost-savings measures. Industrial cleaning contractors who know their business inside and out and work to learn the needs of your specific industry and facility can utilize all of this information to create a detailed industrial cleaning specification that echoes the real needs of your factory, plant or manufacturing facility.
Get What You Need & Make Your Job A Little Easier
While there are no one size fits all solutions for industrial cleaning, it is possible to find a building services contractor who is capable of delivering the service you and your facility deserve. While it can take a little time to find the right partner, it's well worth the effort. You don't outsource your industrial cleaning just to have to micromanage them right? Contracting with a commercial cleaning and maintenance company should save you money and save you time and hassle. If you find the right partner, you can reap the many benefits of outsourcing your facility maintenance allowing you to focus your attention where it is needed and leave your industrial cleaning to a pro partner.