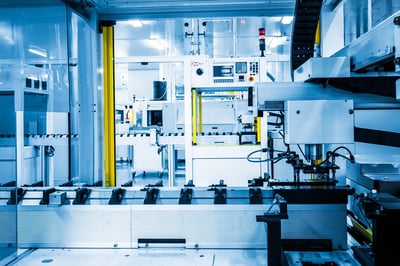 Janitorial and cleaning companies come in all types and sizes from the "one man and a van" operations to an oversized national janitorial giants and everything in between. As a Facility Manager of an industrial facility, finding the right cleaning company can feel next to impossible. First, there are just so many choices. Second, a prospective cleaning company can tell you anything but figuring out if they will follow through is a bit trickier. Last, industrial cleaning customers have unique needs that really need a very specific cleaning and maintenance company to fill. So you need to find the right sized industrial cleaning company with the know how to handle any number of different types of manufacturing and industrial facilities.
Add to that the goal of growing Michigan's local economy by keeping dollars right here in our state by working with locally owned businesses. Michigan continues to be an industrial dependent economy and when you spend your cleaning dollars with local Michigan industrial cleaning companies, you work to strengthen the overall foundation of our local economy. But is the goal of keeping this business local an achievable one?
Industrial Cleaning Is Not For Wimps
Michigan industrial cleaning services are a whole lot tougher than general office cleaning. It requires different equipment and materials and a know how of methods and the unique safety and compliance issues specific to industrial and manufacturing businesses. What kind of businesses require this higher level of cleaning? Manufacturing plants, aerospace, automotive, chemical, agriculture, energy, pharmaceuticals, food production, water treatment, transportation and the offices for these facilities. These kind of challenging settings require a janitorial company with extensive experience. Any industrial commercial cleaning company prepared to tackle your industrial cleaning must come armed with a the surface knowledge of what makes factories, plants and manufacturing hubs different and the willingness to spend time understanding your processes and compliance issues in order to offer you the cleaning and maintenance services you and your facility really need.
Experienced Industrial Cleaning Right Here in Michigan
With something as specialized s industrial and factory cleaning, you might think you need to work with a large national janitorial company in order to get the level of service and safety you need in your facility. The reality is that size does matter; the smaller janitorial companies simply are unequipped to handle large, complex industrial cleaning jobs. These smaller operations are a good fit for many businesses but just do not typically offer the structure, systems or professionalism to effectively partner with larger industrial cleaning customers.
While too small isn't good, too big isn't so great either. Industrial cleaning is incredibly facility specific and you need personal service and the accountability you get from knowing precisely who is responsible for your facility. Due to their overwhelming size, huge national cleaning companies can accommodate the largest accounts. The clear disadvantage to these colossal operations is the rigid structure and lack of agility that results. Moreover, the really big guys will no doubt prioritize their biggest accounts which bring them well over $1,000,000 year. If your company isn't playing at that level, the needs of your facility may come second. So bigger isn't always better but too small is bad too? Most Facility Managers need a Michigan industrial cleaning company big enough to offer a huge range of standard and specialized services, but small enough to be agile and responsive to the needs of your plant, factory or manufacturing center.
Large Local Michigan Industrial Cleaning Companies REALLY Shine
It is here that a large Michigan industrial cleaning company really stands apart from the overcrowded industrial janitorial market. An industrial cleaning company that is both large and local provides many unique benefits that both small Mom & Pop operations and colossal national cleaning corporations cannot. How do these advantages stack up for your industrial facility?
A large, local Michigan industrial cleaning company:
Has been operating long enough to solve many service and pricing issues that trouble smaller cleaning operations.
Has the accountability systems to offer great employees. They hire, screen, train and manage their people and teams to reduce turnover and deliver a higher level of service to you the customer. Smaller cleaning companies may cut corners on these vital protections.
Already has an ample, sufficiently trained staff. This means you can get the help you need in your facility quickly.
Can demonstrate their commitment to above board hiring practices and the professional administration of payroll, benefits, insurance and more to safeguard you and your facility from the unnecessary risk of illegal subcontracting and undocumented workers.
Has significant purchase power on supplies and equipment that can reduce your overall cost.
Buy Local Michigan Industrial Janitorial Services Like a Pro
When choosing a Building Services Contractor, there isn't much room for error. You need an industrial janitorial company that is big enough to offer you the tangible benefits of size but not so big that you feel like a very small fish in a very large pond. A large local Michigan industrial cleaning service can offer you the best of both. Not sure where to start? Consider CIMS certification to help you sift through the crowded industrial cleaning to find a local Michigan janitorial company worthy of your business.