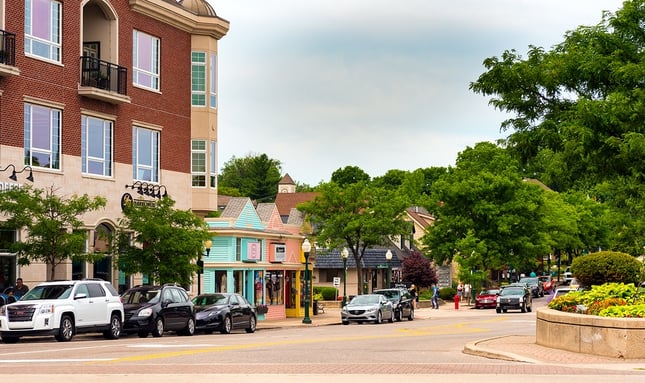 The Value of Local
There are a number of reasons choosing a Plymouth janitorial company makes sense. Everything else being equal, using local commercial cleaning services in Plymouth is going to be better. It's better for the local community. It keeps tax revenue right here in the state of Michigan. It helps local businesses and our local economy thrive. Similarly, it creates stability in our communities by investing in the businesses and talent that are right here in our own backyards. Consider that commercial cleaners Plymouth aren't likely to pull up their tents and move to Poughkeepsie to take advantage of cheaper labor or more favorable tax structures right? Using Plymouth janitorial services over a nameless, faceless national cleaning company is always going to better AS LONG AS the janitorial services they provide are professional, effective, efficient and offer similar cost saving measures. Sound impossible in a local company? It's not. There are plenty of exceptional commercial janitorial services right here in Michigan that are ready, willing and able to offer you commercial cleaning services of the highest caliber, you just have to know how to identify them and protect yourself from those companies that will disappoint you at every turn.
Buying Local Cleaning Services In Plymouth Doesn't Mean You Should Suffer Fools Gladly
Buying local IS better, but only if the level of services is professional, effective and attuned to what YOUR facility needs. So how do you both keep your dollars local when choosing a janitorial company AND get precisely the commercial cleaning services you need? One way is to make sure you are weeding out those cleaning services Plymouth Michigan that just aren't likely to offer you what you need. But how do you identify those companies that are going to be a problem down the road? It is important to note that there are really ten key issues causing well over haf of the problems we experience with cleaning and maintenance companies. When we can identify these warning signs in prospective Plymouth janitorial services, it can help us weed out those companies not likely to succeed in our facility. Use these ten 'red flags' to screen prospective janitorial service companies so you can find a local Plymouth janitorial company that follows janitorial industry best practices and delivers on their promises of quality service.
The 10 Red Flags to Avoid When Choosing A Janitorial Services Company
1. Confusing or Cloudy Janitorial Pricing
Confusing or cloudy pricing from any Plymouth commercial cleaning company whether it's local or a national janitorial company, is a major red flag. Cloudy commercial cleaning pricing is usually either a function of inexperience or a purposeful attempt to justify added charges later. Imprecise pricing makes it nearly impossible to compare cleaning quotes and thus puts you at a disadvantage when it comes to having good, solid information to make a buying decision. Similarly, having clear, transparent pricing and understanding exactly what it is you are paying for makes it easier for you as a Facility Manager to hold your commercial cleaners Plymouth accountable for the work they agreed to.
2. People Problems
Know this, if your commercial cleaners Plymouth have people problems, they will become YOUR problems in short order. Janitorial services rely on front line cleaners to deliver services and as such, people are the foundation of any janitorial company whether it is local cleaning services Plymouth Michigan or national janitorial services. If your commercial cleaning company is taking shortcuts with any of their people processes, it is a major red flag. Whether they dabble in illegal subcontracting, illegal hiring or take shortcuts on anything related to their people, it is a clear indicator that they do not prioritize this most important component of effective janitorial services. And commercial cleaning companies that are foolish enough to take shortcuts with people are no doubt taking shortcuts everywhere.
3. Don't Allow Shortcuts With Security
Nothing is more important than the safety of your building's occupants and the security of your building. If your Plymouth janitorial company is lackadaisical about security, run. What security matters should you be aware of when it comes to both national cleaning companies and Plymouth janitorial companies? Chiefly among them, no janitorial company should put you at risk with illegal hiring. Subsequently, any janitorial company that takes shortcuts with employee screening should be avoided at all costs. Who wants office cleaners with a criminal record or drug use moving about their facility? Finally, avoid both local and national janitorial companies that skimp on the training, fail to offer competitive wages and suffer from the lax management that all too often leads to high janitorial turnover.
4.High Janitorial Turnover
If current or prospective Plymouth cleaning companies have higher than average turnover, the service in YOUR facility is likely to suffer. Why? Because a revolving door of new hires is bad for business. Not only is your janitorial company having to spend more money and time onboarding and training new people, which is a cost that is passed on to you, your services will always be in a state of flux rather than the consistent, responsive janitorial services you get from competent, long term employees. Sure employee turnover does tend to be much higher in lower-skilled, lower wage jobs however, there are concrete measures a janitorial company can take to mitigate turnover and keep it in check. The best janitorial companies know how to attract, hire and retain very good people who are a good fit for the work. How does a cleaning company's turnover impact the quality of services you and your facility receive?
High janitorial turnover reduces the value of the services you receive.
Higher than average turnover increases the likelihood of poor quality work.
A bevy of new office cleaners often result in recurrent, uncompleted work.
Too many new people weaken the relationship built between on site cleaners and you the customer.
High janitorial turnover increases likelihood of damaged equipment and material waste—a cost that is passed on to you the customer.
A revolving door of new cleaners results in both real and perceived security concerns.
Increased costs associated with onboarding are offset by higher prices that YOU are paying.
5. Insufficient Training
The number one way a janitorial company can be proactive in delivering a high level of service to their customers is through solid, targeted employee training. Think about it, while we may think of janitorial services as lower skilled work, it has become increasingly complex and technology driven. Employees that receive very good training not only perform better, they feel better about their work and are thus more engaged. Does your prospective Plymouth janitorial services understand the critical importance of properly training their teams? Do they offer the formalized training that is most likely to provide you and your facility with consistent, effective, individualized service? Do they train their teams on a systematized cleaning process? Not only should cleaners receive basic training, this should be augmented with other training specific to the industry or company they will serve, like:
Restroom Cleaning

Blood Borne Pathogen training
Hazcom Communications
Interior Office Cleaning
OSHA & other Safety training
Green Cleaning
6. A Lack Of Responsiveness
No matter how professional and capable a janitorial company is, mistakes will happen, something will get missed. When problems arise, how quickly does your cleaning services in Plymouth respond? So often we hear from Facility Managers who tell us they either don't hear back from someone after reporting an issue or they are told it's taken care of only to realize it keeps happening. A lack of responsiveness either forces you to live with less than optimal service or forces you to constantly light a fire under your janitorial services company trying to get them to deliver the services they promised. You should have to do neither.
7. Poor & Ineffective Communication
Communication is a critical component of effective janitorial services. As we stated above, no matter how adept a cleaning company is, mistakes will happen. If there is solid communication between you and your cleaning services in Plymouth, small issues won't turn in to big problems. In order to deliver a high level of service, your cleaning company must effectively communicate with both you the customer and their own people. The best commercial cleaning companies will never shy away from getting your regular feedback, both positive and negative. They are aware issues will arise and are adamant amount being both proactive and responsive.
8. A Lack of the Systems to Assure Reliability Through Accountability
Good service doesn't happen by accident, it happens by design. Is your prospective Plymouth janitorial service doing all they can to assure reliability through accountability? Do they have the systems in place to all but assure success? Do they conduct regular janitorial inspections to help give feedback to employees positioning them for success? Do they have each important component of their business structured with systems and processes to create consistency and results? Sure most cleaning companies WANT to make the customer happy but who among them is backing up good intentions with a plan?
9. Not Using Technology to Enhance Effectiveness, Increase Efficiency & Cut Costs
Technology and innovation play a part in any industry and the janitorial and building maintenance industry is no exception. From better equipment that cuts labor hours, costs and improves efficiency—to apps, software and reporting that communicate information gathered from janitorial inspections to tech savvy training and more, the best janitorial companies will embrace and even advance technology that makes delivering high levels of service more likely.
10. When a Lack of Professionalism Is A Problem
Professionalism is a key component of success in every industry. Just because a janitorial service is responsible for cleaning toilets and emptying trash cans doesn't mean professionalism is any less important. When considering prospective janitorial companies, what will professionalism look like? Professionalism is well trained and well equipped teams. It is a skilled approach to cleaning your facility. It is direct and responsive communication when things go off track. It is employee screening, employee badges and employee uniforms. It is operating with industry best practices at the forefront and always striving for better, continual improvement.
Are you looking for cleaning services in Plymouth Michigan? Are you tired of under performing cleaning companies and ready for a higher level of service? Here at Stathakis, we have spent over thirty years developing a standard of service and working hard to create lasting relationships with our customers and offer the businesses of Plymouth and southeastern Michigan the solutions and services they deserve by adhering to and even developing janitorial best practices. If you are a Facility Manager in Plymouth or surrounding areas and you are looking for commercial cleaning services, office cleaning, school cleaning, industrial cleaning, medical cleaning or other building services, please contact us to learn more about how we can assure you get the service you and your facility require.