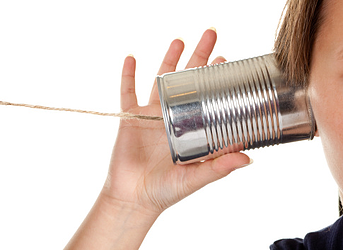 What Is the Single Biggest Predictor of Subpar Commercial Cleaning Services?
The market is flooded with commercial cleaning services, some terrible, some great and others falling somewhere in between. When we talk to Facility Managers, we often find that their single biggest challenge is finding a commercial cleaning service that satisfies their expectations and the needs of their facilities. Why is it so difficult to find a solid commercial cleaning service? Is it because the commercial cleaning companies don't care? Is it possible that so many facility managers have unrealistic expectations? Is it the nature of service work itself? Is it an ongoing problem with low-skilled labor?
In our experience, there is one single factor that contributes most to subpar cleaning and dissatisfied Facilities Managers, and that is poor communication. A lack of sufficient communication between a Facility Manager and both the crew and managers at a commercial cleaning company is critical for a successful ongoing business relationship.
Why Do So Many Cleaning Companies Still Get Communication So Wrong?
So why do so many cleaning companies still get this part wrong? It doesn't matter if they have the best cleaning products out there or brand new equipment and a crew ready to work, if a commercial cleaning company cannot maintain satisfactory communication, they will fail to deliver the level of service that makes them worth keeping. Good communication is essential to delivery for just about any service in your facility. Whether it's the mat service, HVAC service, or Commercial Cleaning Services, your service professionals' ability to communicate and ask the right questions is paramount to their success in your facility. Too many commercial cleaning services get this critical component of their business wrong because they too often put their focus on the wrong things and because it is easier to keep their heads in the ground assuming that 'no news is good news.' If they regularly communicate with you, you may complain or ask for changes to something, and the unkown can feel a bit scary. A reputable, professional commercial cleaning service will never shy away from getting your regular feedback. Great cleaning services understand that mistakes happen, things need adjusting sometimes and at the end of the day, they want you completely satisfied with the work you are getting.
How Do You Find a Commercial Cleaning Service That Gets That Communication is Key?
Finding a commercial cleaning service that communicates adequately can be a great deal like finding a partner in the sea of online dating. Everyone says they communicate, but people can say anything. It's up to you as the Facility Manager to separate fact from fiction when selecting the right commercial cleaning service for your facility. A quality, committed commercial cleaning company or janitorial service can back up their claims with certification that demonstrates their commitment to both their industry and their customers. What is certification? Some industry associations offer professional certifications that can be used to elevate a contractor's level of service delivery. The ISSA is a professional organization that works with cleaning, maintenance and janitorial service contractors. Companies that complete ISSA CIMS certification must demonstrate that they meet the very highest industry standards in a multitude of areas including Customer Communication.
In fact, this is one of the many benefits of dealing with a Commercial Cleaning Services Contractor who is ISSA CIMS Certified. The CIMS requires a formal written customer communications plan. Industry wide it is understood that regular and on-going customer communication is essential to building relationships and improving service. The CIMS certification requires that a commercial cleaning service have clear procedures for communication and feedback to customers and be able to demonstrate this to the ISSA CIMS assessor. Choosing commercial cleaning services that are ISSA CIMS certified operates as a kind of qualified shortcut to getting the facility services you require.
Procedures Speak Volumes About Your Commercial Cleaning Service's Communication
A commercial cleaning company that is ISSA CIMS certified is going to offer you the best bet in securing highly responsive, quality commercial cleaning services. Still, you can further vet a prospective commercial cleaning company by asking to see their client communications plan. Really, when you are talking about good business, any commercial cleaning company should have this documented.
What might you find with a commercial cleaning service that is going to deliver top-notch services to your facility? Great commercial cleaning companies have found that On-Site log books work great for a regular back and forth dialogue between the customer and the crew, especially when working with evening crews that may not cross paths with facility employees or managers during the day. Using plans and procedures like an on-site log book can be a straight forward way to detail any concerns, complaints or requests and get follow up that your issues were received and the plan that follows. Additionally, a cleaning company worth its salt will have a concrete process for fielding your emails to do their best to make sure nothing is missed or overlooked and see to it that your issues and needs are addressed promptly.
Don't Settle When You Don't Have To
We hear from scores of Facilities Managers that they haven't changed commercial cleaning services because they aren't sure they can do any better. This simply isn't true. There are many dedicated, capable commercial cleaning services that would welcome the chance to earn your loyal business. Finding the good guys isn't always easy but it is always worth it. Imagine the burden off of your shoulders when you have a commercial cleaning service operating at the level that allows you to focus your energy elsewhere. Check ISSA CIMS certification, look for a clear, documented communication plan and you are well on your way to a perfect match.