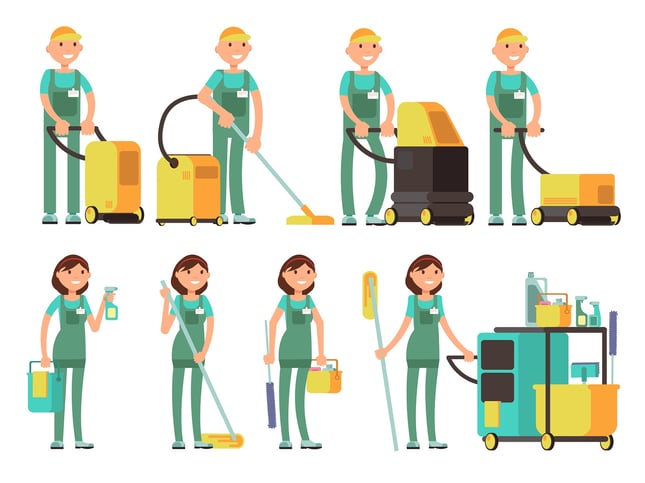 Are you on a winning team with team cleaning?
Innovation Has Changed Everything, Including Janitorial Services
As the pace of technology and innovation has moved faster and faster, businesses have had to respond and adapt, often learning to be faster themselves. Janitorial services are no exception and the industry has had to respond to a variety of factors changing the way they do business including:
Changes to the required minimum wage
Changes in employee healthcare requirements
Green cleaning goals of customer & company alike
Reduced janitorial budgets
Increased understanding of cleaning for health
What might have taken little more than a mop, a bucket and a custodian years back, has leapt into the realm of the high tech. Not only are the best janitorial companies using innovation to clean, they are using innovation to adjust how they clean. The switch to team cleaning has been a significant one. So what is team cleaning and what are its goals?
Innovation has impacted not only what we use to clean, but also the fundamentals of how we clean.
The Downsides of Zone Cleaning
High tech equipment, green supplies and methods, and more have revolutionized commercial cleaning. But a more recent change in the way we clean has had a huge impact on cutting waste, cutting cost and managing resources. So what is team cleaning and why is it so much better? First let's look at how cleaning a building is often done, with zone cleaning. With zone cleaning, a building is often broken into zones. Sometimes it's sections of the building, sometimes it's different floors of your building. These separate zones are then the responsibility of assigned cleaners. With zone cleaning, each cleaner is responsible for all the cleaning tasks in their zone. So with zone cleaning, every member of the cleaning staff needs to vacuum, clean restrooms, empty trashes, dust and more. This method might sound like it makes sense, in fact, most janitorial companies used it for years if not decades. But zone cleaning has a lot of downsides. What are the relative disadvantages of zone cleaning?
With varied responsibilities, it's easier for cleaners to miss things.
Each zone cleaner needs their own equipment & supplies like vacuums, floor cleaning tools & more. Equipping each employee costs much, much more.
The cost of more equipment means your commercial cleaning company will try to get every last bit of life out of their equipment, often using it far beyond its period of effectiveness.
Zone cleaning takes longer & is less efficient because cleaners are task switching and even multitasking, which is slower and requires more labor hours.
Team Cleaning helps cut waste, cut cost and better manage resources.
Team Cleaning, Why It Works & Why It's Better
While zone cleaning falls out of favor as Facility Managers and janitorial companies work hard to keep costs level or even reduce them, team cleaning has become the go to method for effectively and efficiently keeping larger buildings clean. So what is team cleaning, how does it work and why is it better? With team cleaning, individual cleaners master a few specific tasks and perform them throughout your facility. So, there is likely to be a light duties specialist, a vacuum specialist, a restroom specialist and a utility or general specialist whose duties may change based on your facility or staffing. Specialists are far more likely to clean the right way, each and every time. With team cleaning, each cleaner is responsible for a very specific set of duties so both task mastery and accountability are increased skyrocketing efficiency. This efficiency means the need for both labor and equipment is reduced. As a final point, with each cleaning team member completing their specific set of duties, less equipment is needed. When janitorial companies have less equipment to buy, they can buy better equipment and replace old, dated equipment
With team cleaning, each cleaner is responsible for a very specific set of duties so both task mastery and accountability are increased skyrocketing efficiency.
Keep Cleaning Costs Down With Team Cleaning
The single greatest cost in a janitorial services company is labor. And with the minimum wage growing in many states, including here in Michigan, as well as healthcare coverage requirements and costs rising, labor costs are likely to continue to rise. After labor, equipment comes in at number two in terms of cost. When janitorial companies are able to reduce these two major items, they can subsequently pass along some savings to you the customer. Team cleaning can help manage both labor and equipment costs without sending your overall facility maintenance into a tailspin. The task specialization that comes with team cleaning means less equipment and even reduced labor hours. One or two people vacuuming your building can get that task done far more efficiently than eight people juggling multitude of duties. While it is certainly dependent on the size of your facility and the scope of your cleaning, team cleaning has proven itself to be a method that can significantly save time and money.
Team cleaning can help manage both labor and equipment costs without sending your overall facility maintenance into a tailspin.
Are you content with the service and value you are getting from your current janitorial services company? Is it time to look for a new cleaning service firmly planted in 21st century practices? Do you have a less than optimal cleaning budget but don't want your email box crammed with complaints? Here at Stathakis, we deliver consistent, responsive service and real value for businesses all over southeastern Michigan. We have spent over thirty years developing a standard of service delivery. We work hard to create lasting relationships with our customers and offer the businesses of southeastern Michigan the service they deserve. If you are a Facility Manager in Ann Arbor, Detroit, Royal Oak, Farmington Hills, Farmington, Dearborn, Livonia, Troy, Auburn Hills, Novi, Plymouth, Downriver or surrounding areas and you are looking for commercial cleaning services, office cleaning, school cleaning, industrial cleaning, medical cleaning or a janitorial company, please contact us to learn more about how we can help make your job at least a little easier and make your facility shine.