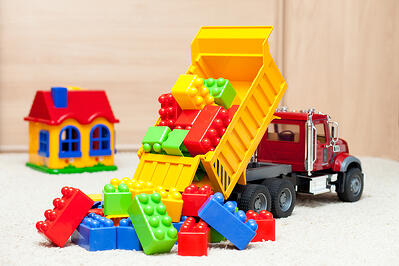 No one likes dirty restrooms, but if your facility bathrooms are gross enough to weaken even the strongest of stomachs, you could be flushing your bottom line down the toilet. Sure, even frequently cleaned office restrooms will get dirty by the end of the day, but if your restrooms are in a state of constant yuck, it might be time to dump you restroom cleaning service. Dirty facility restrooms are a problem because either you don't have anyone properly caring for your facility or the company you have entrusted to do it isn't getting the job done. Either way, it's likely time to revisit your facility maintenance and get the professional help you need to keep the loos looking good.
Sending the Wrong Message With Inadequate Restroom Cleaning
Your stinky restrooms, overfilling trash cans and empty soap dispensers say a great deal about your facility maintenance and unfortunately, what they say isn't good. If a customer sees an unkempt restroom their impression will likely be that you take shortcuts and compromise quality to cut costs. Inadequate restroom sanitation will leave employees certain that you are not keeping an eye on quality and productivity. Dirty office restrooms tell tenants you might not be up to keeping the facility in good condition or that you don't think their opinion or that of their customers matter.
Are these the messages you want to send? Because dirty work bathrooms convey the unintended message that you are unaware of the condition of your building, you have given up or you just don't care. Your office bathrooms should convey to your customers and employees the message that you've got things under control and know how to keep even a large and busy facility well maintained. You don't have to throw in the towel when it come to work bathroom cleaning because there are many Southeastern Michigan commercial cleaning companies who can provide you with facility maintenance, including keeping your office restrooms sparkling clean, all within a budget you can live with.
What Might People Be Noticing About Your Dirty Restrooms?
If you as a Facility Manager have fielded more complaints than usual about your facility restrooms, the best thing to do is have a look for yourself. So, what should you be on the lookout for? I like to check that hand washing supplies are well stocked. Not only is hand washing critical to health and stemming the spread of communicable diseases, fewer germs means fewer illnesses which in turn means lowered employee absenteeism. Likewise, if you see trashes filled or overflowing, it is a sure sign that your office restrooms are not being cleaned or checked frequently enough.
Take a breath, does it smell unpleasant? Just because it's a restroom doesn't mean it has to smell bad. Clean, well-maintained restrooms will smell fresh and clean. In the worst of restrooms, everything looks grimy; whether it's water all over the sink area, water splattered mirrors, sticky, stinky floors and gross bathroom stall partitions.
Great Restroom Sanitation Services Can Turn Your Restrooms Around
You, your employees, tenants and customers don't have to fear the call of Mother Nature. A reputable Michigan commercial cleaning service can quickly get problem restrooms in shape with a little technology, elbow grease and the systematic cleaning that oft used work restrooms require. Think about it, your office restrooms aren't used by a few people a few times each day like home bathrooms. Rather they see a steady flow of people all day long. So what should your janitorial service be doing to keep your restrooms looking their best?
▪ Keep supplies like toilet paper, hand soap and paper towels fully stocked.
▪ Regularly test dryers, paper dispensers and other items to insure they are working properly.
▪ First clean and then disinfect restroom surfaces.
▪ Specifically clean "touch points" like faucet and door handles to reduce germs & illness.
▪ Keep floors and surfaces clean with regular deep cleaning as needed.
▪ Keep walls, floors, toilets, urinals, sinks, mirrors and fixtures in optimal condition using regular and deep cleaning as needed.
▪ Utilizing thorough cleaning and deep cleaning as needed to keep funky odors at bay.
▪ Keep vents, corners, ceilings, base boards and behind toilets clean.
▪ Keeping restroom stalls free of gum, grime and graffiti.
Dump Your Restroom Cleaning Service For a Cleaning Company Willing to Get It Done
The benefits of a great commercial cleaning company are real but finding a commercial cleaning company capable of delivering top-notch service at an affordable price can be challenging. If you have been regularly checking your restrooms only to be disappointed, it's time for action. Your first option is to communicate your dissatisfaction with your current Michigan janitorial company. Maybe it's time to review your cleaning plan and see if your commercial cleaning company is living up to their agreements.
If that fails to net you consistent, responsive restroom cleaning and facility maintenance, it's likely time to take your business elsewhere. Whether you are in search of office restroom cleaning, healthcare cleaning, school restroom cleaning or more, realize that the condition of your restrooms tells customers, clients and employees more than you might think. Arm yourself with the checklists to help you assess prospective commercial cleaning companies. Likewise, it can be useful to ask other Facility Managers you might know for personal recommendations. In the end, if you put in the time to find a cleaning or janitorial company capable of giving your restrooms and the rest of your facility the attention and care it deserves, the rewards you reap will far outweigh your investment in a clean and well cared for facility.