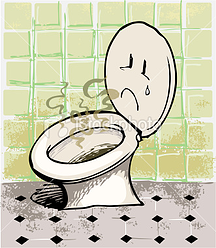 At home how often do you clean your own restroom? For most of us, it only needs to be polished up once a week—and few of us really look forward to doing so. That being said, you can easily imagine what the chore is like in your place of business (or for that matter, any commercial
restroom cleaning
job)! With employees and guests constantly making use of the facilities and supplies, restrooms are places that get very filthy, very fast. Maintaining a sparkling restroom is a dirty job that a restroom cleaning service will be happy to take on for you.
A properly cleaned restroom should exhibit the following qualities and benefits for your workplace:
Fresh scent
Well stocked
Disease free
Shows respect for your employees and guests
Overall, improves your bottom line
The smell of a restroom is a telling benchmark in assessing its cleanliness.
Repugnant odors
begin to form when urine mixes with dirt, left by shoes or soiled hands, causing bacteria to fester and stink. So if your facility's restroom appears clean, but nevertheless smells, then it is actually a very dirty place and you may want to consider bringing someone in from the outside to handle the overwhelming job. Don't be fooled by a restroom cleaning service that attempts to cover up unpleasant odors with air fresheners. This 'tactic' is still leaving dirt and disease behind and simply mixing foul odors with 'nice' ones (and often creates an even worse scent than having no air fresheners). When a restroom smells like nothing at all, except pleasant and fresh, then you know it is being taken care of and sanitized properly.
Consider all the supplies that need to constantly be restocked in a restroom--and consider the results when these supplies are NOT available! Towels, soap, trash liners, toilet paper, tissue, the lists goes on and on. A restroom cleaning service can provide to you the restroom supplies you need at a lower cost as well as take on the responsibility of making sure they are readily available for your staff and guests.
A clean restroom has positive effects on the moral of your employees because good
restroom sanitation
means that disease causing bacteria are kept at bay. A dirty restroom sets the stage for viruses and the like to sweep through your workplace, increasing sick days, lowering employee efficiency, moral, and output. Depending on the size and number of restrooms in your facility, a truly clean restroom may have to be cleaned and sanitized more than just once a day. A commercial restroom cleaning service employees and trains their staff to do this important job properly. A restroom cleaning service makes use of professional cleaning chemicals and supplies that are made to handle the high volume of public restrooms. They know all the "problem spots" to check and skilled to efficiently deliver excellent restroom sanitation to keep your workplace healthy and happy.
Overall, one of the most important benefits to a clean restroom is that it can
increase your bottom line
. Think back to the last time you had the unfortunate experience of utilizing a dirty public restroom. Chances are it left a negative impression on the business that was associated with that particular restroom. The fact is that, according to a recent survey by the Cintas Corporation, of 1,000 people that used a businesses dirty restroom, 94% said they would not return. A clean restroom shows respect to your customers and guests. A restroom cleaning service can help you to keep your customers and guests coming back to your business.
Other helpful articles on Restroom Cleaning: