Restroom Cleaning Services in Detroit
Restroom Cleaning: Let Stathakis Do the Heavy Duty Restroom Cleaning
A professional restroom cleaning service is your best bet for insuring that your facilities' restrooms are sparkling clean, thoroughly sanitized and well stocked with necessary supplies. At Stathakis, we bring over 35 years of janitorial experience to offer individual solutions whether you require a one-time restroom deep cleaning or ongoing maintenance. Your restrooms are as much a part of your business as your reception area, works areas or classrooms. Professional restroom cleaning services from Stathakis will ensure that your restrooms are truly clean creating a welcoming and healthy environment for both employees and customers.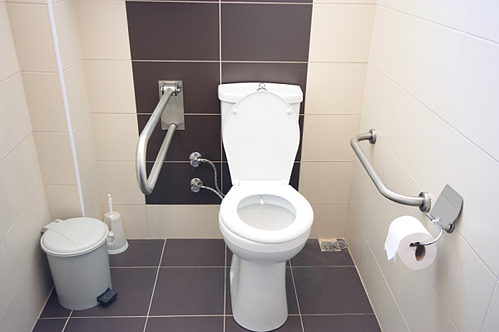 Are Dirty Restrooms Costing You Customers?
Did you know that dirty restrooms are a frequent customer complaint and a major health concern? Don't let dirty restrooms cost you even one more customer or compromise health. Public restrooms see heavy traffic and all of those people in and out can create a breeding ground for germs and bacteria. "Mop and bucket" cleaning just doesn't get the job done in a busy restroom, it spreads germs and bacteria around and leaves lingering odors. Bacteria and germs can spread serious diseases like the Flu, Staph, Strep, respiratory illness, E-Coli, H1N1 and Norovirus. Professional restroom cleaning can insure your restrooms look clean and are properly sanitized to safeguard the health of you, your employees and customers.


Restroom Cleaning is Better Left to the Pros.
When you rely on employees to clean restrooms, sometimes the job just doesn't get done or gets a cursory once over that doesn't really clean anything. Delegating restroom cleaning to employees hired for other jobs can cause unnecessary labor costs and training/compliance issues that can add ongoing
management responsibilities to your already overflowing "To Do" list. Let Stathakis handle your commercial restroom cleaning. We clean every surface, sink, toilet, urinal, partition with a specific focus on "touch-points" like toilet handles and door knobs. We offer:
Immaculately cleaned & sanitized restrooms
A full line of restroom supplies like paper towels, toilet tissue, hand soap, sanitizers, & odorizors
Customized solutions from a one-time deep cleaning to regular restroom maintenance
A comprehensive restroom disease prevention & odor control program
The Benefits of a Professional Restroom Cleaning from Stathakis include:
Built up, old dirt & grime disappear & with it odor
A periodic deep clean makes daily cleaning easier
Proper sanitization kills odor causing bacteria & limits the spread of dangerous microorganisms