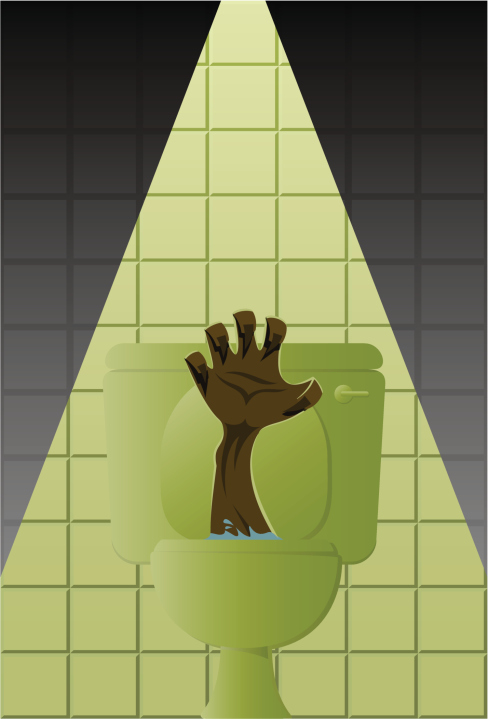 Are Your Bathrooms Scaring People Away?
Think dirty office bathrooms are just about looks, think again. Nothing can scare off a prospective employee like a gross office bathroom. And nothing cements an attitude of apathy with existing employees quite so efficiently as work restrooms in disarray. And if you think your visiting customers won't notice the pooling water, grimy corners, empty soap dispensers and mystery stains, you are dead wrong.
The condition of your restrooms can speak volumes about the state of your business. Don't let dirty restrooms leave your customers or your employees with an unfavorable impression. Maybe it has been awhile since you really looked at your restrooms. When it comes to our office restrooms, most of us get in and get out and it can be all too easy to miss the warning signs that your restrooms are being inadequately cleaned. Don't let your dirty restrooms get in the way of good business.
The Chilling Costs of Dirty Bathrooms
As a Facility Manager, you must continually balance costs and conserve resources. Sure, it costs money to bring in a commercial cleaning service that will keep your bathrooms clean and your building in good order, but there are also costs if you don't. Dirty bathrooms can be like the iceberg, you see it but really it is just a small warning of a much larger problem. When you cut corners on building maintenance, you send the wrong message to your team and your customers and it ends up costing you one way or another. In what ways can dirty facilities impact your bottom line?
▪ Increased employee illness & absenteeism
▪ Negative customer perception regarding the overall quality of your business
▪ Employee Morale takes a hit & turnover increases
▪ The best workers look elsewhere
▪ Lowered efficiency & work output
▪ Lost sales & opportunities
How the Best Office Cleaning Companies Get Restroom Cleaning Right
When you walk into a clean restroom, you may not be thinking about what it really takes to keep it looking that way, but the best cleaning companies do. The right maintenance company understands that keeping restrooms clean requires both periodic checks throughout the day and regular deep cleaning. What goes into keeping your office facilities clean?
▪ Checking fixtures and dryers or paper dispensers to make sure they are in good working order.
▪ Restocking critical supplies like toilet paper, soap and hand towels.
▪ Cleaning first and then disinfecting surfaces using appropriate dwell times.
▪ Targeting "hot spots" and "touch points" to reduce the spread of disease.
▪ Thoroughly sweeping floors to remove trash and debris.
▪ Regularly emptying trash & empty sanitary disposal containers before they are full.
▪ Cleaning floors and counters to eliminate splashes, water and keep surfaces looking good.
Regular deep cleaning of restrooms can actually minimize replacement costs by maintaining floors, tile, fixtures, lights, vents and more. Likewise, occasional deep cleaning makes everyday maintenance much more effective and efficient. Deep cleaning tackles any build up of dirt and can eliminate those telltale residual restroom odors.
Leave This Dirty Job to the Pros
Some Facility Managers understand correctly that their restrooms need to be in good, clean condition but they mistakenly consider just appointing one of their employees to 'keep an eye on things.' This is a mistake for several reasons. First, giving someone this added duty is a surefire way to make sure it doesn't get done. Second, cleaning a bathroom requires some skill, training and systems to make sure the work is getting done regularly. Are you really prepared to check bathrooms a few times each day to insure the work is getting done? Or would you rather enlist a professional janitorial service and know you are getting the wok you have been promised?
Restroom cleaning is better left to the pros-- professionals who have the gear, cleaning products and training to do the job properly. Do you think Mindy in HR or Dave in Receiving is going to do the following:
▪ Use chemicals, agitation and extraction to insure walls, floors, toilets, urinals, sinks, mirrors and fixtures are scrubbed and deep cleaned.
▪ Carefully clean around and behind toilets and other hard-to-reach but critical areas.
▪ Clean fixtures, darkened grout lines on floors, gum and graffiti.
▪ Dust or vacuum vents, clean corners, ceilings and base boards.
▪ Repair broken fixtures and regularly restock/order supplies.
▪ Maintain or repair cleaning equipment as needed.
Eliminate Creepy Restrooms & Make Your Job Easier
Maybe you have been going it alone or perhaps you have an existing maintenance company that just isn't giving your restrooms the attention and care they require. Either way know this, getting a good value and clean restrooms is not only possible, it can be relatively straightforward. The best janitorial companies and office cleaning companies understand the real benefits of a clean workplace and shiny, fresh restrooms. Not only will they offer the know how and expertise to do the job, they will have systems in place to make sure you don't have to check and double check their work.
If you want to make it even easier to find the right professional cleaning company, you can use industry certification like the CIMS to narrow down your shortlist to the best of the best. And remember, just because a cleaning company is established and great at what they do does not mean they necessarily charge more. In fact, it is often the most experienced janitorial companies that understand pricing and meeting your budgetary needs the best. With a little up front work, you can partner with a great cleaning company and get the well-maintained facilities and clean restrooms you and your employees deserve.