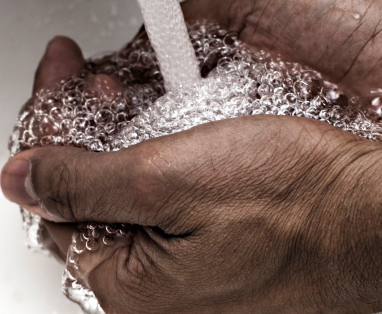 The cleanliness of your facility starts with the best janitorial services in
restroom cleaning
and finishes with
good office hygiene
. It's a fact: if even one person is neglecting to wash their hands after using the restroom, then germs are going to be spread at an alarming rate.
No matter how immaculate your restroom cleaning company is, 80% of diseases are spread through
human contact
, and
hand washing is the best defense against germs
. A healthy work environment needs to include a hand washing education program in addition to great restroom cleaning to be truly effective.
Some important facts about hand washing:
After using a restroom, the number of germs on the fingers doubles, and can stay alive for up to three hours.
Only 32% of men and 64% of women wash their hands with soap and water.
Without hand washing, germs are spread throughout an otherwise clean restroom and into other work areas.
Hand sanitizers aren't nearly as effective as good old soap and water, and pretty much useless for cleaning soiled hands. They should be considered as an accompaniment to hand washing and not as a substitute or an alternative.
The Center for Disease Control recommends these steps to keeping up a healthy work environment and getting the most out of your
restroom cleaning
program:
Wash your hands often, especially if handling food or after using the restroom.
Wet your hand with clean water, (warm or cold, it doesn't need to be hot) and thoroughly apply soap.
Rub hands together and create a lather that reaches the front and backs of your hands, between your fingers, and under your nails. Make sure you also get under any rings or other jewelry, as germs like to hide there as well.
Rub your hands for at least 20 seconds. Hum the ABC's or Happy Birthday twice to pass the exact amount of time it takes to kill those germs!
Rinse your hands under running water.
Dry your hands with towel or air dryer immediately; germs like to grow on damp hands.
When leaving the restroom, avoid touching the door handle, if possible. Keep in mind the statistics that many people aren't washing their hands!
Reviewing the importance of hand washing really puts into perspective the
dirty job of restroom cleaning
and the importance of keeping a work place healthy for maximum output and ingenuity. When
restroom cleaning
is neglected and the space is dirty, people tend to vacate as soon as their business is done-- actually fearing coming in contact with more germs if they stay to wash their hands. So, consider how a regularly scheduled restroom cleaning can help create a space where people will want to linger and take the time to wash their hands and keep diseases at bay.