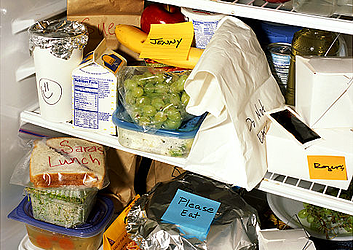 The Office fridge is a battlefield where bacteria claim rotten victory. It might look innocent to us, especially if it's covered with cheery magnets and goofy cartoons but as many a traumatized desk jockey can attest, that shiny door can be a portal into a dietary temple of doom. Many of us have a few horror stories to share about office refrigerators. Tales of fuzzy and fermented foods are common, and unfortunately so are incidences of employees becoming sick from eating foods at work.
You probably keep your refrigerator at home clean, but the office refrigerator may be a problem because it's typically a shared responsibility. Here are some tips that may help.
Keep it at a safe temperature — 40 °F or lower
• Refrigeration slows bacterial growth. Bacteria exist everywhere in nature. They are in the soil, air, water, and the foods we eat. When they have nutrients (food), moisture, and favorable temperatures, they grow rapidly, increasing in numbers to the point where some types of bacteria can cause illness.
• Bacteria grow most rapidly in the range of temperatures between 40 and 140 °F, the "Danger Zone," some doubling in number in as little as 20 minutes. A refrigerator set at 40 °F or below will protect most foods.
Share the responsibility
• Do you feel like you are the only one concerned about the cleanliness of the refrigerator? Make it a food safety issue! Not everyone may realize the importance of keeping all food contact surfaces, like the refrigerator, clean. Because bacteria are everywhere, cleanliness is a major factor in preventing foodborne illness.
Keep it clean
• If your office doesn't already have a schedule for cleaning, why not make it a habit to throw out perishable foods left in the refrigerator at least once a week? A general rule of thumb for refrigerator storage for cooked leftovers is 4 days.
• Wipe up spills immediately before they turn into a major cleaning job. Clean surfaces thoroughly with hot, soapy water; then rinse.
• To keep the refrigerator smelling fresh and help eliminate odors, place an opened box of baking soda on a shelf. Avoid using solvent cleaning agents, abrasives, and all cleansers that may impart a chemical taste to food or ice cubes, or cause damage to the interior finish of the refrigerator. Follow the manufacturer's instructions.
Dirty office fridges can cause illness. Get someone to check or clean yours out!
Recent study proves that 44 per cent of office fridges get cleaned out once a month and 22 per cent only once or twice in a year. So, that ancient fish sandwich is putting the salmon in salmonella. It is recommended to schedule your cleaning company clean that fridge out every week, and warn that anything left behind will be tossed. Today top cleaning companies consult with their clients to provide a healthy work environment. Afterall, a dirty fridge can mean time off as food poising can take anywhere from a few hours to a few days to recover from.
A healthy office means a steady increase in the output performance by its employees. Proper office cleaning means that the cleaning personnel are there when and where they are needed. The personnel should know the proper products to use in each section of the office or building, for each section may have different needs.
There are some office cleaning services, such as Stathakis, that are ISSA CIMS GB Certified that assures our customers that our processes are among the industries best. The "Green Building" (GB)*** part of the certification symbolizes our capability to assist our customers in achieving a greener clean, in addition to earning LEED-EBOM points.
If you are shopping for Cleaning Services see Stathakis' newest Ebook, "The 360 Buyer's Guide to Better Cleaning Services", cleaning industry experts provide key insight into how to navigate through the maze of Cleaning Companies to find the best value for your facility. Get this Janitorial Buying Guide today!