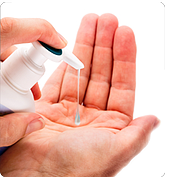 Creating a healthy work environment and maintaining it is a top priority in all businesses. Throughout the day, people touch many surfaces, objects, and even other humans. Various germs pile up on the hands, which in turn can be the cause of infection by touching the eyes, nose, or mouth. To keep yourself and the people around you healthy, it is important to keep hands germ-free by washing them frequently to limit the transfer of bacteria, viruses, and other microbes.
There are certain things that should be taken care of to keep germ-free hands:
* Wash your hands before and after cooking food.
* After using the restrooms.
* Touching or playing with animals.
* Treating wounds, etc.
Traditional soaps or any antibacterial hand sanitizers are good options for cleaning your hands. Washing with soap has been the tried and tested method to prevent the spread of diseases. However, a major fraction of people do NOT follow any trend for keeping themselves bacteria-free. Only 32% of men and 64% of women wash their hands with soap. Soaps are cleansers - they actually help in removing dirt when used correctly. The process includes washing your hands on both sides, with soap, in running water for about 20 seconds.
Sanitizer, on the other hand, is useful in killing germs but not cleaning them. They are the most convenient alternatives when there is no water or soap available. Sanitizers are portable and give the feeling of soap. It effectively works on hands which are not visibly dirty. Even clean hands have germs, and though a hand sanitizer does not have the same benefits of cleaning with water and soap, it is effective in eradicating germs. Hand sanitizers work by stripping away the outer layer of oil on the skin. This process usually prevents bacteria present in the body from coming to the surface of the hand. Such kinds of bacteria are generally present in the body but do not make you sick.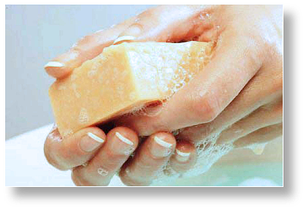 What everyone does agree on, is the importance of regular hand washing with soap and water. Using soap and sanitizers can be considered as a two-step process. The entire course of action includes the following steps:
* Wet your hands with running water.
* Apply soap (liquid/bar/powder) on your hands.
* Rub your hands for good amount of lather.
* Rub both the hands vigorously for at least 20 seconds. Rubbing must include all of the surfaces- the back of your hands, wrists, between your fingers, and under your fingernails.
* Dry them immediately with a clean towel or under an air dryer. Wet hands are more susceptible to bacteria than dry hands.
* It is not common to have automatic faucets everywhere, so even after following the above steps, bacteria is still going to be on your hands as you turn the faucet off.
* To get rid of these left over germs, apply sanitizer on your hands.
Interestingly enough, both a soap and a sanitizer compliment each other. Working on both ways is definitely better than working on only one. Using a good amount of lather and then rinsing it well with water is still considered the best way for deep cleaning (when time permits and a sink is nearby). Keep in mind that sanitizers are portable and quicker for the same work. On the whole, both methods work on cleaning and killing germs. For complete and 100% safe killing, the entire procedure is necessary.

Stathakis, an ISSA CIMS-GB certified janitorial company, has been providing all the cleaning and janitorial services or business cleaning services, that are needed to keep one away from cold and flu in this season of high alert.
If you are shopping for Cleaning Services see Stathakis' newest Ebook, "The 360 Buyer's Guide to Better Cleaning Services", cleaning industry experts provide key insight into how to navigate through the maze of Cleaning Companies to find the best value for your facility. Get this Janitorial Buying Guide today!