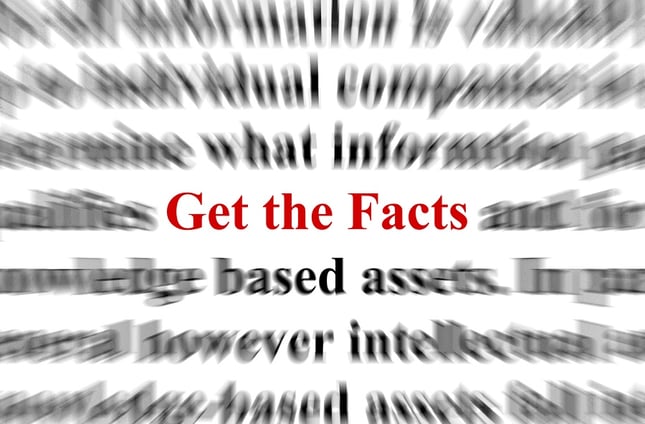 Carpeting in a facility has a number of benefits, but it isn't without maintenance. Carpet looks great, reduces noise, diminishes the risk of slips and falls and can be insulative. Yet it can also get dirty and show wear faster than hard flooring. The good news is that today's commercial carpets are made to withstand lots of feet and even the dirt and debris they carry in, however, these high tech durable carpets need regular commercial carpet cleaning to look their best and last their longest. So carpet cleaning is critical to your office carpets looking their best, but what maintenance is really required and does it really matter who does it? And how do you as a Facility Manager separate fact from fiction when it comes to commercial carpet cleaning for your facility?
Fiction
Save money by choosing the commercial carpet cleaning company with the lowest price.
Fact
Pricing is a bit tricky when it comes to finding the right commercial carpet cleaning service. On one hand, very low pricing is usually a red flag pointing to suboptimal methods and service. On the other hand, paying a premium to get your carpeting cleaned is no guarantee that a company will do a better job. Really, more important than price is value. Value is what you are getting for your dollar. In order to get effective carpet cleaning, you should steer clear of suspiciously low price points as these often indicate inexperience, upsells and desperation. The best way to get the service you need is to do your homework and even ask around for referrals. Avoid being tempted by too good to be true pricing. Rather, compile a list of solid, reputable carpet cleaning companies and then let price and budget guide your decision.
Fiction
If your office carpets look clean, they are clean.
Fact
Carpets get dirty over time, doesn't matter that they don't look dirty. People traveling in and out of your facility bring dirt, grit and other contaminants in with them. This material settles into your carpets where it can offer the ideal breeding ground for bacteria, mold, fungi and more. Additionally, even microscopic dirt and grit have a rough, uneven surface that cuts and wears at carpet fibers. Over time, this friction is tough on carpets and can reduce your carpet's overall lifespan leading to premature, expensive replacement. Additionally, allowed to remain in your carpet, dirt, dust, pollens, fungus, bacteria, dead skin and more can reduce indoor air quality and make things tougher for those employees and visitors already suffering from issues like allergies and asthma. Cleaning carpets regularly protects your indoor air quality and your investment.
Fiction
It isn't necessary to clean carpets until they are visibly dirty.
Fact
Sure waiting until your carpets look really dirty might seem like a solid penny pinching move but it's likely to cost you much more over time. As mentioned above, abrasive materials cut at carpeting when walked upon and can dramatically impact the appearance and lifespan of this costly building asset. Likewise, the longer soils, wear and stains are allowed to sit in carpets, the less likely they are to be removed. Getting to dirt and stains quickly helps maintain the appearance of your carpets so carpeting can look its best throughout the year. Furthermore, most commercial carpet warranties require that you do periodic cleaning to assure coverage.
Fiction
Most of the commercial carpet cleaning methods are equally effective.
Fact
Carpet cleaning methods are NOT all equally effective. In fact, many of the dated carpet cleaning methods like Bonnet cleaning not only are less effective at cleaning carpets, they are unnecessarily tough on carpets and can even void your carpet's warranty. In order to get the most effective and safe carpet cleaning, you need a commercial carpet cleaning company that uses the most state of the art equipment and maintains their fleet properly. Poorly maintained carpet cleaning equipment is substantially more likely to damage your carpets. What methods are recommended for effective, safe carpet cleaning? Truck mounted hot water extraction cleaning sets the standard for safe, green, deep cleaning. High water temperatures and strong suction means a better clean with reduced chemical usage and faster drying times. Additionally, low moisture carpet cleaning methods like the Whittaker encapsulation method, offer great interim carpet cleaning between hot water extraction cleanings.
Fiction
All commercial carpet cleaning companies basically do the same thing.
Fact
Carpet cleaning companies are NOT all the same. There are many factors and practices that set the best, most effective and experienced companies apart. When searching for your next commercial carpet cleaning company, you should look for the following. They should use up to date equipment that is well maintained. Their technicians and teams must be well trained. Optimally, your carpet cleaners should be industry certified with certifications like CIMS, the Cleaning Industry Management Standard. Industry certifications like CIMS certify that building service professionals operate with professional systems and processes that are much more likely to lead to the highest level of service delivery. Using CIMS certification is an excellent, free way to create a short list of contractors to choose from.
Finally, don't let fiction confuse the facts. Your carpet deserves the most effective cleaning, you deserve to stay within your budget and employees, tenants and visitors deserve a healthy work environment. At Stathakis, we offer the businesses of South Eastern Michigan commercial carpet cleaning solutions and carpet maintenance programs designed with your needs in mind. We steer clear of one size fits all solutions instead choosing to customize every approach to the needs of our individual customers. We utilize a variety of advanced carpet cleaning technologies to deliver better results. Cleaning methods include truck mounted carpet cleaning, portable machine carpet cleaning, low moisture carpet cleaning, dry carpet cleaning-- all geared at getting you a deep clean, improving your carpet's appearance, extending its life span and improving indoor air quality. Are you interested in learning more? Need information regarding on-demand carpet cleaning or even a subscription based carpet cleaning program? Contact Matt Brown, Stathakis Special Projects Manager at #800-278-1884 to get started.