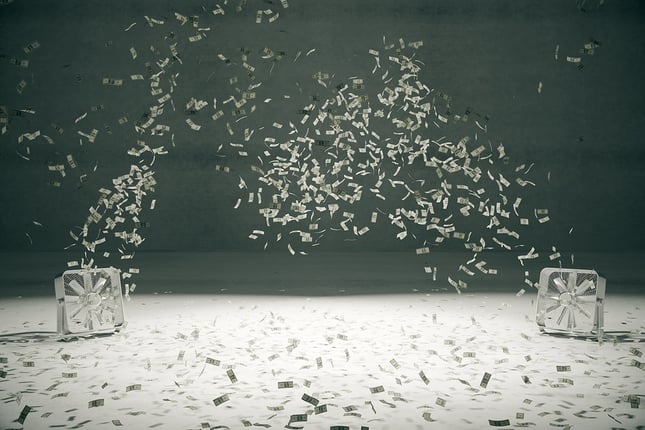 Is Your Carpet & HVAC Blowing Away Your Indoor Air Quality?
Did you know that per the experts at the American College of Allergy, Asthma and Immunology, heating and air-conditioning systems and carpeting can have a considerable negative impact on indoor air quality? Still, carpet is great in a facility. It looks good, it offers traction and noise dampening, yet it can also conceal allergens, dust, bacteria, and other contaminants that can wreak havoc on indoor air quality and increase indoor allergy issues, asthma problems and overall hamper your otherwise healthy workplace. And for those already suffering from existing respiratory conditions, repeated exposure to indoor allergens and airborne particles can be debilitating. That's the bad news, the good news is that routine commercial carpet cleaning not only improves your carpet's appearance and lifespan, it effectively removes contaminants from your carpet significantly improving your indoor air quality.
Commercial Carpet Cleaning Offers A Deep Clean & Improved Indoor Air Quality
While carpeting can be a bastion for indoor pollutants, the good news is rather than let them circulate throughout your building, the carpet does essentially trap dirt, grit and worse. But if this material is left to accumulate in your office carpeting, it can provide an ideal breeding ground for bacteria and mold. The forced air of HVAC drives even more material into carpets where they can likewise collect. Not only is this hard on indoor air quality, it is hard on your commercial carpets. Why? Because dirt, soil, grit and debris are sharp and jagged. When left to accumulate in carpets, foot traffic effectively grinds these small, yet sharp particles against your carpets fibers causing wear, breakage and dulling that negatively impacts your carpet's appearance. Certainly regular vacuuming gets rid of some of this material, but periodic professional deep carpet cleaning is critical for cleaning carpets in such a way that removes collected, trapped material, restores the appearance of your carpets and improves your indoor air quality.
Commercial Carpet Cleaning Protects Your Carpet's Appearance & Longevity
While carpet can have a downside, it still offers an effective, attractive floor covering in your commercial facility. Carpet can decrease accidents by offering improved traction and even reduce excess noise in your building. And if it is adequately maintained, carpet creates a positive first impression and boosts the overall image of your facility. A regular carpet appearance management program not only gives employees and visitors a clean, safe working environment, it reduces carpet wear, promotes a consistent carpet appearance and even preserves your carpet's original color and texture. Commercial carpeting is a costly asset that regular care and cleaning protects. Don't forgo scheduled maintenance, not only can you in some cases void the carpet manufacturer's warranty, you can prematurely wear this expensive asset necessitating replacement far sooner than would be needed with regular maintenance.
Commercial Carpet Cleaning That Isn't Just Hot Air
It is easy to see how carpeting can quickly go from a lush, high end floor covering to an unsightly eye sore in your facility. Carpet in commercial facilities sees heavy foot traffic, dirt and grime each and every day—employees and visitors can be tough on carpets. Not too mention the elements, weather, salt, snow, moisture, dust, debris and worse. All of this material from outside gets carried inside and then add to that the material pushed down from your HVAC and it's no wonder carpet can lose its good looks in time. Don't let a lack of proper carpet maintenance reduce your facility's indoor air quality and damage your facility's image. Regular commercial carpet cleaning safeguards your carpet's appearance and promoted longer wear from this expensive building asset.
Effective Commercial Carpet Cleaning Requires the Right Partner
As important as how often you clean your commercial carpeting is WHO cleans your commercial carpets. Some carpet cleaning companies simply do not have the equipment or trained technicians to do the job properly. Commercial carpet cleaning has greatly benefited from some exciting new technological developments that have resulted in more effective cleaning, more efficient and cost effective service delivery, faster drying times and less resoiling that all add up to value for you and your facility. If your carpet cleaning service is continuing to use dated carpet cleaning methods, they are not going to be able to offer you the deep cleaning you need to maximize indoor air quality and protect the look and lifespan of your carpets. The wrong carpet cleaning company using methods that are tough on carpets, like Bonnet carpet cleaning, can cause excessive wear and tear, quick resoiling of carpets, breakdown carpet fibers and even void your carpet's warranty. What works better? Commercial carpet cleaning methods like truck mounted hot water extraction and low moisture carpet cleaning modes like the Whittaker carpet cleaning method. These methods offer quicker drying times, are gentler on carpets while still offering the best, deepest clean and do not void your carpet's warranty or reduce its lifespan.
A Deep Clean, Improved Air Quality & Appearance
One size fits all solutions are rarely the answer for effective service delivery. So here at Stathakis, we offer our customers commercial carpet cleaning solutions that are custom tailored to your budget and the unique needs of your facility. We employ a number of high tech carpet cleaning methods so that we may offer you the solution that is best for you. From truck mounted hot water extraction carpet cleaning, to portable machine carpet cleaning, to low moisture carpet cleaning, every method we use is designed to get your carpets cleaner, faster and most cost effectively. Improve your carpet's appearance, extend the life span of your carpet and positively impact overall indoor air quality with effective carpet maintenance. We offer both on-demand carpet cleaning and subscription based carpet cleaning programs that can net you a cost savings and reduce the hassle of planning your ongoing carpet maintenance. For more information on how you can keep your floors cleaner than they have ever been, please contact Matt Brown, Stathakis Special Projects Manager at #800-278-1884.