Does Bonnet Cleaning Rub YOU the Wrong Way?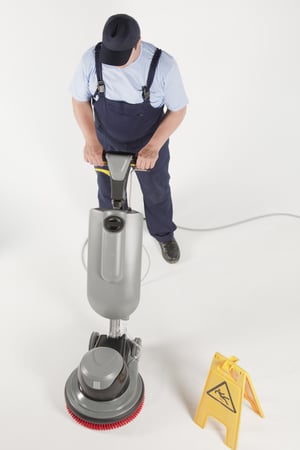 With belt tightening across the board, many Facility Managers are looking for ways to trim down maintenance and save money. Bonnet carpet cleaning may be considered for regular carpet maintenance in part because of it's perceived low cost. But what exactly is Bonnet cleaning? What does Bonnet cleaning really do to your carpet? And what cautions should you use if you decide to choose Bonnet carpet cleaning?
How Exactly Does Bonnet Carpet Cleaning Work?
Bonnet carpet cleaning is essentially an adaptation of hard floor spray buffing to carpets. Bonnet cleaning typically consists of a cotton, rayon or polypropylene pad and a rotary shampoo machine with a cleaning pad soaked in a carpet cleaning solution. As the machine passes over the carpet, the agitation dislodges dirt, some of which is grabbed by the cleaning pad. Some carpet cleaning companies use Bonnet cleaning because it is inexpensive and easy to learn. Nevertheless, while bonnet cleaning can be suitable for spot cleaning, this carpet cleaning method is not recommended overall for a variety of reasons.
Bonnet Carpet Cleaning Receives Low Marks With Most Commercial Carpet Cleaners
Bonnet Carpet cleaning typically gets low marks from commercial cleaning companies for a number of reasons. First while bonnet cleaning is able to remove some surface dirt, it pushes a lot of soil further into the carpet's pile and leaves detergent residue behind that leads to re-soiling. This residue essentially becomes a magnet dirt attracting more visible soil to carpets. Next, bonnet carpet cleaning often voids the warranty on your carpets. This is because carpet manufacturers understand that bonnet cleaning will wear carpets significantly faster than other less abrasive carpet cleaning methods. Bonnet cleaning is abrasive and may further damage already torn, loose or snagged carpets especially when it comes to the higher speeds machines. Bonnet cleaning can adversely affect a carpet's appearance as it can loosen and break fibers. Because of the high speed of bonnet cleaning machines, they can even melt carpet fibers from the heat created through the process.
Does Your Janitorial Services Company Use Bonnet Cleaning?
Most commercial cleaning companies and Detroit carpet cleaning companies prefer other carpet cleaning methods over Bonnet cleaning. While it can be useful for surface soils or spot cleaning, the downsides of bonnet carpet cleaning far outweigh any benefits or perceived cost savings. Bonnet cleaning is very aggressive on carpets without being effective. For these reasons and more, most professional Detroit carpet cleaning companies choose not to use bonnet cleaning as part of their carpet maintenance programs. If your janitorial services company DOES use bonnet cleaning, you should check with your carpet manufacturer to be certain bonnet cleaning does not void your carpet's warranty. Likewise, there are many ways to misuse bonnet cleaning that creates even MORE wear on carpets, so only use carpet cleaning companies that understand how to minimize the risk bonnet carpet cleaning presents. For instance, by using the machine at lower speeds, you can reduce the damage to carpeting.
Is Bonnet Carpet Cleaning Really a Money Saver?
While some people perceive Bonnet cleaning to be lower in cost, when you factor in other issues, it's really not a money saver. Carpet manufacturers recommend against bonnet carpet cleaning in part because they know it wears carpet faster. Carpet is an expensive asset and one you as a Facility Manager must get the full lifespan from in order to recoup and reduce your costs. Any carpet cleaning method that reduces carpet lifespan increases overall cost. And bonnet cleaning doesn't remove much soil even attracting more soiling faster making it ineffective at ANY price.
Get Your Office Carpets Cleaner with Proven Carpet Cleaning Technology That Won't Reduce Your Carpet's Lifespan
At Stathakis, we provide you with commercial carpet cleaning solutions and carpet maintenance programs that are tailored to your facility and your budget. Effective carpet cleaning doesn't need to come with a premium price tag or wear and tear your carpets reducing their overall life span. At Stathakis, we use only state-of-the-art carpet cleaning technologies in order to offer you the solution that is best for your facility, your carpet and your budget. We offer a variety of demonstrated carpet cleaning methods including truck mounted carpet cleaning, portable machine carpet cleaning, low moisture carpet cleaning, dry carpet cleaning all geared at getting you a deep clean, improving carpet's appearance, extending the life span of your carpet and improving overall indoor air quality. We offer both on-demand carpet cleaning and subscription based carpet cleaning programs that can net you real value and reduce the hassle of planning continued carpet maintenance. For more information on how you can keep your floors cleaner than they have ever been, please contact Matt Brown, Stathakis Special Projects Manager at #800-278-1884.