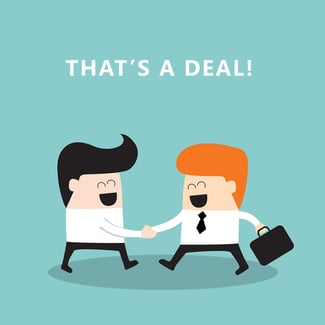 As a Facility Manager, getting a good deal on your janitorial, cleaning and maintenance services is critical. Not only will the right company keep you on budget, they will deliver a level of services that lighten your load and help keep your facility running smoothly. On the other hand, the wrong janitorial company can cost you money and time with cloudy pricing and subpar services. So how can you find the right janitorial company for your facility and secure the best possible pricing and real value? How do you get the best deal from your commercial cleaning company?
Don't Accept Anything Less Than Transparent Pricing
Janitorial prices can be really challenging to compare. Often times, a janitorial company may leave things purposely imprecise. This can make it more difficult for you to compare their bid to that of another janitorial company. Along those same lines, they can do a hurried bid without really spending time understanding your needs and if the job requires more than they anticipated, they can simply ask for more money or add fees later convincing you that what you are asking was not included in the original quote. Sometimes imprecise pricing is just a function of a cleaning company's inexperience. Sometimes they just don't fully understand how to price the maintenance of your facility. While this isn't nefarious, it will still end up costing you and upending your carefully planned budget.
Lowest Price & Best Value Are Not the Same Thing 

The lowest janitorial price is not necessarily the best value. Why is that? Good value from your commercial maintenance company means you are getting good work at a good price. On one line you have service, the other price and where they intersect is where you get the best value. Where facility management is concerned, cheap subpar cleaning services aren't cheap at all. They can cost you customers, tenants and your reputation. The goal in finding a cleaning service should be to get the best clean for the best price.
There are some practices that can predict that your commercial cleaning company will offer this kind of value. These include guaranteed responsiveness, great people in your facility, effective training, green cleaning choices and more. The good news is that it is possible to get reliable, secure, healthy, above average janitorial services that are in line with your building services budget when you when you uncover local Michigan janitorial companies that offers the a balance of best practices and best prices for real value.
Why Cheap Cleaning Bids Might Not Be As Great As You Think
While a super low bid can be enticing, we all know that if something seems too good to be true, it probably is. Unusually low quotes can be a sign of other problems. Too low prices can indicate an inexperienced company that wants to use your facility to learn on. Cheap commercial cleaning can also be a sign that a janitorial service is using illegal workers. Likewise, overly low pricing can net you a janitorial company that over promises and under delivers. But here is where janitorial pricing gets tricky: just because someone bids high doesn't mean you are going to get quality services. This illustrates that you cannot make a decision about your next facility maintenance company based upon price alone.
Low Janitorial Prices Could Point to Illegal Hiring

When you get a really low cleaning bid, you should think about how one company can do the proscribed work for so much less. There is some essential math when it comes to operating a profitable janitorial company. A Michigan janitorial bid that comes in significantly below the majority of the other quotes could be a red flag that the company in question is using illegal hiring to cut costs. There are two distinct types of illegal hiring that chronically trouble the building services industry. First is the hiring of undocumented workers. An undocumented worker is a person working off the payroll or someone that has not supplied the necessary identification to verify their legal status or authorization to work. Second is the illegal classification of workers as independent contractors. Dishonest janitorial companies illegally classify workers to sidestep the legal requirements one has when having employees like payroll, taxes, benefits and all of the other things businesses must provide for legal employees.
Undocumented workers who aren't subject to criminal background checks and drug testing puts you, your employees and facility at risk. When a janitorial service provider is willing to take shortcuts with their business they certainly are not thinking about protecting YOUR business. Additionally, the use of illegal employees increases turnover substantially which often results in new people in and out of your facility.
Anyone Can Bid Your Job But Not All Janitorial Companies Can Do the Work
When it comes to commercial cleaning Detroit, janitorial services Dearborn or any facility maintenance in southeast Michigan, there are many types and sizes of businesses. Nowadays with a cheap website and a mobile phone, anyone can try their hand at the business of cleaning and maintenance. These startups and "one man and a van" operations may be well intentioned but the reality is they can't do the work. All too often, these start-ups will put forth a low bid that just won't be able to live with for any length of time. It won't be long before they ask for more money or tack on surcharges or deliver subpar work. When shopping prospective janitorial companies, it is wise to get an idea of the size and types of businesses and industries they already serve in order to avoid an inexperienced company.
The More Experienced Janitorial Companies Can Do More With Even Reduced Budgets
When you are working with the reality of reduced budgets, it can be hard to resist a low bid. But all too often these low bids come from inexperienced companies and the reality is that especially when you are dealing with less than optimal budgeting, the better, more experienced companies can do more will less. Janitorial professionals understand through experience where you can and where you cannot reduce services. These service can help you determine how low is livable and how to construct a spec to keep your facility running smoothly, your tenants satisfied and your building assets protected.
How do experienced companies help you get more with less? They will put the principles Smart Cleaning to work. This means they will focus on the areas of your facility that see the most traffic and require more attention while maintaining less used spaces less often or as needed. An experienced Detroit area commercial cleaning companies will work with you to create a workable, livable, affordable plan for your building and your budget.
Finding Great Janitorial Services & Real Value at a Fair Price
Great value in your cleaning and janitorial can be yours even if you are operating with a less than ideal building maintenance budget. The most experienced commercial cleaning companies can make sure you get the greatest value from your cleaning dollars. When considering prospective janitorial services, reflect on the following. Janitorial services that provide you with transparent pricing allow you to compare quotes in a substantive way. Clear pricing allows you to look at a number quotes side by side in an 'apples to apples' manner, which in turn helps you to determine value. Choosing a reputable, professional, trusted commercial cleaning company gives you the best promise of partnering with a company that will deliver on both real value and their promises of good service.