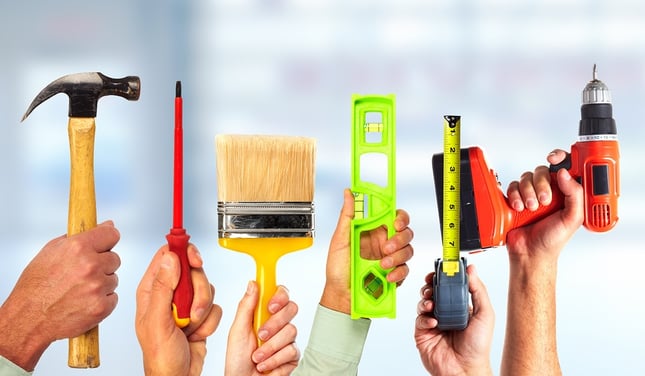 Your Janitorial Services Company Might Be Able to Do More Than You Think
Like most Facility Managers, do you have more issues than time? Do you have a steadily snowballing to do list that you just cannot seem to get caught up on? Are you praying and hoping that current maintenance matters don't swell into costly, disruptive, last minute repairs? Recurring maintenance in any facility can threaten to overwhelm even the most effective, experienced Facility Managers. It isn't often a Facility Manager has actual super powers that help them keep all the balls balancing so deftly in the air. Rather, it is usually the case that the most effective facility Managers have a great building maintenance company in their pocket helping them tackle that to do line item as quick as it hits the to do list. But perhaps you are thinking, it takes time to find effective and trustworthy contractors. Still, you might have the solution right under your nose. Did you know that many janitorial and cleaning services offer a full menu of premier building maintenance solutions and specialty services like commercial handyman services, day porter services, industrial janitorial services, emergency cleaning services, window washing, expert floor care and more.
Does Your Offer Janitorial Company Offer A Menu of Commercial Handyman Services?
Many large and professional commercial cleaning companies and janitorial services companies offer a large menu of Building services under one umbrella. It might include cleaning related task like windows and professional floor maintenance and carpet cleaning or even more maintenance heavy duties like HVAC and plumbing and electrical. You might contract with your Detroit cleaning company for general office cleaning but have you checked if they can provide you with the twice yearly window cleaning you need? Or perhaps they can do the painting and new cubicle set up coming up? Wouldn't it be nice if when a plumbing or electrical issue comes up you ALREADY have a quality provider ready to step in and help?
No More Canceled Appointments, No More No Shows, No Price Gouging
Can you imagine it, no canceled appointments, no more no-shows, no price gouging, go directly to the front of the line. Maybe you need ongoing general cleaning but twice a year you need window cleaning, floor maintenance or more? What if an HVAC or plumbing issue comes up and you didn't have to search a contractor out, meet with them, haggle over cost or get multiple estimates? What if you could simply call your point person at your existing janitorial company and let them coordinate it for you? The likelihood is that when you are an existing customer, you are likely to get a faster response time, and better work at a better price.
Get Concierge Level Service With Your Existing Commercial Cleaning Company
When you utilize your existing Building Services contractor for a myriad of building maintenance issues, you benefit from a concierge level of service because you entrust a great deal of business to them. Partner with your commercial cleaning company for your commercial handyman services and you become so integral to THEIR business that you get a level of service that goes beyond simply effective. With concierge level services, you essentially benefit from a team of professional maintenance technicians focused on the needs of your facility. No longer are you counting on just another company you're crossing your fingers shows up on time and doesn't charge you a fortune. Rather, you have nurtured a true partnership, a valued professional relationship, your BSC is committed to keeping you satisfied. This in turn means you get quality work at a reasonable price. It also means no waiting in the queue for your turn as your job is your building service contractor's first priority. Similarly, when you are coordinating with a contractor you already have a working relationship with, getting the work scheduled and completed is simply more streamlined.
Stop Putting Out Fires & Plan Ahead With Preventive Building Maintenance
Your facility is like a living, breathing entity and its needs are not always static and unchanging. This can make staffing and allocating labor challenging as you cant always predict what you are going to need when. Partnering with a commercial cleaning company that offers commercial handyman services can offer a fitting solution to the changing needs of your building. Handling each problem as it comes up can be costly and time consuming. Repairs, fixes and installations should be planned, forecast, budgeted for and scheduled whenever possible. When you have a partner already in your pocket just waiting for a need to arise, you can conserve your energy and save money. The most effective commercial handyman services can deal with day-to-day issues before they grow in proportion (and expense). Likewise, an effective, experienced commercial handyman service can work with you to create an individualized maintenance schedule that keeps your facility running smoothly without disruption.
Your Own Team Of Commercial Handyman Pros At Your Fingertips
Utilizing your existing Building Services Contractor for your facility maintenance essentially nets you your very own team of pros ready and waiting for your call. Not only is it generally MORE cost effective than contracting individually with multiple contractors, it is worth the reassurance of knowing you have a trusted, economical, effective partner at the ready. There is so much to gain and nothing to lose. Whether it's quickly fixing an electrical or plumbing issue or tackling a remodel/repair, or handling an emergency, or scheduling ongoing or preventative maintenance, you have a team of pros at your disposal. Gone are the days of phoning a separate guy every time you need something or wasting time waiting for returned phone calls, service calls and estimates. This is routine, scheduled and emergency maintenance tailored for you and your facility. What type of areas do many commercial cleaning companies also cover?
Plumbing Repairs
Electrical repair
Painting & touch-ups
Flooring restoration
Wall repair
Light bulb changes/Light fixture installations
Comprehensive building inspection
Lock and Door Repairs
Carpentry Repairs
Exterior power washing
Carpet/Tile Repairs, Restoration & Replacement
24/7 Emergency Repairs
Water Clean Up
Roof Inspections
HVAC preventative maintenance & repairs
Caulking & Glazing
Construction Clean up
Ballast Replacement
Office Furniture Moving & Assembly
Ceiling Tile Repair/Replacement
Door/Hinge/Hardware Repair
Group Relamping
Painting/Wallpapering
Trip Hazard Repair
Remodels/Alterations
Free Up Your Time & Get The Facility Maintenance You Need
Don't make your difficult job EVEN harder by handling each problem as it arises when you can arm yourself with your very own A-Team ready at your call. Skip the time consuming steps of appointments, site visits, estimates and follow-up. Even little issues can chew up your time and budget in no time when you start from square one over and over again. So often, confronting maintenance issues as they come up is a great deal more expensive than contracting with a commercial handyman service from the start. Save yourself time, save your organization money and plan ahead by partnering with a janitorial services company or commercial cleaning company that offers a full litany of commercial handyman and commercial building maintenance services.