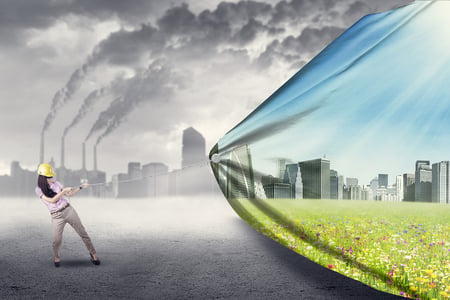 Green cleaning used to be the wave of the future, now it is starting to become just the way we do things. That is a good thing for a great many reasons. Anything that's safer, healthier and easier on the planet and those we share it with is something we should continue to strive for. And yet, even as green cleaning has become more and more the norm, there continue to be a number of advances that push green cleaning into the future.
Are There Benefits To A Green Cleaning Program?
As concerns about environmental impacts and human health and safety gain traction, more and more businesses and industries are looking for a way to do their part. Commercial cleaning services and janitorial companies are no different. There are many things a cleaning company can do to reduce the environmental impact of its services and keep cleaners and occupants safer and healthier. What can green cleaning do both directly and indirectly for your facility?
A focus on cleaning for health can significantly reduce the many health problems associated with allergens, chemicals and contaminants like bacteria and mold. Likewise, adequate green cleaning can reduce absenteeism and reduced productivity through reducing exposure to disease causing germs or harsh chemicals and contaminants that might cause sensitivities or health issues. This in turn reduces the costs associated with lowered productivity and higher absenteeism to facility management and tenants.
Evidence suggests that healthier employees are happier employees with increased job satisfaction, morale, productivity, employee engagement and reduced attrition. And of course with green cleaning helping to address topical environmental issues like air pollution, water pollution, ozone depletion and global climate change, green cleaning in your facility can help brand your business or facility as socially conscious.
How Is Green Cleaning Different From Conventional Cleaning?
Green cleaning is different form conventional cleaning because there is a focus on sustainability, environmental responsibility and health and safety. This focus can be basic practices which support these objectives or more involved practice, training chemicals and equipment. Effective green cleaning programs support health, safety and environmental responsibility. Solid green cleaning focuses on improving indoor air quality, recycling and reducing the use of raw materials and toxic products. Both the basic and not so basic green cleaning practices are leaps and bounds ahead of conventional cleaning.
Basic green clean practices can include things like proper chemical storage, disposal and labeling. Really every commercial cleaning company should do this but it is surprising how many neglect these important practices. Likewise, good green practices can include limiting the disposal of plastic trash liners by reusing them if they are intact and not soiled with food or liquid. This simple practice saves money and limits the amount of plastic trash your facility generates. Likewise, utilizing hand towels and toilet paper with a significant percentage of recycled or recyclable material, cleaning with microfiber rags rather than disposable paper towels and recycling are more eco-friendly.
Among the more specific green cleaning components are specialized equipment like HEPA filter vacuum cleaners and other equipment that helps reduce dust. Additionally, the greenest equipment can also lower noise emissions, improve energy usage and reduce the excess use of cleaning products. HEPA air filter backpack vacuums are lightweight meaning they are easier on the cleaners themselves and easy to maneuver getting you the most cleaning in the shortest amount of time. Likewise, the HEPA air filter keeps allergens out like dust mites, pet hair, dead skin cells, pollen, mold and bacteria. These troublesome allergens could be lurking inside your facility causing and exacerbating allergies. The HEPA filters can capture and contain 99.97% of allergens and asthma triggers promoting indoor air quality. Similarly, the best commercial green cleaning companies utilize state of the art carpet cleaning like the Whittaker style. These carpet cleaners are low moisture, meaning less water usage, and absent the harsh chemicals of many other conventional carpet cleaning methods.
In addition to green cleaning equipment, green chemicals and products should be a significant part of any effective green cleaning program. For example, your commercial cleaning company should offer non-toxic, biodegradable certified cleaning products for use in your facility. With green or greener products must come better employee training. Commercial cleaning companies that ignore the vital step of training their employees in the green cleaning best practices limit many of the benefits you could be receiving from your green cleaning program.
Is Green Cleaning Affordable?
Creating a healthy and sustainable environment shouldn't be out of your reach. Whether your business centers on healthcare, education, retail, hospitality, corporate or multi-tenant offices, there are affordable green cleaning solutions for your facility. The most experienced and reputable commercial cleaning companies in Michigan can help you meet your green cleaning objectives through the use of effective sustainable solutions, equipment and techniques.
The more rigorous green cleaning programs may have some cost to them but often, the best commercial cleaning companies will have built many green cleaning practices into their overall service delivery. In this way, many green cleaning practices will cost you no more than conventional cleaning if you contract with an experienced and innovative commercial janitorial company. A recognized green cleaning company will work with you to put together a customized green cleaning program that meets your individual needs.
LEED Certification & Your Commercial Cleaning Company
You are working hard to insure your facility is socially conscious and eco-friendly. Your building is LEED (Leadership in Energy and Environmental Design) certified by the U.S. Green Building Council. You have implemented a solid recycling program, making many changes to the products your company uses.
But did you know that in choosing the right cleaning service, you could increase your environmental consciousness significantly? The best commercial cleaning companies can work with you to develop a comprehensive plan to help you obtain and maintain the maximum number of LEED points available to you and help you meet your sustainability goals.
The Future of Green Cleaning Is Now
Green cleaning in Michigan benefits the heath of employees, customers and the overall environment. Here at Stathakis, our goal is to help our customers implement a solid and effective green cleaning program. Our most precious and abundant natural resource here in Michigan is our awesome Great Lakes. Like you, we want to keep our fresh water protected from toxic cleaning chemicals and products. Whether you're currently part of a green cleaning program, or seeking out green cleaning options, we can help you put together a plan that works for you.