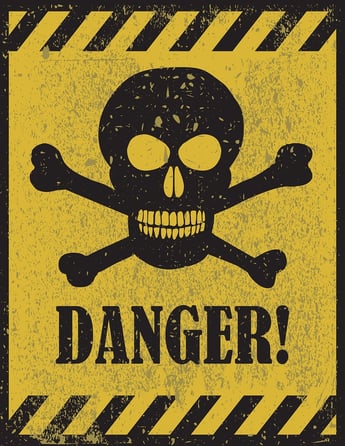 With janitorial turnover averaging as much as 200% and the costs of janitorial turnover high, you cannot afford to overlook your cleaning company's constant stream of new people. In fact, there are some dangerous realities of janitorial turnover that go beyond just cost, value and hassle. Employee turnover and attrition is a fact of life, but HIGH employee turnover is a symptom of a much larger problem within your cleaning company's own organization and it's a problem that can have a dramatic impact on your facility.



How Does High Janitorial Turnover Impact Your Facility?
You might ask, does it really matter if my facility sees a steady stream of new people? You bet it does. Yes, even good, happy employees must sometimes move or change jobs, but if you have the opportunity to hang on to a good cleaner or cleaning team, there are so many benefits. From more responsive service to less management input and attention from you, when good people stay and build tenure, it benefits everyone.
High janitorial turnover, on the other hand, takes its toll on your facility.
What are the hard and soft costs of high turnover from your cleaning company?
Reduces the VALUE of what you are getting

Results in poor quality work

Often leads to frequent, unfinished work

Diminishes a relationship built between front line cleaner and customer

Can result in damaged equipment and material waste

Creates real security issues with too many people in and out of your building

Creates the perception of poor service or security issues with your employees and/or tenants

Can result in a poor reputation that may impact overall quality of employees your janitorial company can attract, creating a negative feedback loop of poor fit employees.

Creates significant costs for your janitorial company that are likely passed on to you
The Most Dangerous Consequence of New People In & Out of Your Facility
The biggest risk of high janitorial turnover is from a security and screening standpoint. Your janitorial company may TELL you they are screening and conducting criminal background checks and drug testing every employee that enters your facility, but these things take time and money. If your facility is a revolving door of new office cleaners, custodians, janitorial teams, day porters and more, the chances that your cleaning company is doing all of the work of properly preparing and vetting each new hire is low. Many times janitorial services companies experience high turnover because they are cutting corners so who can say if they are doing a careful and thorough check of the new people they send into your facility?
Who's Paying For Your Janitorial Services High Employee Turnover, You Are
First, high turnover costs your cleaning company and those costs are invariably passed along to you the customer. Second, when you are paying higher prices for less experienced cleaners, the value of what you are getting is greatly diminished. Why should you pay more for less? Especially when there are effective, janitorial companies out with low overall employee turnover employing best practices at a good price? While you may experience a new cleaning employee during your janitorial contract period, your cleaning company shouldn't be using your facility as a training ground for a host of new people.
Why Some Commercial Cleaning Companies Never Seem to Hang Onto People
Far too many cleaning companies are a revolving door of employees. What makes people go? Sometimes the employee was a poor candidate for the position to begin with. Of course you don't want drugs or crime to find their way into your facility, that goes without saying, but beyond that, service positions require a certain kind of personality. When cleaning companies hire with little regard for overall 'fit,' an unhappy, unproductive employee is likely to move on sooner rather than later. Likewise, janitorial pay may typically be low, but is it competitive? There is a solid pool of great custodians, office cleaners, day porters and more out there and the best ones will go where the opportunity is greatest. In addition to a lack of competitive pay, far too many janitorial services companies don't offer any recognition or rewards for employees that are meeting their goals or even outperforming their peers. Nothing extinguishes the flame of enthusiasm like no acknowledgment. Some Detroit cleaning companies have other factors that keep their attrition numbers climbing like poor management, a lack of accountability, an absence of janitorial inspections that assure reliability and more.
Why Other Janitorial Services Companies Have Attrition Rates Well Below the Industry Average
Perhaps you have heard that employee turnover is high in all lower-skilled, lower wage jobs. While overall turnover in lower skilled service jobs runs fairly high, many professional janitorial service companies have implemented a number of best practices that help them FIND and KEEP the very best people. Many of these commercial cleaning companies consistently achieve turnover well below the national average even while operating in an industry that can be plagued with people problems. What makes some commercial cleaning companies better at finding and keeping great people? The best Michigan janitorial companies stay ahead of the fold with industry best practices like targeted recruitment, careful background screening, comprehensive training, ongoing specialized training, management systems to insure accountability and responsiveness, recognition and reward programs for their teams-- all created to keep their teams happy, operating efficiently and delivering responsive effective janitorial services to their customers. Giving employees the ability to succeed on the job with competitive pay, training and management results in more satisfied employees that don't look for greener pastures elsewhere.
Protecting You & Your Facility From High Janitorial Turnover
There can be no doubting the costs of high janitorial turnover but how can you as a Facility Manager or Building Manager protect yourself, your employees and tenants and even your facility's reputation if your janitorial service's high turnover is becoming an issue? While finding a new commercial cleaning company can be challenging and time consuming, if your current Detroit cleaning company is experiencing high employee turnover, it's time to move on. High cleaning employee turnover just isn't a problem you can solve, it's systemic and not likely to go away on its own without major work on the part of your cleaning company. Cut your losses and look for Michigan janitorial companies with a proven track record for low employee turnover.
Ready to Close the Revolving Door?
At Stathakis, finding the right people has always been a priority. We know that every win we have is a function of our people --this first most integral component. We understand the solid advantages to carefully screened and trained cleaners and janitorial teams. Moreover, these advantages are precisely what has helped us grow a strong local Michigan building services company with a solid reputation. Because of our continuous efforts to improve and learn everyday, build a great culture, reward and recognize great people and train our teams for success, our turnover of less than 40% blows away the industry average turnover of 200%!
We strive to do everything we do from the large, complex jobs to the smaller ones with attention to the little details and a healthy dose of enthusiasm. We make work a fun and rewarding experience and this keeps our best people from looking elsewhere. We don't just pat our teams on the backs, we reward them with competitive pay and benefits, programs like Open Book Management , incentives, recognition opportunities and more. At Stathakis, we offer the best value in janitorial, cleaning and maintenance services. Our competent and highly trained staff, our low turnover and our consistent drive to provide Complete Customer Care, make us one of the most respected companies within our organization and right here in Michigan. Can we help you?