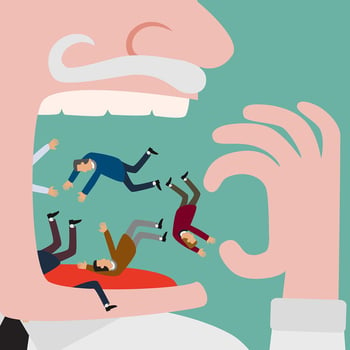 Are you seeing a revolving door of new faces from your commercial cleaning service? Are you concerned about so many new people in your building at night? Or perhaps you feel like a new cleaner or cleaning staff just seems to really start to get it and boom, you start over with new people. High janitorial turnover might be your cleaning company's problem, but it has a big impact on many facets of service and security that directly impact you.
High Turnover From Your Janitorial Company Hurts Your Business
High turnover from your cleaning company certainly is their problem but it's your too. The janitorial industry has a pretty high overall employee turnover but some companies experience even greater attrition. Since turnover percentages can be all over the spectrum, ideally, you should partner with a cleaning company with an annual turnover well below the national average. The reality is that too many new employees in and out of your facility is often a symptom of much bigger issues. What kind of warning bells does your janitorial company's high turnover set off?
▪ Security Concerns - When new faces come in and out of your building, it sends a message of inconsistency to your employees and/or tenants. Likewise, with continual new hires, there is an increased risk that your commercial cleaning company isn't doing the due diligence and screening required to keep you, your facilities, your employees and customers safe.
▪ The Work Suffers - Continual employee turnover reduces the level, amount and quality of work you get. Employees being trained and newly hired team members typically get less done in their shifts and are significantly more likely to miss tasks, damage equipment and waste supplies as they train and grow accustomed to their duties. Now every company will lose people now and then and there may be a dip in usual service delivery, but it should happens so seldom and your commercial cleaning company should manage it well enough that there is still an overall acceptable level of service.
▪ Higher Cost – The higher the employee attrition the greater the hard costs associated with it and guess who those costs get passed on to? It might be through frequent price increases or a slow down of services. The cost of replacing trained employees who leave is substantial. Recruiting qualified candidates, interviewing, screening and training new teams takes time and represents a considerable expense.
▪ Reduced Value – The math doesn't lie. If you are paying higher prices for less experienced cleaners, the value of what you are getting is less. Why pay more for less when there are experienced janitorial contractors who operate with turnover significantly below the industry average?
Why Do Some Janitorial Companies Experience Higher Employee Turnover? 

Why do some cleaning companies experience higher turnover? Likely the same reason any business has higher than average turnover. If your janitorial company offers minimal training or no training, low wages and zero coaching, employees, even low wage employees, will eventually look elsewhere. In fact, many low skilled workers move on faster than you or I might from a bad job because there always seem to be lower wage jobs available and with turnover numbers higher here, it's easier for people to leave a job the perceive as bad and jump to the next one.
The reality of the lower-skilled, lower wage jobs is that overall employee turnover is higher, so you are likely to see a new face from time to time. The national average for turnover in the janitorial industry alone is almost 200%! And yet, there are professional janitorial contractors who manage to achieve significantly reduce employee turnover even in an industry that is often beset with people problems.
Does Your Commercial Cleaning Company Keep Employee Turnover Low?

Is your cleaning company a revolving door of employees, or have they figured out the secret formula to keeping employee turnover numbers in check? What exactly is it that makes some organizations more successful at finding and keeping good people than others? The best Michigan building maintenance companies do things differently. The best cleaning companies offer continual training and specialty training. Training matters to you and the care of your facility of course, but it also matters to the people doing the work. Great training prepares employees for their jobs and gives them the tools to be successful. All of us feel better about work when we are given the opportunity to do it well. Giving employees the foundation for success on the job with training and management results in happier people and dramatically reduces turnover. Then add to training management systems that assure accountability and responsiveness and recognition and reward programs that make people feel like they are truly part of something. Once you have a great team, employee recognition and advancement programs help you keep your best people. A quality cleaning service contractor is cognizant that high attrition in turn creates higher customer attrition and thus, understands the value of good people.
Finding a Commercial Cleaning Company That Adds Value With Great People
An experienced janitorial service contractor knows that their most important assets are their people. It's a service industry and sure having state of the art equipment and green cleaning products is great, but without great people, it all falls apart. Cleaning companies that operate with industry best practices have a multifaceted approach to finding and keeping the very best people. How do they do it?
▪ Attract, qualify & screen to find the best person for the job
▪ Provide comprehensive training giving your team the tools they need for success
▪ Use a hands-on management team to offer support, feedback and the adjustments needed to make people more effective and thus more satisfied
▪ Offer continual training to keep skills sharp and help employees who want to advance
▪ Offer recognition opportunities
▪ Provide competitive wages & benefits that keep good people from going somewhere else
At Stathakis, we know it's all about people. We have built our local Michigan business on our ability to find and hire the right people. We understand the benefits of carefully screened and trained janitorial employees, that's why we put the work in upfront to find the best people. We know if they are happy they do solid work and then you are happy which makes us happy!
We provide our teams with comprehensive training programs that focus on specific areas that our customers might be interested in, from green cleaning for example to medical and healthcare cleaning training. We offer continual training and growth opportunities as well as competitive wages, benefits, recognition and rewards. We have developed a program we call Open Book Management that helps our team communicate and gives every Stathakis team member a financial stake in our shared success. With industry turnover rates topping 200%, we operate with a turnover averaging near 40%!
We vastly outperform industry averages in our field and we are proud of it. At Stathakis, our customers have come to find that without fail, we offer the best value for their janitorial services budgets. Between our competent and highly trained staff, our low turnover and our consistent drive to provide Complete Customer Care, our customers count on us to keep their facilities in good condition offering real value every step of the way.