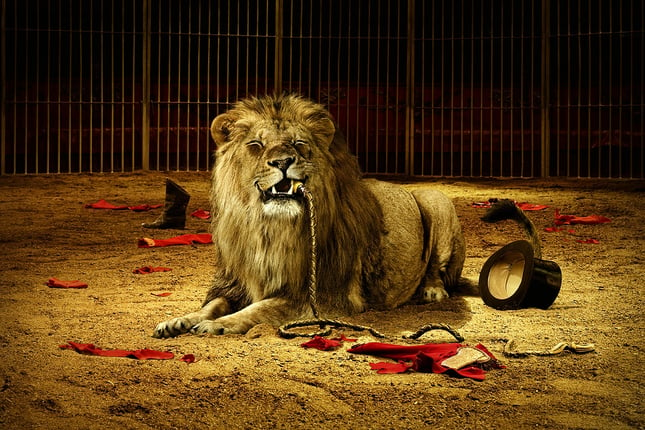 Do You Need To Tame Your Commercial Building Maintenance To Do List?
Caring for your facility is no easy task. You might feel like a lion tamer sometimes trying to tame the growing to do list that can overwhelm even the most competent, professional Facility Manager. Are building maintenance issues piling up faster than you can tame them? Have you reached a point where you realize what you are currently doing just isn't working or is taking up far more time than you have? Maybe a small spark of an issue has been left unattended to become a fire to put out. Perhaps what is keeping you from addressing maintenance issues and even preventative maintenance is the likely cost of getting everything on track. So often, maintenance issues like electrical, HVAC, plumbing, patching, touch ups and painting and more can grow to the point where you are not even sure where to begin. When you put off needed maintenance, you know the problem is likely to grow into a more complicated, expensive and pressing issue but really, there are only so many hours in the day and dollars in the budget right? When your to do list of building maintenance threatens to go feral on you, enlisting the help of a commercial handyman service can help you save time, save money and tame that to do list that threatens to overwhelm you and compromise your building's maintenance and overall appearance and functioning.
Commercial Handyman Services Can Help Tame A To Do List & Save Money
Not only can commercial handyman services save your time AND your sanity, outsourcing building maintenance can save you money. Likewise, the right commercial handyman services can offer a level of maintenance that goes above and beyond anything you will get from individual contractors working on piecemeal projects. That's because with the right commercial handyman services, you develop a relationship that benefits both of you. What can you expect when you contract with a professional handyman service for your building maintenance?
Reduced, consistent facility maintenance costs
Increased value and lifespan of your building's assets
Less hassle of finding, scheduling and managing critical building services
Easier coordination of services
Adequate preventative maintenance
Increased facility efficiency
Fewer headaches, fires to put out and wasted time for you the Facility Manager
You can shift your focus to other essential elements of your job
Increase tenant, employee and customer satisfaction and retention
Why struggle to put out fires and tame a wild to do list when you could have commercial handyman services that make your life easier AND save you money in the long run?
Who Needs Commercial Handyman Services?
In our opinion, nearly all Facility Managers and facilities could benefit from a more directed maintenance plan. Similarly, they could benefit from a commercial handyman company experienced in delivering the best, most cost effective maintenance services. Some Facility Managers consider their own in house facility maintenance but really, unless you have huge operations that requires constant services, the likelihood is you will be paying for a team of employees that will have significant downtime and you will STILL have to call a separate contractor for more specialized services. And if you call a contractor as maintenance issues arise, you are not likely to receive the kind of service and responsiveness you would get from a dedicated commercial handyman services company. Outsourcing maintenance to a commercial handyman service can both offer you the quick response and specialized services you need minimizing waste and unnecessary added costs. In fact, your commercial cleaning company or janitorial services company may offer added maintenance services and commercial handyman services making it eaven easier to get the building maintenance you need.
What Can Commercial Handyman Services Offer You?
Who wouldn't want their own team of pros at the ready? Whether you are looking to schedule preventative maintenance, tame your to do list of unresolved tasks or deal with an emergency, having the right commercial handyman service at the ready is immeasurably helpful. No need to phone a new contractor every time you have an issue or wait for return phone calls or work around someone else's schedule in order to arrange maintenance. If you establish a direct relationship with a commercial handyman service, not only will you save time and money on maintenance, you can also work with them to schedule it around the needs of your facility. How can the right professional commercial handyman service help you tame your facility's maintenance to do list? What areas of service do many commercial handyman services offer?
Electrical repair
Office Furniture Moving & Assembly
Wall Mounting
Ceiling Tile Repair/Replacement
HVAC preventative maintenance & repairs
Plumbing Repairs
Carpentry Repairs
Wall repair
Light bulb changes/Light fixture installations
Comprehensive building inspection
Caulking & Glazing
Life/Safety Audits
Furniture assembly
Lock and Door Repairs
Flooring restoration
Painting & touch-ups
Exterior power washing
Carpet/Tile Repairs, Restoration & Replacement
24/7 Emergency Repairs
Water Clean Up
Ballast Replacement
Door/Hinge/Hardware Repair
Remodels/Alterations
Construction Clean up
Group Relamping
Roof Inspections
Painting/Wallpapering
Trip Hazard Repair
Don't Put It Off, Get the Commercial Handyman Services You Need
Don't put off needed maintenance or wait for an emergency when you can get effective, affordable service and peace of mind now. Eliminate the hassle of hiring, scheduling and managing individual contractors with commercial handyman services. There are several different variations of commercial handyman services to suit the needs of your facility.
On Site Commercial Handyman Services
Quite often, for larger buildings where there is a need to have immediate oversight of mechanical systems, electrical service and plumbing, having a full-time Building Maintenance Technician or team of technicians dedicated to your facility is the right path. A dedicated staff that is aware of the specific needs of your facility and can keep your facility on track. With on site Commercial handyman services, scheduled and routine preventative maintenance are easily folded in to day-to-day duties.
Multi Facility Commercial Handyman Services
Sometimes, Multi Facility Commercial Handyman Services are the best choice. If you require facilities maintenance services across multiple buildings, this can be the right solution. The right company can provide a consistent, managed service to more than one location. With Multi Facility Commercial Handyman Services, services are customized to your facility's specific needs and requirements.
On Demand Commercial Handyman Services
Do you want your own team of Building Maintenance Technicians but perhaps don't require them 24/7? On demand facility maintenance can be a great way to get the help you need, when you need it. On-Demand services can be planned in advance or on a recurring basis so you get all of the benefits of your own Building Maintenance Team but on an as-needed basis.
At Stathakis, we have served the businesses of Southeastern Michigan for over thirty years. We are proud members of the BSCAI (Building Services Contractor Association International) and are CIMS certified. The Cleaning Industry Management Standard assures our customers that whether its our Commercial cleaning, janitorial services, day porter service, commercial facility maintenance or handyman services, we will deliver effective, affordable solutions. If you are looking for a Commercial cleaning company in Michigan that can deliver a multitude of solutions for your facility or facilities, from Commercial handyman services company to Day Porter services to industrial cleaning, medical cleaning and Janitorial, please get in touch. We provide commercial cleaning and commercial handyman services to Genesee County, Livingston County, Washtenaw County, Monroe County, Wayne County, Macomb County, St. Clair County. We offer effective, professional facility services to the cities of Detroit, Ann Arbor, Farmington Hills, Dearborn, Farmington, Livonia, Plymouth, Downriver, Royal Oak, Southfield, Troy, Auburn Hills, Novi and more. For more information on our services and how we can help you, please contact us at 1-800-278-1884.